White Chocolate Macadamia Nut Shake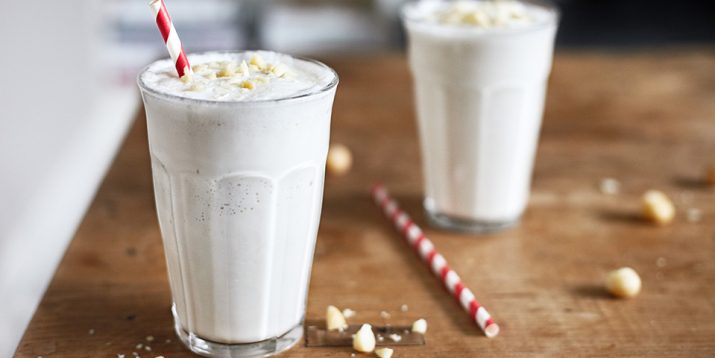 There's something about the combination of sweet, creamy white chocolate and rich, buttery macadamia nuts that's irresistible.
This White Chocolate Macadamia Nut Shake puts them together in a healthy Shakeology smoothie that tastes like a cookie, but drinks like a nutritious superfood dessert.
Together, Vanilla Shakeology and white chocolate extract recreate the flavor of white chocolate.
(Hold up… white chocolate extract? YASSS!)
Yes, if you love the flavor of white chocolate, it's worth it to find a bottle of white chocolate extract for your pantry! It's available in many cake decorating stores or online.
One tiny bottle can make plenty of smoothies, but you can also use it to add flavor to coffee, Greek yogurt, and oatmeal, and substitute it in many recipes that call for vanilla extract.
To make this white chocolate macadamia nut smoothie taste even more like its namesake cookie, add a sprinkle of sea salt or Himalayan pink salt before blending.
For an extra special touch, that adds a little bit of fresh-from-the-oven taste, lightly toast the macadamia nuts — toss them into a hot, dry pan, stir frequently until they start to turn golden brown!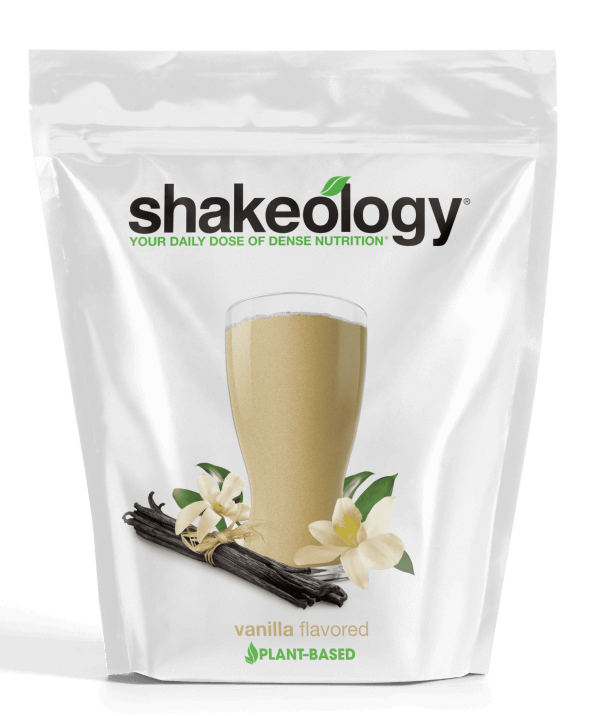 Vanilla Shakeology
Experience the sweet, creamy flavor of robust vanilla as your daily superfood dessert.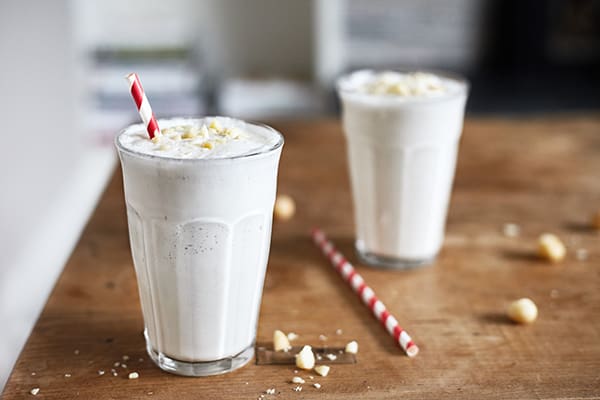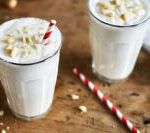 White Chocolate Macadamia Nut Shake
This white chocolate shake is great around the holidays.
Prep Time 5 mins
Cook Time 0 mins
Total Time 5 mins
Servings 1 smoothie
Calories 298 kcal
Ingredients
1 cup / 240 ml unsweetened almond milk
1 cup / 170 g ice
1 scoop Vanilla Shakeology
1 tsp. pure white chocolate extract
6 unsalted macadamia nuts, chopped 
Instructions
Place almond milk, ice, Shakeology, extract, and macadamia nuts in blender; cover. Blend until smooth. Serve immediately.
Recipe Notes
Fantastic Fiber (F), Gluten-Free (GF), No Dairy (ND), Protein Power (P), Quick 'n' Easy (QE), Vegan (V), Vegetarian (VG) 
The Nutrition Facts box below provides estimated nutritional information for this recipe.*
* Total Sugar 8 g, Added Sugar 5 g
Nutrition Facts
White Chocolate Macadamia Nut Shake
Amount Per Serving (1 shake)
Calories 298 Calories from Fat 153
% Daily Value*
Fat 17g26%
Saturated Fat 2g13%
Cholesterol 10mg3%
Sodium 337mg15%
Carbohydrates 19g6%
Fiber 7g29%
Sugar 8g9%
Protein 20g40%
* Percent Daily Values are based on a 2000 calorie diet.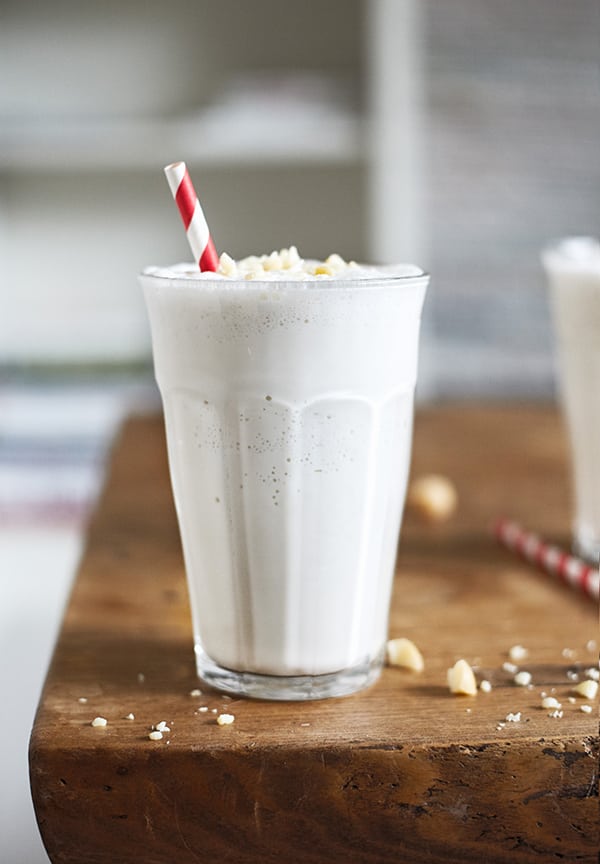 Container Equivalents (Regular & Vegan)
1 Red
1 Blue
1 tsp.
2B Mindset Plate It!
Makes a decadent protein.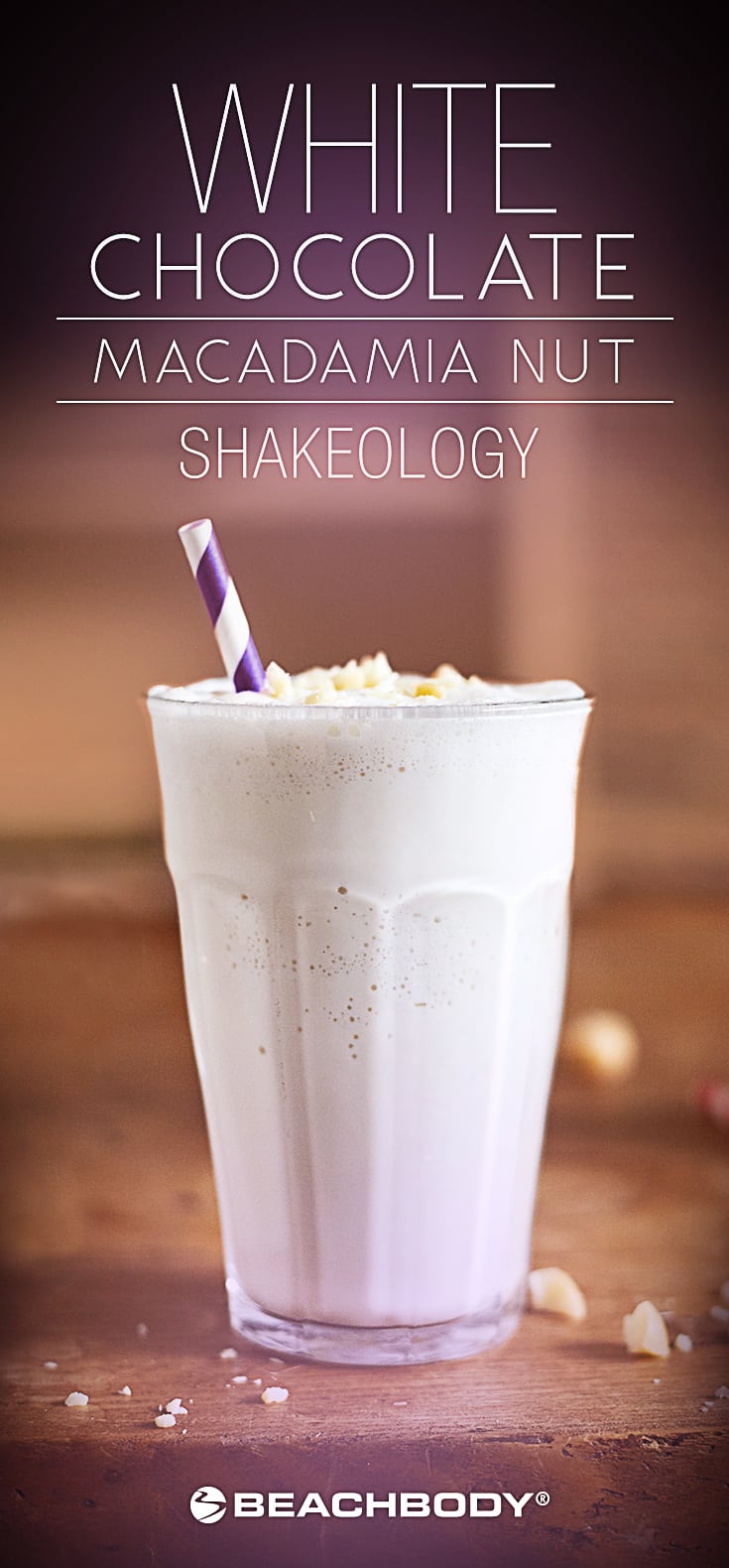 Photographs by Anguel Dimov and Brianne B of Natural Girl Modern World
Save
Save