Why Tahini Is Such a Versatile, Healthy Ingredient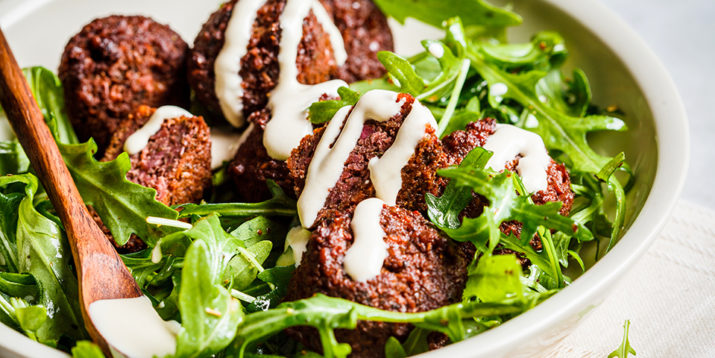 An upside to spending a LOT more time at home is that we've gotten more curious and handy about making things from scratch.
We love getting some extra mileage out of our high-powered blenders and food processors, which can do so much more than whip up smoothies.
(Although don't get us wrong, we still love our shakes and smoothies.)
At home, you have the power to make meals and snacks fresher and healthier — and among our DIY faves is homemade hummus, which seriously takes about 10 minutes.
This savory dip only has a handful of ingredients and one of them is tahini (sesame paste). What is tahini?
Good question — keep reading to find out about this versatile, healthy ingredient!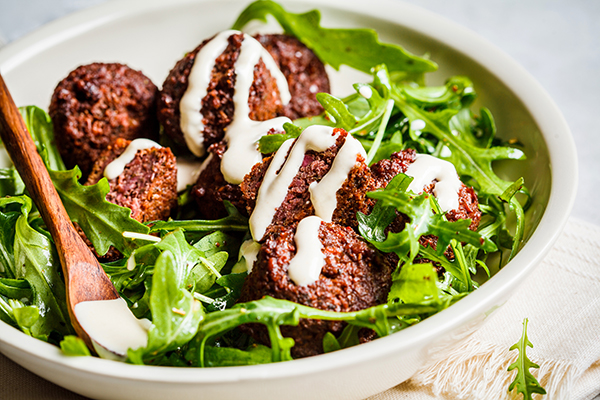 What Is Tahini?
Recently, you've probably seen tahini in a lot more places than hummus or your local falafel joint.
(BBQ-flavored tahini sauce is totally a thing and we're obsessed with it!)
Tahini is a sesame seed paste or butter commonly used as a condiment across the Mediterranean and Middle East. (In Japan, there is a paste called "neri-goma" also made from sesame seeds.)
"Tahini is a similar concept to peanut butter, but made with sesame seeds," explains Elena Paravantes, R.D.N. "And, it's different from tahini sauce, which is a mixture of tahini, lemon juice, garlic, and parsley."
Tahini sauce is what makes falafel pockets so yummy.
A little goes a long way in terms of flavor and nutrition: On average, one tablespoon of tahini has 89 calories, 3 grams of protein, and 8 grams of fat.
"Tahini is high in fat like peanut butter, but most of the fat is the good kind" — monounsaturated and polyunsaturated — says Paravantes.
Studies have found sesame seeds, from which tahini is made, are a functional food.
One tablespoon of sesame seeds provides protein, vitamin B1, and dietary fiber, as well as iron, magnesium, calcium, and zinc.
Though tahini is usually made from white sesame seeds, you might also spot black tahini (made from black sesame seeds) at the supermarket.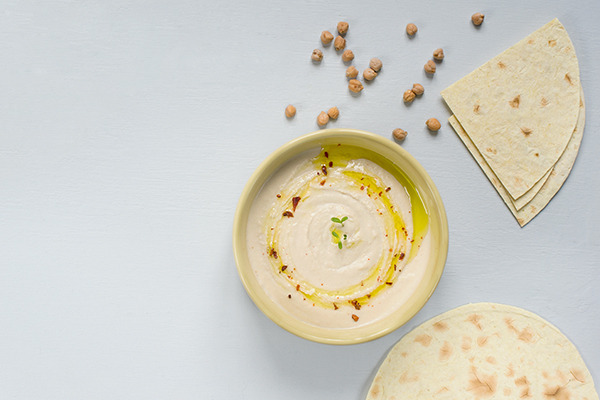 How to Make Tahini
"Homemade tahini is not hard to make," says Lisa Young, Ph.D., R.D.N. She recommends these three basic steps for a simple tahini recipe:
Toast the sesame seeds.
Thoroughly grind the toasted seeds in a food processor or blender.
Add a small amount of olive oil (or untoasted sesame oil) to smooth out the texture.
When you make a tahini recipe on your own, you can control the amount and type of oil or add different flavors.
"Some people flavor tahini with honey or cocoa," says Paravantes.
Whether you use hulled or unhulled sesame seeds is a personal preference, she adds.
Hulled sesame seeds are lighter in color and will produce a smoother texture, like tahini you get at the grocery store.
The hulls will add a little extra fiber.
What Is Tahini Used For?
Across the Mediterranean and Middle East, tahini is a versatile ingredient used for a slew of purposes.
"Tahini can be used in a number of different types of dishes — both savory and sweet," says Young.
You can use tahini to add nutty flavor and creamy texture to dips like hummus, sauces, baked goods, and sweets, or use it like any other nut or seed butter.
A good substitute for tahini is nut butter like almond or peanut, and vice versa.
Halva is a popular dessert made using tahini and jazzed up with nuts or chocolate. Basic halva is vegan and gluten-free.
What is tahini best used for? Here are some fun ways to use it (other than in hummus):
Use tahini (and a little water or fresh-squeezed lemon juice) in place of oil for a salad dressing.
Spread it on toast.
Make baba ganoush dip with eggplant.
Drizzle it over grilled veggies.
Try it as a sauce on pizza.
Spoon it over fruit or yogurt.
Use it as a dip for carrot sticks and celery.
Add it to no-bake protein balls.