Why Tahini Is Such a Versatile, Healthy Ingredient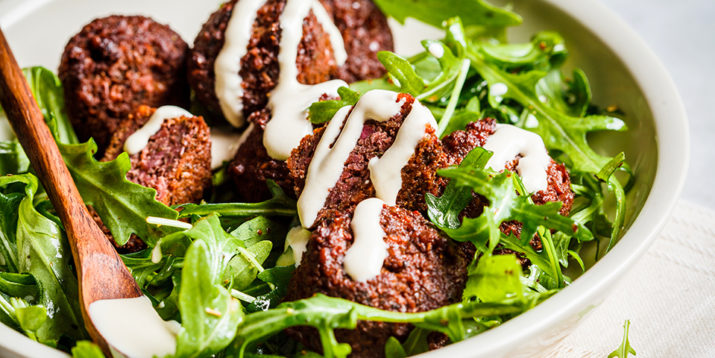 Tahini is a paste made from hulled sesame seeds with a velvety smooth texture. It's commonly made into a sauce across North Africa, the Mediterranean, and the Middle East.
You may have tasted it as a dip for falafel or as an ingredient in hummus, but this humble condiment can be used in other, less traditional ways, too.
A little goes a long way in terms of flavor and nutrition: A tablespoon of tahini contains about 88 calories, with nearly 3 grams of protein and a source of calcium and iron, as well as magnesium, phosphorus, and potassium.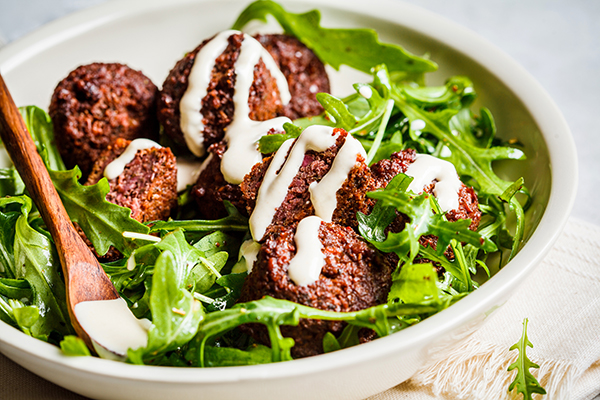 What Is Tahini?
"Tahini is a similar concept to peanut butter, but made with sesame seeds," explains Elena Paravantes, R.D.N. "And, it's different from tahini sauce, which is a mixture of tahini, lemon juice, garlic, and parsley."
Tahini sauce is what makes falafel wraps so yummy.
"Tahini is high in fat like peanut butter, but most of the fat is the good kind" — monounsaturated and polyunsaturated — says Paravantes.
When shopping for tahini, as with any nut or seed butter, you want the label to list just one ingredient: sesame seeds.
Some brands may add salt or additional oils, but those are not necessary. You may encounter "tahini sauce" in the refrigerated section at some supermarkets. That's tahini that's been mixed with salt and water (and sometimes lemon juice or garlic).
Tahini is usually made from white sesame seeds, you might also spot black tahini (made from black sesame seeds) at the supermarket.
How to Make Tahini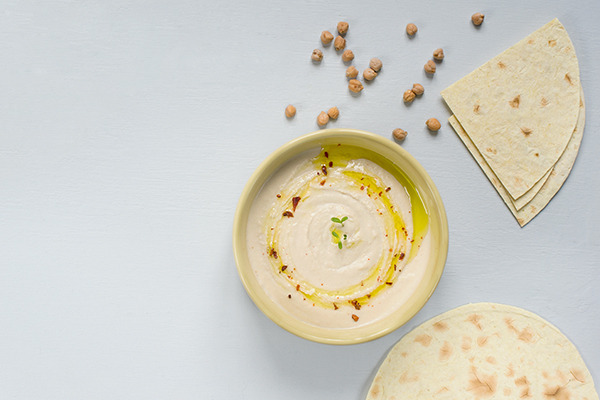 "Homemade tahini is not hard to make," says Lisa Young, Ph.D., R.D.N.
Here is a simple homemade tahini recipe:
Basic Tahini Recipe
1 garlic clove, minced or pressed
2 tablespoons lemon juice
1/4 cup tahini
1/4 cup water
Salt, to taste
Combine the garlic and lemon juice in a small bowl or blender. (A mini blender works great for this.)
Add the tahini, and whisk or blend. The tahini will thicken (since you're essentially mixing oil and water).
Stream in the water one tablespoon at a time as you continue to whisk or blend. The mixture will transform from tan and grainy to off-white and smooth. Season to taste with salt, starting with 1/8 teaspoon.
Yield: heaping 1/2 cup
If you're going to use it immediately, this should yield a thick yet pourable sauce or dip. It will thicken upon refrigeration and will either need to warm up or have more water added to thin it out again.
If you prefer a thinner dressing, add up to another 1/4 cup, one tablespoon at a time. If it gets too thin, simply add one tablespoon of tahini.
When you make a tahini recipe on your own, you can control the amount and type of oil or add different flavors.
"Some people flavor tahini with honey or cocoa," says Paravantes.
Whether you use hulled or unhulled sesame seeds is a personal preference, she adds.
Hulled sesame seeds are lighter in color and will produce a smoother texture, like tahini you get at the grocery store.
The hulls will add a little extra fiber.
What Is Tahini Used For?
"Tahini can be used in a number of different types of dishes — both savory and sweet," says Young.
You can use tahini to add nutty flavor and creamy texture to dips like hummus, sauces, baked goods, and sweets, or use it like any other nut or seed butter.
Here are some tasty ways to use tahini:
As a nut butter swap:
Spread tahini on toast as you would peanut or almond butter. Tahini's subtly bitter flavor pairs well with jam and honey.
Or take the savory route by sprinkling on salt, pepper, and smoked paprika or za'atar, a Middle Eastern seasoning blend often made with oregano, thyme, and sesame seeds, among other herbs and spices.
In salad dressings:
Use your homemade tahini as the foundation for salad dressing. It's delightful as is — especially with olives, tomatoes, cucumbers, and red onions — or stir in chopped fresh herbs or plenty of freshly cracked black pepper.
For a dairy-free ranch, you can mix in 1/2 teaspoon onion powder, 1/4 cup chopped fresh parsley, 2 tablespoons snipped chives, and 1 tablespoon white or apple cider vinegar.
For a twist on classic balsamic vinaigrette, use tahini in place of olive oil, and thin it with water as needed.
Tahini also pairs well with salty ingredients like capers and Kalamata olives.
In desserts like fudge and frosting:
Tahini is mixed with simple syrup to form halvah, a traditional Middle Eastern candy that's akin to fudge.
For a simpler, single-serve version, mix a tablespoon of tahini with 2-3 drops of vanilla extract and enough powdered sugar to create a thick "dough." Refrigerate this special occasion treat until firm.
You can use tahini in place of butter in the frosting, too. It pairs best with rich chocolate and spicy cakes like carrot.
In "cream" sauces:
Your Basic Tahini Sauce can stand in for cream sauces, blended with the herbs of your choice. Parsley is a favorite, but cilantro and basil would also be tasty.
For a lower-carb meal, toss with sautéed zucchini noodles or drizzle on cauliflower rice. Just add your protein of choice.
In savory sauces:
Beyond being the star ingredient in sauces, tahini can play back up, as it does in this Barbecue-Flavored Tahini Sauce. You'll want to slather it on every protein imaginable, along with grilled vegetables and baked sweet potatoes.
Try mixing white miso with ginger, garlic, and tahini thinned with equal parts water or rice vinegar for a rich sauce that can accompany Asian-inspired meals.
In quick breads and muffins:
Tahini's affinity for sweet and savory means it can be used in all kinds of baked goods.  Try it in a savory multi-grain quick bread or in banana bread.
Or mix tahini with cinnamon and sugar, then use it in place of butter to fill your favorite cinnamon rolls.
As a dip:
Stir caramelized onions into Basic Tahini Sauce, then drizzle with balsamic vinegar for a dressed-up yet easy dip.
Or mix in shredded radishes and cucumbers plus finely diced red onion and tomatoes for a veggie-laden dip.