Is Unicorn Toast Healthy?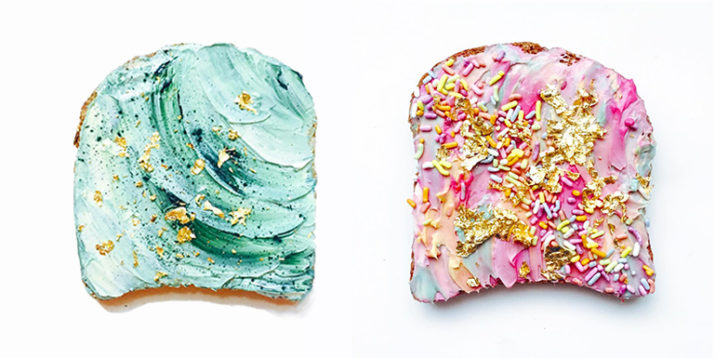 For decades, the only alternative to bread and butter was French toast. But for no apparent reason, Avocado Toast became a thing (it got so popular, in fact, that it was just officially acknowledged in the Associated Press Stylebook.)
Grab a fresh plate because you've got to try these toasts Mermaid Toast and Unicorn Toast.
Food stylist and recipe developer, Vibrant & Pure's Adeline Waugh created the out-of-the-box toasts by coloring bread spreads with bright plant-based pigments.
Her psychedelic creations, the rainbow Unicorn Toast and its sequel, the green-and-blue hued Mermaid Toast, became Internet sensations.
There's no doubt that Mermaid Toast and Unicorn Toast are appealing to look at, but are they healthy?
Find out, learn how to fit them into your Portion Fix eating plan, and discover how to make them at home!
What Are Mermaid Toast and Unicorn Toast?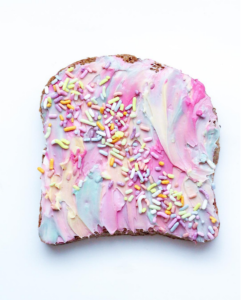 "I love to create beautiful images of food using the beauty nature offers in its truest forms," says Waugh. "One day I was coloring some cream cheese with beet juice to make a hot pink color and thought to myself, 'Why not try some other colors?'"
She shared her experiment on Instagram last summer, and thus, Unicorn Toast was born. 

Fans of the mythical toasts soon started sharing their own versions. (There's even a "troll toast" made with activated charcoal for curmudgeons.) "I think people are naturally drawn to bright colors, but I really had no idea these toasts would be such a hit." Waugh explains.
Waugh's original versions of Mermaid Toast and Unicorn Toast use a whole-grain bread topped with an almond-based, dairy-free cream cheese that she dyed with natural plant-based pigments.
To create Mermaid Toast, Waugh uses blue-green algae powders like spirulina.
For the Unicorn Toast, she uses beet juice to make pink, turmeric root to make yellow/orange, chlorophyll drops to make green, spirulina seaweed powder to make light blue, and freeze-dried, crushed blueberries to make purple.
In some versions, she's added dragonfruit stars, sprinkles, and even gold leaf flakes.
Is Unicorn Toast Healthy? What About Mermaid Toast?
They're healthier than you might think! Thanks to the fact that they're made from whole-food and plant-based ingredients, they're definitely healthier than your typical French toast, which is high in saturated fat and sugar and is often prepared using processed white bread.
"While I would not call the Mermaid Toast and Unicorn Toast recipes 'unhealthy,' there are other foods I'd put higher on the 'healthy' list. It's still processed food (cheese) smeared on top of processed food (bread)," says Krista Maguire, R.D., C.S.S.D., and nutrition manager at Beachbody.
"But I have to give her huge props for developing something that looks appealing and is much healthier than, say, rainbow-colored fruit roll-ups or the bright-colored sweet cereals. I'd definitely prefer kids (and adults) to eat this over Fruity Pebbles or strawberry Pop-Tarts any day of the week."
Is Almond Cream Cheese Healthy?
"Compared to regular cream cheese, almond-based cream cheese is lower in saturated fat (0 grams vs. 6 grams per ounce) and a bit higher in protein (3 grams vs. 2 grams). It's also lower in total calories," says Maguire. "Plus it's a great option for those who can't tolerate dairy."
If you're not a fan of almond cream cheese or Neufchatel, Maguire suggests experimenting with "hummus, a white-bean dip, tahini, baba ghanoush, or even a light cashew butter. Or you could use a plain, thick plant-based yogurt — made from coconut milk or almond milk."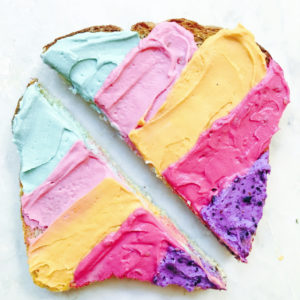 What about the color? The plant-based colors are not only natural, but they also contain health-promoting antioxidants, vitamins, minerals, and phytonutrients, says Maguire. "I love the idea of using whole 'superfoods' instead of food coloring."
However, if you're taking any medications, be mindful of interactions that may occur.
(For instance, Nicole Cornelious, R.D., L.D., cautions that those with phenylketonuria [PKU], autoimmune diseases, and those taking drugs to suppress the immune system should avoid taking spirulina).
What Is the Healthiest Bread for Mermaid Toast or Unicorn Toast?
"Bread tends to get a bad rap because of myth that it causes weight gain," says Cornelious.
Eating the whole bread basket can pack on the calories, but a couple of slices of whole-grain bread can fit into a healthy plan (one slice counts as a yellow on the 21 Day Fix and other Beachbody eating plans).
But some breads are better than others. "To supercharge this meal, use a sprouted grain bread, such as Ezekiel. One slice has up to 4 grams of fiber and 5 grams of protein, which helps increase satiety," says Cornelius.
If you're not a fan of Ezekiel, Maguire recommends finding an alternative that doesn't contain preservatives, hydrogenated oils, or added sugar.
How to Make Unicorn Toast
To create your toast, Waugh recommends using a light layer of white cream cheese as a base. Then dab one color at a time on top. "See your toast as a canvas," she recommends.
Use a small dish or bowl for each color. To create a color, add 2 tablespoons of almond cream cheese or Neufchatel to each dish and then add a small amount of color.
Mix the color until it's evenly blended, then add more as needed to intensify the hue.
Waugh says there is no exact amount of food pigment needed for each color, it just depends on how rich a color you're looking for.
To apply the color, use a knife or a spoon. To create the marbled look, she applies a dollop of each color and then use chopsticks to create the swirls.
How to Make Natural Dyes
Pink: Use beet juice from a can of beets or blend fresh beets. If you hate beets, use mashed freeze-dried strawberries or raspberries to create a reddish powder.
Yellow/Orange: Turmeric root will create yellow in small amounts and orange in larger amounts. You can find it in the produce section (it looks like ginger root). Place a 1-inch chunk in a juicer or blender.
Green: Chlorophyll is the green pigment found in all green plants. But to get enough to create a bold color, you'll need to either juice some greens or use chlorophyll supplements.
Light Blue: Spirulina is a protein-rich blue-green algae available in powdered form at some drugstores and supermarkets.
Purple: Juice fresh blueberries or use freeze-dried blueberries and crush them into a powder.
What's Next After Mermaid Toast?
After stumbling into Internet fame, Waugh attracted some haters. "Some of the comments I've gotten are laughable, like 'Leave toast alone!'" she says. "I think that people worry too much about what to do and not do with food."
The critics haven't stifled her grand food ambitions, though.
"I definitely have plans for more colorful, jazzed-up food creations, but I'll always use only healthy and non-processed ingredients!"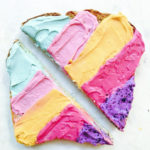 Unicorn Toast
If you love Vibrant & Pure's Unicorn Toast or Mermaid Toast, here's how to make it!
Prep Time 20 mins
Cook Time 0 mins
Total Time 20 mins
Ingredients
2 Tbsp. almond milk cream cheese (or Neufchatel), divided use
¼ to ½ tsp. beet juice (or 1 tsp. freeze-dried strawberries or raspberries)
1-in. slice turmeric root, juiced in food processor
3 to 6 drops chlorophyll
¼ tsp. spirulina powder
1 tsp. freeze-dried blueberries
1 slice whole-grain bread, toasted, cooled
Instructions
Evenly divide cream cheese between five small bowls.

Add ¼ tsp. beet juice to one bowl; mix until well blended. Add more beet juice if needed for color. Set aside.

Add 2 to 3 drops turmeric juice to one bowl; mix until well blended. Add more turmeric juice if needed for color. Set aside.

Add 3 drops chlorophyll to one bowl; mix until well blended. Add up to 3 more drops chlorophyll if needed for color. Set aside.

Add spirulina to one bowl; mix until well blended. Set aside.

Place blueberries in a resealable plastic bag. Mash until powdered.

Add mashed blueberries to one bowl; mix until well blended. Set aside.

Place dollops of cream cheese randomly on toast. Spread with a butter knife, in a swirling motion to create a rainbow of color; serve immediately.
Nutritional Information (per serving):
Calories: 175
Total Fat: 7 g
Saturated Fat: 0 g
Cholesterol: 0 mg
Sodium: 180 mg
Carbohydrates: 22 g
Fiber: 3 g
Sugars: 2 g
Protein: 8 g
Portion Fix Containers
1 Yellow
1 Orange