Try This 10-Minute Ab Workout!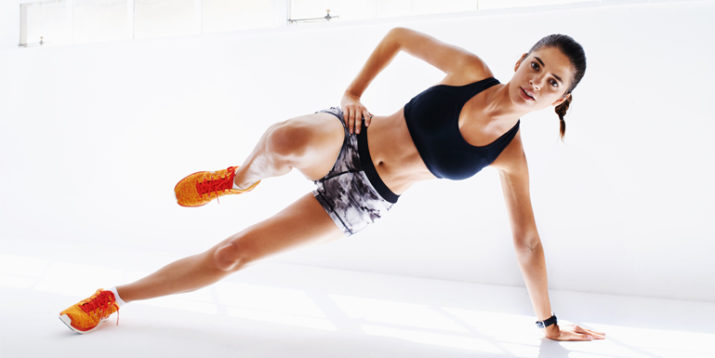 We know what you're thinking: There's no way you can get in a heart-pounding, fat-incinerating workout in just 10-minutes.
That's faster than most warm-ups and less time than it takes many people to order lunch. And the way most people work out — plodding through endless sets of 8 to 10 reps with plenty of rest and water breaks — you'd be right.
Even a 10-minute ab workout probably seems like it wouldn't do too much… unless you do it the right way.
When it comes to building muscle and losing weight, the science is clear: Exercise density and intensity are much more important for weight loss than workout duration.
Indeed, even just a single minute of all-out effort within a brief, 10-minute workout, performed 3 days a week, is all it takes to boost cardiovascular endurance and reap the physical rewards of much longer sweat sessions, according to a recent study at McMaster University in Canada.
Now imagine what can happen if you push hard for all 10 of those minutes. In just a few weeks, you'd see a stronger, slimmer person staring back at you in the mirror.
You could even get in a killer workout for abs before your favorite sitcom is halfway done. But don't just take our word for it — experience the results yourself with 10-Minute Trainer, available exclusively on Beachbody On Demand.
10-Minute Abs from Tony Horton
Here are the 17 ab exercises you'll find in this 10-minute ab workout. Head to Beachbody On Demand to learn how to do each exercise properly.
Cross Crunch – 0:50
Bridge Crunch – 1:25
Iso Bike – 2:00
Speed Bike – 2:32
Golden Gate – 3:05
Side Arm Crunch – 3:45
Hip Lift Kick – 5:00
Plank "O" Crunch – 6:15
3-Point Plank Crunch – 6:55
Lolasana – 8:03
The Dawn – 8:40
Mountain Climber – 9:20
Superman Crunch – 10:00
Tick-Tock Lift – 10:45
Peek-A-Boo – 11:20
Scissor Crunch – 11:55
Scissor Lift – 12:35
The 10-Minute Ab Workout
Beachbody On Demand is the only way to access 10-Minute Trainer. But if you're not member yet, you can still get an idea of what Tony Horton's 10 Minute Trainer workouts are like.
With the 10-minute ab workout above, Horton takes you through 17 exercises that target each section of your core, while also hitting muscles like your shoulders, arms, glutes, and more.
It's great for a daily or weekly ab workout, and it's perfect to do at home since you don't need any weights or equipment (but a mat might be nice).
From cross crunches to iso bikes to plank crunches, your abs will be on fire at the end of this 10-minute ab workout routine. The variety of moves ensures that you'll work your entire core, giving you a complete, well-rounded workout.
And it will help you get just that much closer to sculpting the six-pack you've always wanted. If you don't feel comfortable doing the full exercises, just follow Horton's instructions to do the modified versions, which hit the same muscles at a lesser intensity.
Want more 10-Minute Trainer videos, as well as access to hundreds of other workouts that can help you slim down and tone up without ever stepping foot in a gym? Then head to Beachbody On Demand today!
More 10-Minute Workouts from Tony Horton
In just 10 minutes a day, Super Trainer Tony Horton gives you the moves you need to work your entire body, and work it hard. It's all in his program, 10-Minute Trainer, which you can only find on Beachbody On Demand.
The main program includes eight short, but efficient workouts that target both specific muscle groups and your whole body at once. You'll find a 10-minute arm workout, 10-minute leg workout, 10-minute cardio workout… you get the idea.
Together, this creates a comprehensive exercise program that will elicit results in record time. There's even a yoga workout to help stretch your muscles and improve flexibility.
If you want even more options than the standard eight workouts, you're in luck. The 10-Minute Trainer Deluxe package gives you six additional workouts, including plyo intervals, a focus on chest and back, and more.
Between these 14 workouts, you'll hit every muscle group, challenge your endurance, and improve your overall power.
Still not convinced that 10-minutes is enough time to make you sweat buckets and shift your metabolism into overdrive? Try the full ab workout routine above, and then see how you feel.
Beachbody On Demand is a platform that allows you to stream P90X, INSANITY, 21 Day Fix EXTREME, INSANITY MAX:30, FOCUS T25, 3 Week Yoga Retreat, or any of over 400 world-famous Beachbody workouts that have helped millions transform their lives.
Beachbody On Demand also lets you sample programs, including CORE DE FORCE, Country Heat, and 22 Minute Hard Corps. Inside, you'll find the program nutrition guides, workout calendars, and exclusives like SHAUN WEEK: INSANE FOCUS and FIXATE, Autumn Calabrese's healthy cooking show.
No matter where you are in the world — whether you're in your house, at the gym, or on vacation — you can access your program guides, your workouts, and more on your laptop, smartphone, or tablet.
As long as you can connect to the Internet, you can work out with Beachbody. What are you waiting for? Sign up now!