Transformation Tuesday: Aaron Bulked Up with Body Beast!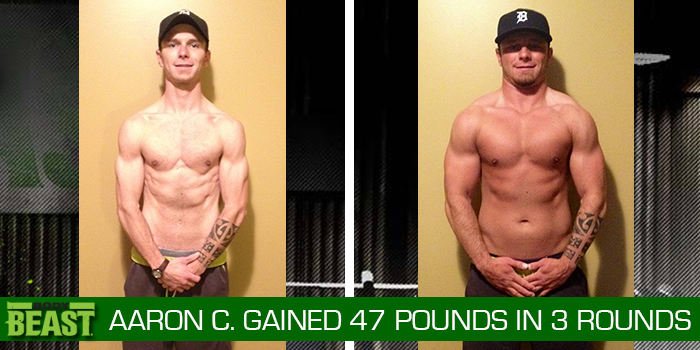 After losing weight with P90X and P90X2, Aaron decided it was time to bulk up. Watch him transform from scrawny to brawny with 3 rounds of Body Beast! He gained 47 pounds of muscle and 32.4 inches. Read his story in his own words below:
This is now my 3rd complete full round of Body Beast. Before I started Body Beast I was a skinny 128 lbs. I had completed P90X and X2 and really needed to start packing some muscle on so I chose to do Body Beast since I had so much trust in the Beachbody programs. I really didn't expect to get the results that I have and I am blown away at how great this program is. I want to be the proof that this is NOT a gimmick and this works.
My family is what inspires me. The man I was becoming was not the guy I wanted to be. I have two young boys (2.5 years and 10 months) and a beautiful wife at home who I love. I want to be the best example to all of them and Beachbody and Body Beast has completely changed not only my physical appearance but my outlook on life. After now completing 3 rounds of Body Beast and going on to gain 50 lbs, it just goes to show that if you really want something bad enough and set your mind to it you will achieve it.
The biggest challenge I faced was being able to trust the program and eat like a Beast. I was a skinny 128 lbs and not used to eating so much and so often throughout the day on a regular basis. At times throughout Body Beast I had been eating 5,000 calories a day and with the help of the training I never started to get fat. I followed the diet and meal book and there are a lot of great recipies in it that I use on a regular basis. My Beachbody Coach Robert Broussard has helped me a ton, he helped me get started on the right path from day 1 and I have never looked back.
Body Beast is an amazing weight training program. I love how Sagi takes the time and explains every single move throughout each workout. I also love how the program is set up with the schedule; it always keeps me wanting to come back for more the next day. Each day that I complete another workout I feel that much better about myself and I know that I am getting that one step closer to being in exceptional shape. I also love the meal plan and dieting guide, they have kept me from wanting to stray from the path and eat a bunch of junk. The Beast Chili is awesome!
The results I have achieved through Body Beast are absolutely incredible. I went from a scrawny 128 lbs to now 175 lbs of solid mass. I never ever in a million years would have thought that buying an at-home workout program would have helped me get those kinds of results. I get compliments all of the time on how great I look now and people are always asking me about the program I am doing. I always tell them Body Beast. I used to look in the mirror and see a skinny wimpy guy and now I definitely for the first time in my life see something that is the opposite. This program has made me not only stronger but also much more confident in my everyday life.
Life has done a complete 180 turn since completing the program. I am now more focused on the things that matter in life. I have given up so many bad habits and picked up some great ones. To my boys I am a much better father, I am spending more time playing with them and laughing, instead of sitting on the couch and drinking beer. To my wife I am a better husband, I am helping out so much more than I had been with all the daily activities that come along with being a parent. To my work I am much more focused, I think clearer and put much more effort into what I do. My life overall is just better, I am happier, healthier, and proud to say that I owe it to Beachbody on getting me to the person that I have always wanted to be.
Being in a challenge group is awesome! The people that I have met are so supportive and nice it is a great experience. When I started this group I was very embarrassed at my current health status but I was honest and told everyone what my goals were. Having a group of people that are going through the same challenges you are is a very motivating experience. We all encourage each other and help to stick with the programs. For me, I like trying to show people that changes can happen if you just stay consistent and stick with the schedule. Without the group I probably would not have completed my program or reached my goals. Being in the group makes you want to show everyone that you can do it and it definitely helps to not give up and quit. Having a support group to ask questions to is awesome. Its great because even though some days you feel down or like you want to give up, the challenge group is always there to encourage and support you.
Shakeology has supported me through the entire way. I honestly love the flavors, I have tried them all lol, and I really feel that it gives me the nutrients I need on a daily basis to have the energy that I do. I have also used the Super Suma and Fuel Shot. They are also some great products, along with all the hard work I put into the workouts these supplements are a great combination to get healthy.
You can change your life, too. Take the Beachbody Challenge for the tools you need to Decide, Commit, and Succeed! Complete any Beachbody program, and enter your results for a free gift and a chance to win cash and prizes.