Spiced Apple Vanilla Chai Overnight Oats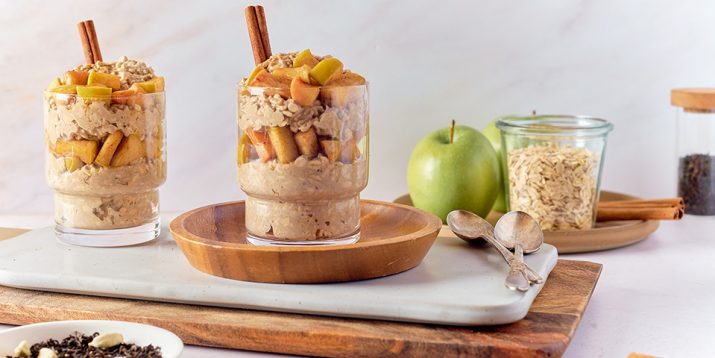 *Note: This recipe is intended for our Canadian customers.
---
This overnight oats recipe is basically fall in a glass.
Rolled oats soak up all the fabulous flavours — vanilla chai with hints of cinnamon and clover, and fresh apple plus a bit of apple spice to really amp things up.
Vanilla Chai Shakeology is a limited-edition seasonal flavour, so get it while it lasts!
Total Time: 15 min. + 4 hr. chilling time
Prep Time: 5 min.
Cooking Time: 10 min.
Servings: 1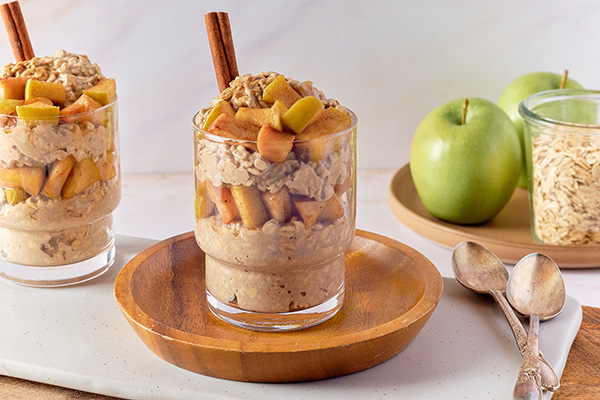 Ingredients
Nonstick cooking spray
1 medium apple, chopped
½ tsp. pure coconut sugar
½ tsp. apple pie spice
20 g / ¼ cup dry rolled oats
1 scoop Vanilla Chai Plant-Based Vegan Shakeology
120 ml / ½ cup unsweetened almond milk
Instructions
Heat a medium nonstick skillet over medium-high heat; lightly coat with spray.
Add apple, sugar, and apple pie spice; cook, stirring frequently, for 8 to 10 minutes, or until softened.
Add oats, Shakeology, apple, and almond milk to a sealable 500 ml (16 oz.) jar; stir to combine. Refrigerate for at least 4 hours or overnight. Enjoy within 24 hours.
The Nutrition Facts below provide estimated nutritional information for this recipe.
Fantastic Fibre (F), No Dairy (ND), Protein Power (P), Vegan (V), Vegetarian (VG)
Nutritional Information (per serving):
Calories: 357
Total Fat: 6 g
Saturated Fat: 1 g
Cholesterol: 0 mg
Sodium: 385 mg
Carbohydrates: 56 g
Fibre: 13 g
Sugars: 30 g
Added Sugars: 7 g
Protein: 20 g
Container Equivalents
1 Purple
1 Red
1 Yellow
1 tsp.
Vegan Container Equivalents
1 Purple
1 Red
1 Yellow A
1 tsp.
2B Mindset Plate It!
This recipe makes a great breakfast.