Shakeology Salted Chocolate Maple Walnut Bars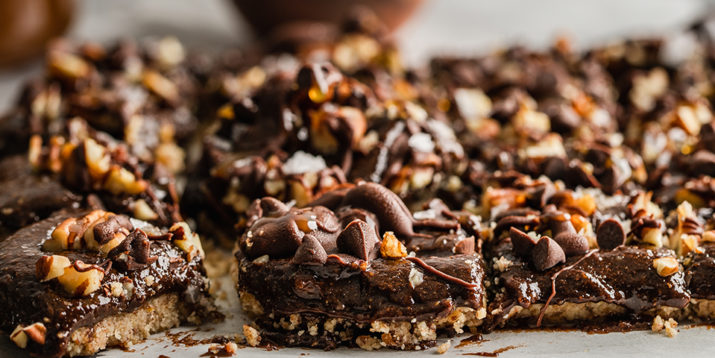 Note: This recipe is intended for our U.K. audience.
---
This layered chocolate bar recipe hits all the right notes with a cookie-like crust, gooey chocolate interior, and crunchy nuts on top.
These homemade bars are the perfect pick-me-up for that afternoon slump — skip the junk food and nibble on these salty-sweet, chocolatey, crunchy bars instead.
It looks like a fancy store-bought chocolate treat, but it's actually pretty simple to make!
For the crust, all you have to do is blend almond flour, walnuts, dates, sea salt, and coconut oil in a food processor to create the slightly sweet, cookie-like bottom layer.
For layer #2, blend almond butter, maple syrup, and Chocolate Plant-Based Vegan Shakeology for a creamy, chocolatey sweet hit and then top with crunchy walnut pieces and drizzled melted chocolate.
(Is anyone else's mouth watering right now?!)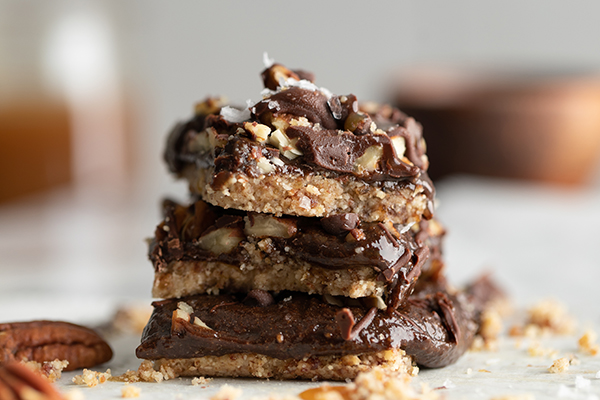 Prep Time: 10 minutes
Cook Time: 1 minute
Total Time:  11 minutes + 1 hr. chilling time
Servings: 9 bars, 1 bar each
Ingredients
For crust:
50 g / ½ cup almond flour
30 g / ¼ cup unsalted walnuts (or pecans)
2 pitted dates
1 Tbsp. extra-virgin coconut oil
⅛ tsp. sea salt (or Himalayan salt)
For chocolate layer:
60 g / ¼ cup all-natural peanut butter (or almond butter)
80 g / ¼ cup pure maple syrup (or honey)
2 Tbsp. water
1 scoop Chocolate Plant-Based Vegan Shakeology
For topping:
2 Tbsp. chopped unsalted walnuts (or pecans)
1 Tbsp. chopped dark chocolate
¼ tsp. extra-virgin coconut oil, melted
Instructions
To make crust, place almond flour, walnuts, dates, oil, and salt in a food processor; process continuously until walnuts are crushed into fine crumbs. Set aside.
Line a 20 x 20-cm (8 x 8-inch) baking dish with parchment paper. Using clean hands (or a rubber spatula) press crust mixture into dish to form an even layer. Set aside.
To make chocolate layer, combine peanut butter, maple syrup, water, and Shakeology in a medium bowl; mix well.
Press chocolate mixture on top of crust to form chocolate layer.
Gently press chopped walnuts into chocolate layer.
Place chopped dark chocolate in a small bowl; microwave on high for 20 seconds. Stir; microwave on high for an additional 20 seconds. Stir. Repeat until chocolate is evenly melted (about three times). Add oil; mix well.
Using a fork, drizzle chocolate over prepared pan. Refrigerate for 1 hour before serving. Store refrigerated in an airtight container for up to 24 hours.
Nutrition Facts
(*estimated nutritional information per serving)
Calories: 184
Fat: 12g
Saturated Fat: 2g
Cholesterol: 0g
Sodium: 76 mg
Carbohydrates: 16g
Fibre: 3g
Sugar: 10g
Protein: 6g
Container Equivalents
1 Yellow
½ Blue
1½ tsp.
2B Mindset Plate It!
Makes a great protein side.
If you have questions about the portions, please click here to post a nutrition question in our forums so our experts can help. Please include a link to the recipe.