Carrot Cake With Cream Cheese Frosting
Carrot cake is a dessert classic when spring rolls around, but our carrot cake recipe with Vanilla Shakeology is one that you can make year-round and eat every single day.
Vanilla Shakeology turns traditional carrot cake into a superfood dessert. Sweet, creamy vanilla blends beautifully with shredded carrot and coconut to create a moist, delicious cake.
Applesauce and crushed pineapple add a light sweetness and fresh carrot juice really amps up the flavor.
Have questions about baking with Shakeology? Learn more here.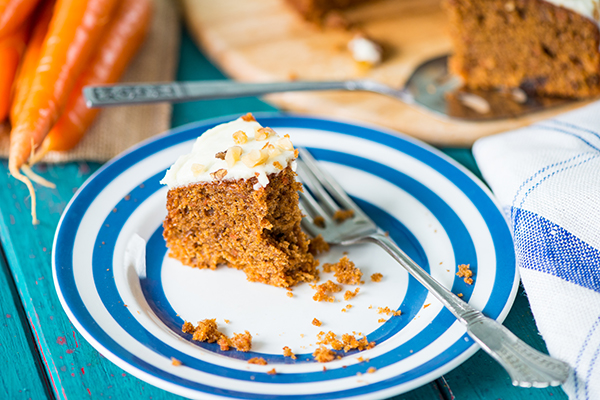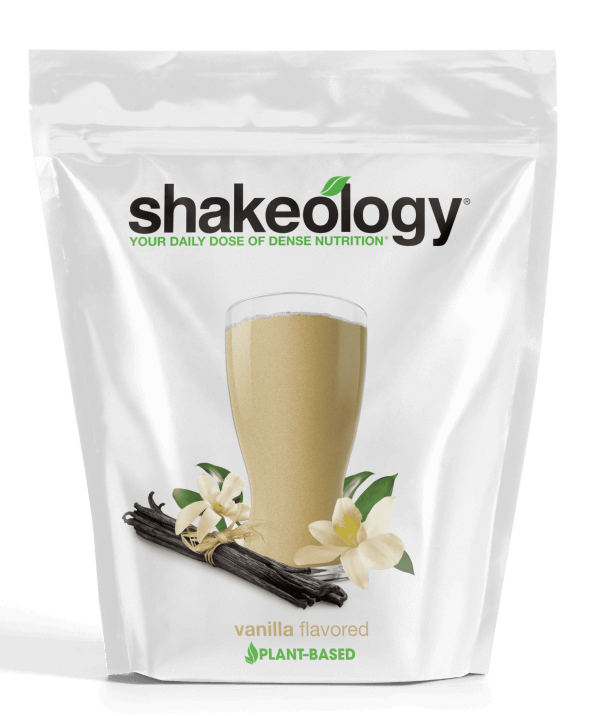 Vanilla Shakeology
Experience the sweet, creamy flavor of robust vanilla as your daily superfood dessert.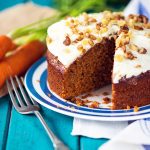 Carrot Cake With Cream Cheese Frosting
Prep Time 20 mins
Cook Time 50 mins
Total Time 1 hr 10 mins
Servings 6 servings, 1 slice each
Calories 408 kcal
Ingredients
FOR CAKE
Nonstick cooking spray
4 scoops Vanilla Shakeology
½ cup / 50 g almond flour
½ cup / 40 g unsweetened shredded coconut
¼ cup / 30 g coconut flour
2 tsp. baking soda
2 tsp. ground cinnamon
½ tsp. sea salt (or Himalayan salt)
2 cups / 220 g shredded carrots
1 cup / 195 g crushed pineapple, drained
4 large eggs
½ cup / 120 g unsweetened applesauce
½ cup / 120 ml fresh carrot juice, unsweetened
2 Tbsp. extra-virgin coconut oil (or ghee)
2 tsp. pure vanilla extract
FOR FROSTING
2 oz. / 60 g reduced-fat cream cheese, softened
¼ cup / 60 g reduced fat (2%) plain Greek yogurt
3 Tbsp. powdered sugar
2 tsp. pure vanilla extract
Instructions
To make cake, preheat oven to 350° F (180 °C). Lightly coat an 8 x 2-inch (20 x 5-cm) round baking dish with spray. Set aside.

Add Shakeology, almond flour, shredded coconut, coconut flour, baking soda, ground cinnamon, and salt to a large mixing bowl; stir to combine. Set aside.

Add carrots, pineapple, eggs, applesauce, carrot juice, oil, and extract to a medium mixing bowl; stir to combine.

Add wet mixture to dry mixture; stir until just combined. Pour batter into prepared dish.

Bake for 50 minutes, or until a toothpick inserted into the center comes out clean. Remove from oven. Set aside; allow to cool completely. You can cover cake with plastic wrap and refrigerate to cool faster.

To make frosting, add cream cheese, yogurt, powdered sugar, and extract to a medium mixing bowl; beat until smooth. Spread frosting evenly over cake.

Slice cake into 6 equal-sized slices. Serve immediately or refrigerate in an airtight container for up to 3 days or freeze for up to 1 month.
Recipe Notes
Fantastic Fiber (F), Gluten-Free (GF), Protein Power (P), Vegetarian (VG)
The Nutrition Facts box below provides estimated nutritional information for this recipe.*
* Total Sugars 25 g, Added Sugars 7 g
Nutrition Facts
Carrot Cake With Cream Cheese Frosting
Amount Per Serving (1 slice)
Calories 408 Calories from Fat 180
% Daily Value*
Fat 20g31%
Saturated Fat 11g69%
Cholesterol 130mg43%
Sodium 883mg38%
Carbohydrates 35g12%
Fiber 10g42%
Sugar 25g28%
Protein 21g42%
* Percent Daily Values are based on a 2000 calorie diet.
Container Equivalents
½ Green
1 Red
½ Yellow
1 Blue
½ Orange
1 tsp
2B Mindset Plate It!
This recipe makes a great breakfast.