Roasted Fennel and Farro Salad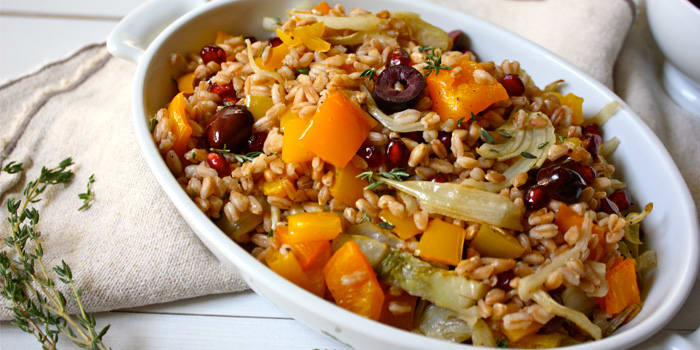 This jewel-toned side dish will have everyone talking. The nutty farro, fennel and bell peppers get sweeter with roasting, the briny notes of Kalamata olives add depth, and the texture is heightened by the juicy pomegranate seeds. The Mediterranean dish is pretty and hearty enough to be the centerpiece of a meal, or pair it with roast chicken, turkey, or fish for a dinner that makes any night a special occasion.
Tip: To coax even more flavor out of farro, toast it first. Place a dry pan over medium heat add farro and toss or stir constantly until the grains start to smell nutty and are slightly browned.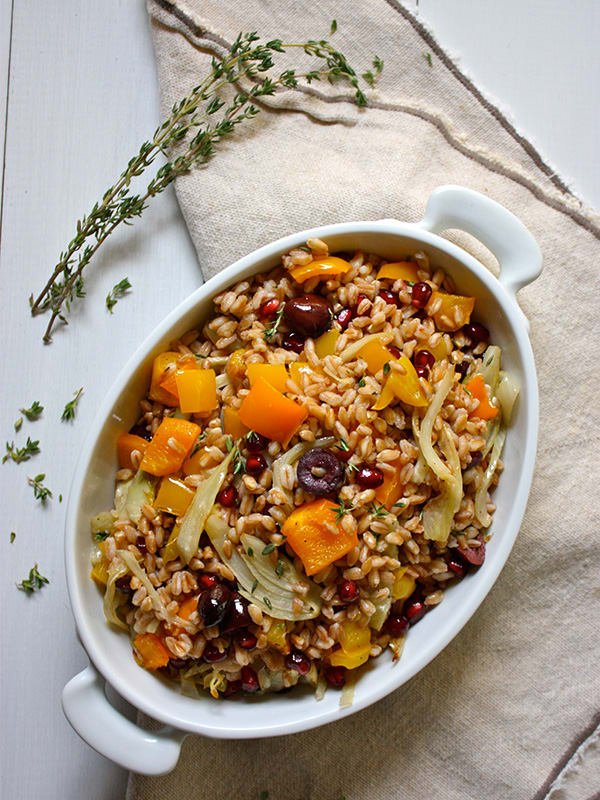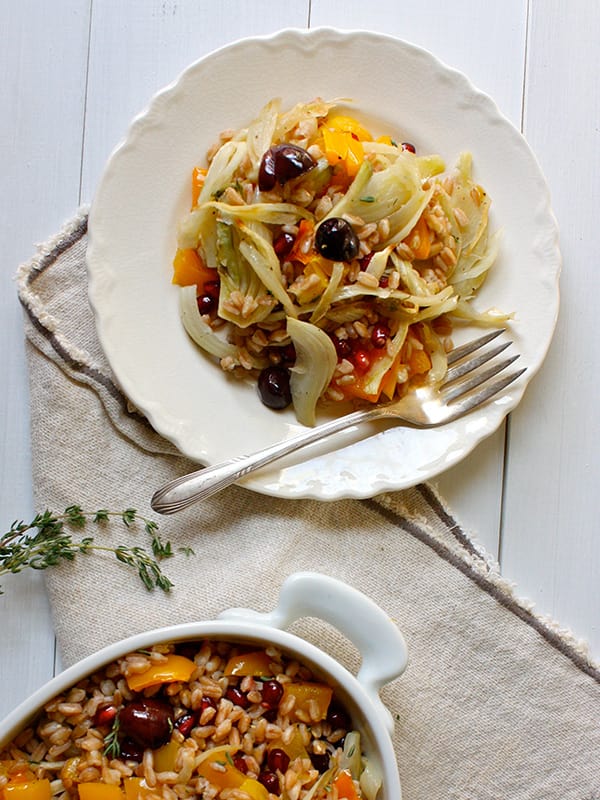 Roasted Fennel and Farro Salad
Total Time: 1 hr. 15 min.
Prep Time: 15 min.
Cooking Time: 1 hr.
Yield: 6 servings, approximately 1 cup each
Ingredients:
1 cup dry farro (or wheat berries)
Water
2 large fennel bulbs, thinly sliced into matchstick-sized pieces
1 medium yellow bell pepper, chopped
1 medium orange bell pepper, chopped
2 Tbsp. olive oil
½ tsp. sea salt (or Himalayan salt)
½ tsp. ground black pepper
¼ cup Kalamata olives, pitted, coarsely chopped
¼ cup pomegranate seeds
3 Tbsp. white balsamic vinegar
2 tsp. finely chopped fresh thyme
Preparation:
1. Preheat oven to 400° F.
2. Place farro in medium saucepan. Add water to cover by 2 inches. Bring to a boil over medium-high heat. Reduce heat to medium-low; gently boil for 15 to 20 minutes, or until tender. Drain and place in a medium bowl. Set aside.
3. While farro is cooking, combine fennel, bell peppers, oil, salt, and pepper in a medium bowl; toss gently to coat. Place on a baking sheet (or roasting pan) in a single layer. Bake for 35 to 40 minutes, turning occasionally, until tender.
4. Add vegetables, olives, pomegranate, vinegar, and thyme to farro; toss gently to blend.
5. Salad may be served warm, at room temperature, or cold.
Tip: If using wheat berries, gently boil for 50 to 60 minutes, or until tender.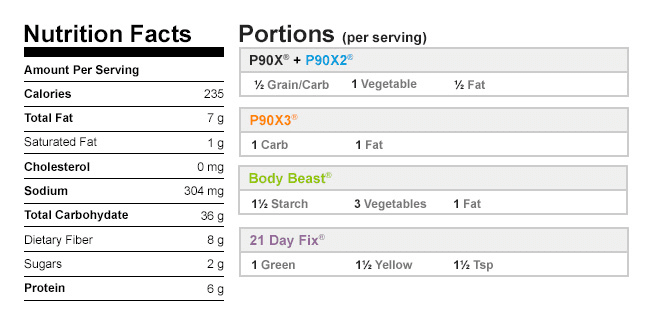 If you have questions about the portions, please click here to post a question in our forums so our experts can help. Please include a link to the recipe you're asking about.
Photos by Kirsten Morningstar