8 of the Best Reef-Safe Sunscreens to Protect You and Our Oceans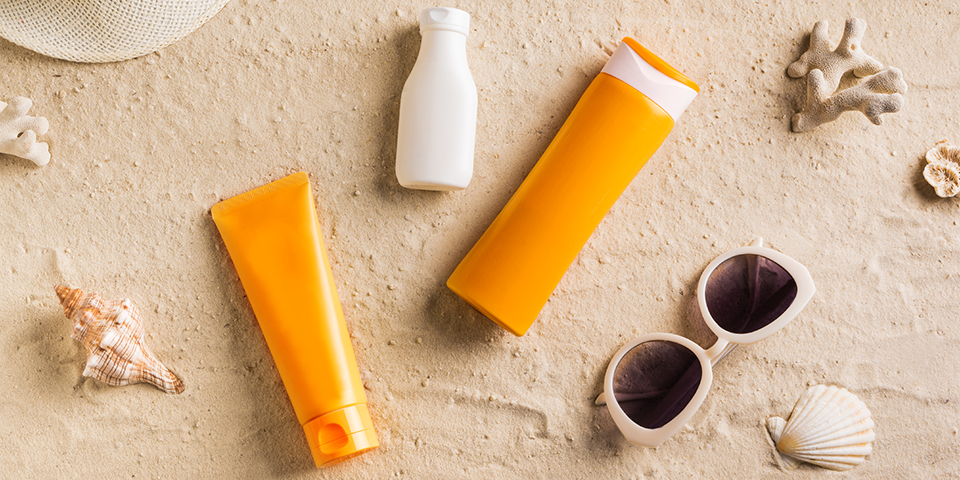 When you're picking out your sunscreen from the multitude of options out there, you have to consider things like SPF, water resistance, and ingredients. That last one is pretty important, not only for your skin, but also for our oceans! With the epidemic of reef destruction around the world, it's now more important than ever to consider reef-safe sunscreen.
What is reef-safe sunscreen, exactly? While there is no official, regulated definition of the term, reef-safe sunscreens avoid certain substances — such as oxybenzone — that may be harmful to our sea life.
Here are the best reef-safe sunscreens that can help protect the environment!
1. All Good SPF 30 Water-Resistant Sport Sunscreen Spray (All Good)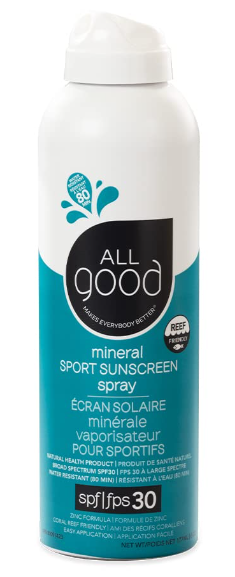 This reef-safe sunscreen spray from All Good is best for those who sweat, play sports, or swim, and need an effective, eco-friendly, and water-resistant sun protectant.
Gluten-free, vegan, biodegradable, and void of oxybenzone, this sunscreen includes organic green tea, rose hips, and buriti oil, which the company says are great for repairing damaged skin!
Price: $16
2. Thinksport Sunscreen SPF 50 (Amazon)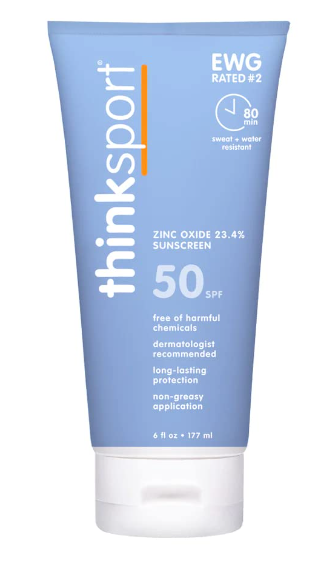 Top rated by EWG (Environmental Working Group) and the first sunscreen to pass Whole Foods Premium Care requirements, this SPF 50, broad-spectrum sunscreen lotion from Thinksport is free of avobenzone, oxybenzone, paraben, phthalates, and other chemicals that may cause harm to our reefs.
Plus, it absorbs easily so it won't leave you feeling oily as you have your fun in the sun.
Price: $22
3. Suntegrity Natural Moisturizing Face Sunscreen (Amazon)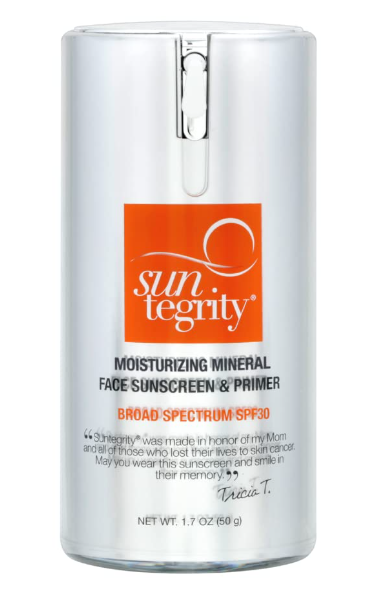 As far as face lotions go, Suntegrity Moisturizing Sunscreen ranks pretty high. Given the highest rating by EWG, Suntegrity is a three-in-one face moisturizer, makeup primer, and sunscreen that's vegan, cruelty-free, chemical-free, and paraben-free.
It's full of nourishing ingredients like organic aloe, jojoba, green tea, and cucumber, so your face will feel like it's spent the day at a spa.
Price: $45
4. Raw Elements Certified Natural Sunscreen (Amazon)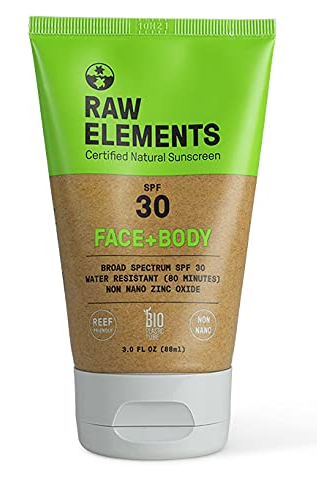 Soy-, gluten-, and nut-free, Raw Elements' biodegradable ingredients are so hydrating, it doubles as a body moisturizer, making it perfect for everyday use. It provides kid-friendly SPF 30 UVA-UVB true broad-spectrum protection, and it's water-resistant, so the whole family can play hard without worry of it coming off.
Price: $17
5. Supergoop! Glow Stick Sunscreen (Supergoop!)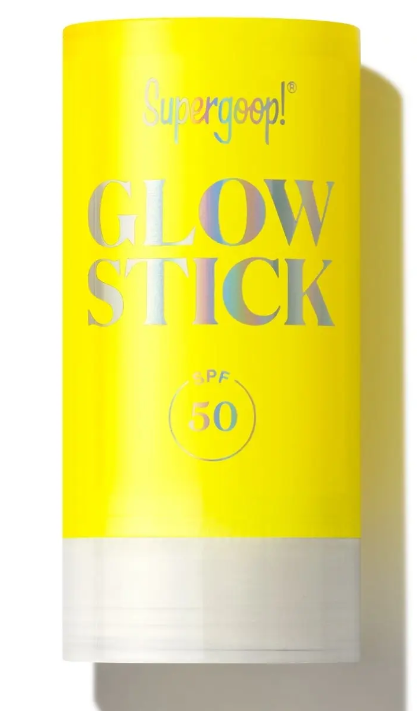 For a fantastic reef-safe sunscreen stick that does it all, Supergoop! SPF 50 Stick has you covered. (Literally.) Formulated without parabens, synthetic fragrances, or oxybenzone, this stick offers glow-boosting hydration fit for combo, dry, and sensitive skin types.
Use it as a highlighter on your cheeks, chest, or shoulders for a natural makeup look that protects your skin!
6. MyCHELLE Dermaceuticals Sun Shield Clear Spray SPF 30 (MyCHELLE Dermaceuticals)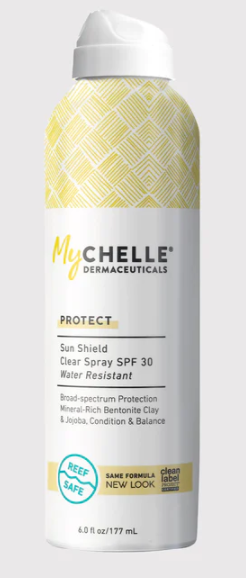 A founding member of the EWG VERIFIED: For Your Health™ program, MyCHELLE Dermaceuticals is committed to sustainability and transparency for all their products.
This clean, clear, zinc-based SPF 30 sun spray is water-resistant and completely reef-safe. The convenient, continuous spray application spreads evenly for up to 80 minutes of broad-spectrum protection!
Price: $22
7. Alba Botanica Tropical Fruit Kids SPF 45 Sunscreen (Amazon)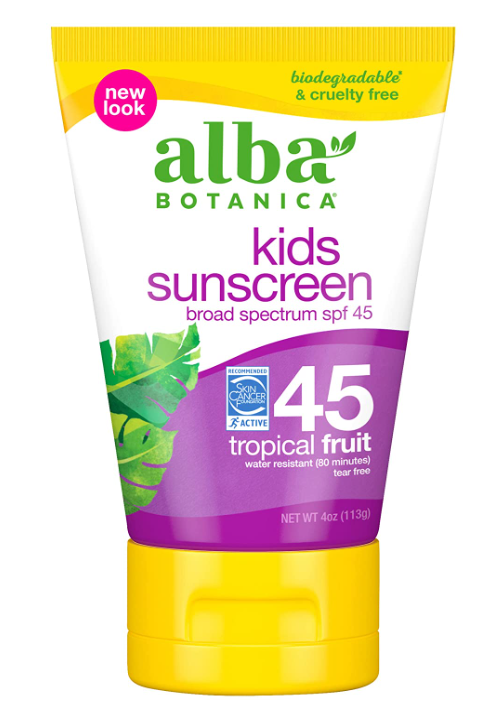 Tired of sunscreen lotion that smells like sunscreen lotion? Then Alba Botanica is for you! They have great cruelty-free, broad-spectrum, water-resistant, and yummy-smelling sunscreens that won't harm the planet or your little one's skin.
This lightweight, tear-free formula is made with gentle aloe leaf juice and chamomile, making it an excellent option for your kids while also having a delightful scent.
Price: $11
8. Invisi-Bloc SPF40 (Neora)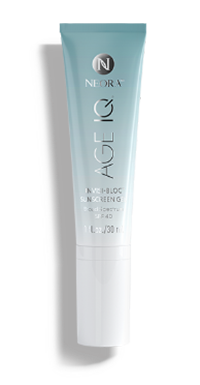 This vegan and non-comedogenic formula is free of gluten, parabens, phthalates, synthetic colors, and propylene glyco! The SPF 40, reef-friendly gel also creates a blurred, matte primer which is great under makeup or alone, and even protects against blue light damage from digital devices!
Price: $59