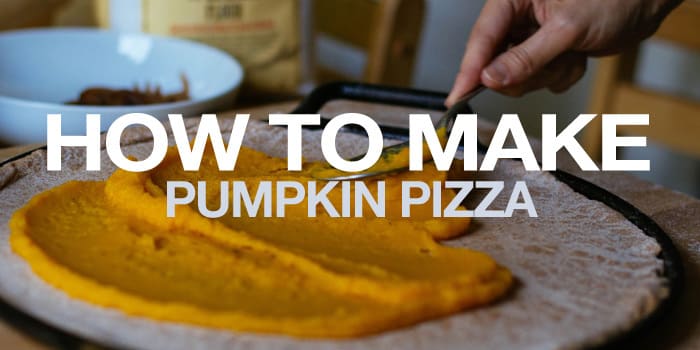 Create this beautiful gourmet pie for your next family pizza night and listen to the oohs and ahhs!
Making freshly roasted pumpkin puree is totally worth the effort, but canned puree tastes great, too!
Pumpkin Pizza With Kale
Prep Time 10 mins
Cook Time 8 mins
Total Time 18 mins
Servings 8 servings, 1 slice each
Calories 217 kcal
Ingredients
INGREDIENTS FOR PIZZA DOUGH:
¼ oz. active dry yeast
1 cup warm water (100 - 110° F)
2 tsp. sugar
3 – 3¼ cups whole-wheat flour, divided use
½ tsp. fine sea salt (or Himalayan salt)
2 tsp. olive oil, divided use
Nonstick cooking spray
INGREDIENTS FOR PIZZA:
1-1½ cups fresh roasted (or canned) pumpkin puree
¾ tsp. curry powder
2 Tbsp low-sodium organic vegetable (or chicken) broth
1 tsp. olive oil
2 cups chopped kale, stems removed
1 medium red onion, chopped, caramelized (see tips)
¼ cup crumbled feta cheese
Instructions
For Pizza Dough:

Place yeast, water, and sugar in a medium bowl. Let stand for 10 minutes, or until yeast becomes foamy.


Combine 3 cups flour and salt in a small bowl. Gradually add flour mixture to yeast mixture. Mix with clean hands until mixture does not stick to your hands. Add additional flour if needed. Roll dough into a ball. Brush with ½ tsp. oil. Place in a bowl; cover with a towel. Let rise for 2 hours.

Punch down dough to remove air; knead and roll into a ball. Brush with ½ tsp. oil. Place in a bowl; cover with a towel. Let rise for an additional 2 hours.

Roll dough until it will no longer stretch. Let rest for 5 minutes. Continue to roll until it reaches your desired diameter, about 10 to 12-inches, and about ½-inch thick. Place on baking pan lightly coated with spray.

Brush with remaining 1 tsp. oil.

For Pizza:

While pizza dough is resting, combine pumpkin, curry powder, and broth in a medium bowl; mix well. Set aside.

Heat oil in medium skillet over medium-high heat.

Add kale; cook, stirring frequently, for 3 to 4 minutes, or until kale softens. Set aside.

Spread pizza dough evenly with pumpkin mixture, stopping ½-inch from edge.

Top evenly with kale and onion.

Bake for 10 to 15 minutes, or until crust is golden.
Recipe Notes
Tip: You can make fresh roasted pumpkin puree by cutting a pumpkin in half and placing it on a baking pan. Drizzle it with ½ tsp. olive oil. Sprinkle with salt and pepper to taste. Bake at 350° F for 35 to 40 minutes. If using fresh pumpkin puree, increase vegetable broth to 4 Tbsp. To caramelize onion, heat 1 tsp. olive oil in medium nonstick skillet. Add 1 chopped onion; cook, stirring frequently, for 3 to 4 minutes. Once onions begin to brown reduce heat to low. Cook for 10 to 12 minutes, or until onions are brown.
Nutrition Facts
Pumpkin Pizza With Kale
Amount Per Serving (1 serving)
Calories 217 Calories from Fat 36
% Daily Value*
Fat 4g6%
Saturated Fat 1g6%
Cholesterol 4mg1%
Sodium 209mg9%
Carbohydrates 40g13%
Fiber 8g33%
Sugar 4g4%
Protein 8g16%
* Percent Daily Values are based on a 2000 calorie diet.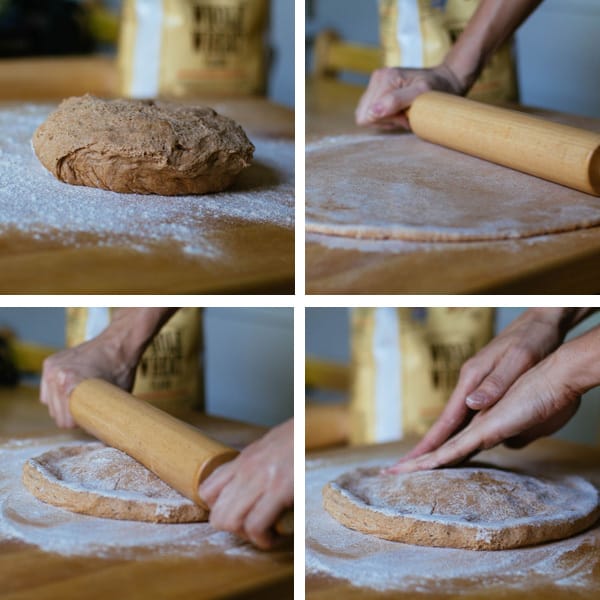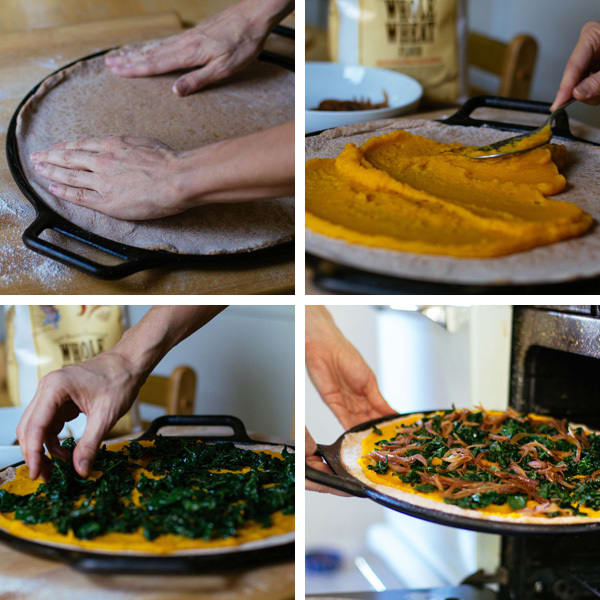 P90X/P90X2 Portions
½ Carb/Grain
2 Vegetables
P90X3 Portions
2 Carbs
Body Beast Portions
1 Starch
4 Vegetables
Portion Fix Containers
2 Green
1 Yellow
2B Mindset Plate It!
A great FFC as part of lunch.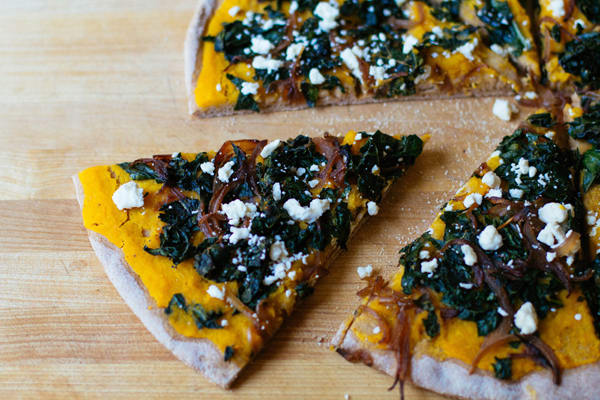 If you have questions about the portions, please click here to post a question in our forums so our experts can help. Please include a link to the recipe you're asking about.