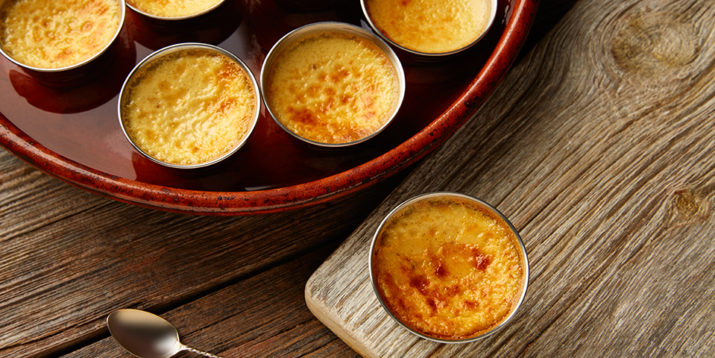 Old-school custard recipes usually include processed white sugar and heavy whipping cream.
But in our Pumpkin Coconut Custard recipe, we were able to achieve the perfect creamy custard using naturally sweet coconut milk, a touch of maple syrup (or raw honey if you prefer) and unsweetened almond milk.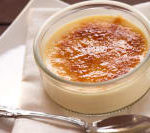 Pumpkin Coconut Custards
These stunning velvety Pumpkin Coconut Custards feature unsweetened almond milk a touch of maple syrup and naturally sweet coconut milk.
Prep Time 10 mins
Cook Time 50 mins
Total Time 1 hr
Servings 8 servings
Calories 153 kcal
Ingredients
1 tsp. ground cinnamon
½ tsp. ground ginger
¼ tsp. ground nutmeg
½ tsp. fine sea salt
4 large eggs, beaten
½ cup pure maple syrup (or raw honey)
½ tsp. pure coconut extract
1 (15-oz.) can pumpkin puree
¾ cup canned coconut milk
¾ cup unsweetened almond milk
Instructions
Preheat oven to 300° F.

Combine cinnamon, ginger, nutmeg, and salt in a small bowl; mix well. Set aside.

Combine eggs, maple syrup, and extract in a large bowl; whisk to blend.

Add spice mixture and pumpkin.

Gradually add coconut milk and almond milk; whisk to blend.

Pour mixture evenly into eight 6-oz. custard cups. Place cups in 13x9-inch baking pan; fill pan with 1-inch hot water.

Bake for 45 to 50 minutes, or until knife inserted in custard halfway between center and edge of ramekin comes out almost clean. Cool completely on wire rack. Refrigerate until ready to serve.
Recipe Notes
The Nutrition Facts box below provides estimated nutritional information for this recipe.
Nutrition Facts
Pumpkin Coconut Custards
Amount Per Serving (1 Serving)
Calories 153 Calories from Fat 63
% Daily Value*
Fat 7g11%
Saturated Fat 5g31%
Cholesterol 93mg31%
Sodium 202mg9%
Fiber 2g8%
Sugar 14g16%
Protein 5g10%
* Percent Daily Values are based on a 2000 calorie diet.
Container Equivalents
½ Purple
½ Yellow
1 Blue
2B Mindset Plate It!
Enjoy as an occasional treat. Be sure to track it.
If you have questions about the portions, please click here to post a question in our forums so our experts can help. Please include a link to the recipe.