Pistachio-Crusted Halibut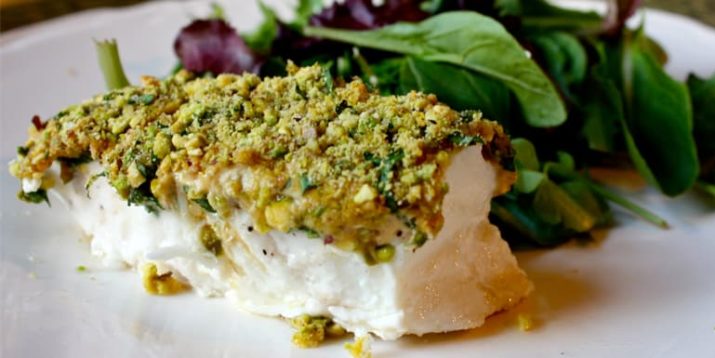 If you prefer fish that doesn't taste "fishy," then you need to add this Pistachio-Crusted Halibut to your recipe repertoire.
Halibut is a firm whitefish that goes with pretty much anything, and it's equally delicious when baked, broiled, poached, or grilled.
It only takes 20 minutes and seven ingredients to cook up this elegantly simple meal that's high in protein and low in fat.
It's the crust that really elevates this humble halibut: Pistachios and cornmeal provide the satisfying crispiness. Dijon mustard and grated lemon peel give it a tangy, light flavor.
Halibut is an easy (and delicious) way to get protein and key vitamins and minerals in your diet with very little fat.
But when you're shopping for halibut, it's important to be mindful of where it comes from for both environmental and health reasons.
If you can, select Greenland Turbot halibut. Here's why:
Overfishing has depleted the stock of Atlanta Halibut to the point that the commercial fishing of it in U.S. waters is banned.
California halibut is also a good alternative, but has "elevated" mercury levels, according to the Environmental Defense Fund and Seafood Watch, so no more than three servings per month are recommended for adults.
That leaves Greenland Turbot halibut as the best option. It's sourced from Alaska and has only moderate mercury levels.
Add a simple salad or steamed veggies as a side, and you have a light yet substantial dinner. Got leftovers? Then you've got lunch: Flake your leftover fillet over some greens and drizzle with a simple dressing.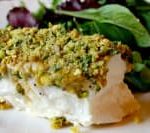 Pistachio-Crusted Halibut
Prep Time 20 mins
Cook Time 10 mins
Total Time 30 mins
Servings 4 servings
Calories 158 kcal
Ingredients
2 Tbsp . Dijon mustard
1 tsp . finely grated lemon peel
1 dash sea salt
Ground black pepper (to taste; optional)
4 (4-oz.) raw halibut fillets
¼ cup raw , unsalted pistachios, finely chopped
1 Tbsp . corn meal
1 Tbsp . finely chopped parsley
Instructions
Preheat oven to 400° F.

Combine mustard, lemon peel, salt, and pepper (if desired) in a small bowl; mix well.

Spread mustard mixture evenly on top side of each halibut fillet. Set aside.

Combine pistachios, corn meal, and parsley in a medium bowl; mix well.

Press pistachio mixture evenly into top side of each halibut fillet.

Place halibut in baking dish, pistachio side up. Bake for 8 to10 minutes, or until halibut flakes easily when tested with a fork.
Nutrition Facts
Pistachio-Crusted Halibut
Amount Per Serving (1 serving)
Calories 158 Calories from Fat 45
% Daily Value*
Fat 5g8%
Saturated Fat 1g6%
Cholesterol 56mg19%
Sodium 329mg14%
Carbohydrates 5g2%
Fiber 1g4%
Sugar 1g1%
Protein 23g46%
* Percent Daily Values are based on a 2000 calorie diet.
Container Equivalents
1 Red
½ Blue