Peppermint Mocha Plant-Based Vegan Shakeology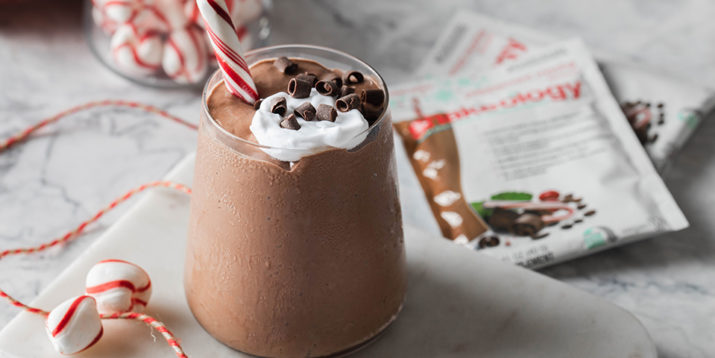 There's something magical and festive about the combination of chocolate and peppermint.
But you know what's even more magical? Peppermint Mocha Shakeology! ❄️
Peppermint Mocha Plant-Based Vegan Shakeology
Now you can enjoy the delicious flavors of velvety rich, creamy cocoa, robust coffee, and refreshing peppermint in a nutrient-dense shake.
Peppermint Mocha Plant-Based Vegan Shakeology is our second limited-edition seasonal flavor and is available in the U.S. and Canada in 14 single-serve packets while supplies last.
Unlike those coffeehouse peppermint mocha calorie bombs, Peppermint Mocha Shakeology is delicious and delivers premium protein, fiber, antioxidants, vitamins and minerals — as well as phytonutrients, adaptogens, pre- and probiotics, and digestive enzymes.
And Peppermint Mocha Shakeology is also gluten-free and has 2 billion CFU probiotics!
Why Drink Shakeology?
Shakeology isn't just a protein shake; it's your secret weapon when the holidays roll around and you're surrounded by tempting foods and drinks that might derail your healthy eating goals.
A daily shake with Peppermint Mocha Shakeology can help you stay on track over the holidays and celebrate the joy of the season!
We're continuously searching for ways to make Shakeology better in quality and benefits, which is why we made some key changes to the U.S. formula including:
Boosted the high-quality pea fiber ingredient to 6 grams per serving, which makes a scoop of Shakeology an excellent source of fiber.
Added more flaxseed so that a scoop of Shakeology will have 250 milligrams of alpha-linolenic acid (ALA), an essential omega-3 fatty acid.
Increased the amount of probiotics, and more!
(And did we mention it tastes like peppermint mocha?!)
So get your blenders and shaker cups ready and make sure you get a box (or two!) of Peppermint Mocha Plant-Based Vegan Shakeology!
Head over to BODNutrition.com and learn how to eat healthy for the long-term with the help of our two nutrition programs, 2B Mindset and Portion Fix.