P90X3 Results: Ralph Got Ripped and Racked Up $500!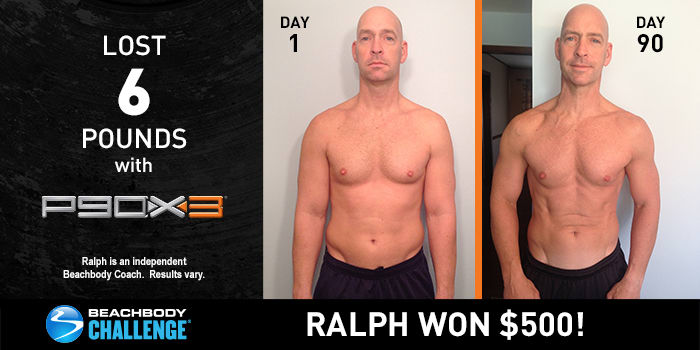 Ralph Kohlhepp lost six lbs. in 90 days with P90X3. He entered his results into the Beachbody Challenge, and won the $500 Daily Prize for July 10th!
Tell us about your life before you started the program. How did you feel about yourself and your body?
I started this journey in January 2015 at a weight of 208. I have completed INSANITY MAX:30 twice, T25, INSANITY: THE ASYLUM, and now a huge hurdle of P90X3. I do have a scale victory of 187. That is a 21-pound difference! I did lose several inches off my body also. My life is best described as a roller coaster. I have a beautiful wife and two wonderful children. My daughter Samantha is quite the athlete, just like her mother. She plays on two elite soccer teams and juggles basketball at the same time. My son plays soccer and ice hockey with training and practices. This is just the typical fall and winter line-up for us. We enjoy staying busy. I am a New Jersey State Trooper with almost 18 years on the job. The past few years my workouts have been a little boring and stale. I had a hard time finding the time and energy with our busy schedule. I am still in shape but I craved a challenge and a boost. I needed something different.
What inspired you to change your life and begin your transformation journey?
The inspiration that keeps me motivated every day is my wonderful family. I want to be healthy, fit, and ripped for them as long as I can. I completed the INSANITY MAX:30 challenge, T25, Gamma, INSANITY: THE ASYLUM, and P90X3; it was tough. I made a promise to myself that every day after work I would do the workout. My wife and I want to teach our kids the importance of health and fitness and of eating the right foods — the fuel for your machine. I was very hesitant about Shakeology and Energy and Endurance, but I tried it. During the entire 30 days of THE ASYLUM program, I drank Shakeology for lunch and E&E during the day. Amazing. I was full and totally satisfied for the afternoon. The energy I gained was surprising to me. The transformation journey was tough with the busy schedule. The workouts are ideal, quick, fast, and exhausting.
What is the greatest challenge you faced before beginning the program? How did the program and Beachbody help you overcome that challenge?
The greatest challenge that I faced during the P90X3 program was failure. I did not want to fail. I was scared to fail. The program is amazing. I was excited and addicted to pushing harder and making it further each workout. Tony Horton motivated me to push myself each workout and each week to new levels of fitness. I never knew I could sweat as much as I did or go that hard. The satisfaction and personal confidence that I built during this program is amazing. I pushed myself to work out longer, push harder, and break personal barriers that I thought I could never do before. Those feelings are hard to put into words, but I feel indestructible. I am very excited to start the 22 Minute Hard Corps program. I am proud to say I achieved all of my goals with the P90X3 program.
What in particular did you like about the program you chose?
The P90X3 program was very challenging. I enjoyed that it was a 30-minute hard and intense workout program. There was great variety and balance with cardio and power moves. Tony Horton was very motivating and knew when to give a break and when to push you out of your comfort zone. I really enjoy the nonstop movements and pushing your body to new levels of sweat, confidence, and fitness.
Describe the results you achieved with your Beachbody program. Which achievements are you proud of?
I achieved amazing results. I lost 21 pounds to date and am more ripped than I ever was. I am very proud of numerous accomplishments I have made over the past 13 weeks. I was scared of failure and I failed. I got better and better each week. I pushed harder and harder each workout. I broke through to a new level of fitness for me with strength and cardio. I also never knew I could sweat that much. It was addicting throughout the program. I thought about the workout each day. I wanted to do better, go longer, work out harder in hopes of achieving new goals and times. I also never gave up. You take a small break and get back in the fight. I am proud I completed the P90X3 program, and I am looking forward to 22 Minute Hard Corps.
How has your life changed since completing your Beachbody program?
My life has changed in a positive light since completing the programs. First, I will say the results speak for themselves. There are so many people asking numerous questions of what they should do. The comments I would get throughout the program were very inspirational and motivating. Some would say: "You look great. You lost a lot of weight. Where is your waist? You're a machine." There are a lot of State Troopers or other co-workers asking how they can do it too. I brought one of the INSANITY workouts into our gym downstairs at work. Three of us did a workout together. They liked it and were shocked at how quick the time went by. One of them bought the T25 program. The feeling of helping someone achieve their goals and aiding them on their health and fitness journey is wonderful. The P90X3 program has made me feel proud of how I look and feel — not only on the outside but more importantly on the inside.
How did participating in a Challenge Group help you reach your goals? How did your group support you and keep you accountable?
Challenge Groups are great. The support they provided was amazing. I was in several clean eating, water, and workouts groups. The support and constant motivation was priceless. It was great to see everyone was also human when they cheated on meals or were just having a bad day. Huge key in my success.
How did your Team Beachbody Coach support you on your journey?
My Coach was my wife. She was sort of like a drill sergeant. While I was at work, she would text me to make sure I was going to do the workout that day. That was a great motivational tool. When I got home from work, I was excited to do the workout. She was extremely supportive. I started to follow her on Instagram. The daily posts, constant praise, and inspiration were very motivating. I also learned a lot from her in the past eight weeks in regard to water consumption and food choices.
How did a Beachbody supplement, nutritional product, or program (such as Shakeology or Beachbody Ultimate Reset) support your transformation? What are the greatest benefits you gained? Did you see benefits to your energy, sleep, mood/mental clarity, or digestion/regularity?
I started drinking Shakeology during the MAX:30 program back in January 2015. I now drink it pretty much every day. Shakeology is a huge part of my success. My Coach was great. She would constantly post motivational quotes and ideas to support my health and fitness. She would also send out recipes and posts for Shakeology recipes. The meal posts were also great and helpful. I usually do the cooking in our house. I now have the kids cooking with me several meals, snacks, and desserts from the Fixate cookbook. We love it. There is more to it than that. We are all on this fitness journey as a family. These moments I have experienced over the past year with my amazing family are all attributed to the Beachbody company. I truly feel blessed.
You can change your life, too. Take the Beachbody Challenge for the tools you need to Decide, Commit, and Succeed! Complete any Beachbody program, and enter your results for a free gift and a chance to win cash and prizes.

Results vary depending on starting point, goals, and effort.