"Now We Exercise As a Family!"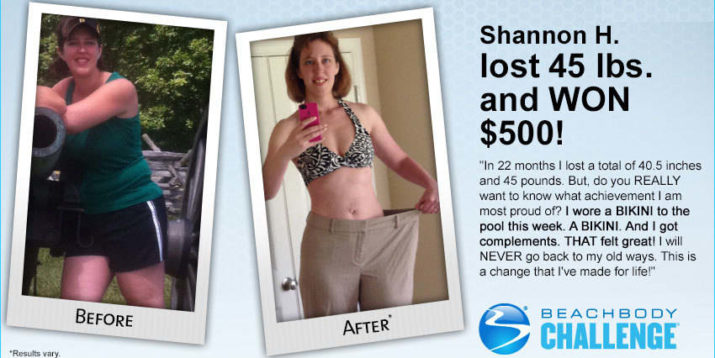 Meet Shannon H. She participated in The Beachbody Challenge® and won the $500 Daily Prize for October 7th!
Tell us about your life before you started the program. How did you feel about yourself and your body?
Before I found Beachbody, I NEVER enjoyed exercising. But, in truth, until I turned 30, I wasn't horribly out of shape. But then, I hit the dreaded 3-0. My body started to change. And worse yet, I started to have some health problems, and my doctor prescribed a medication that put weight on at a horrific rate. I felt out of control. I was embarrassed by my body. I was eating in a way that certainly wasn't helping the weight gain, and I was tired all the time. I remember being at a neighborhood picnic, with a plate of food in hand, thinking about how much I had changed – right down to the the outfit I had on. I used to look so cute for things like that. Instead, at this event, I had to find wide-leg stretch pants that barely fit so that I could have something to wear. I was so depressed.
What inspired you to change your life and begin your transformation journey?
My health problems continued to spiral out of control. The additional weight was impacting my joints, and I was having problems with my hips. In addition, I wasn't able to walk long distances, or even up short hills like I used to. I was just so tired all of the time. I knew this just couldn't continue. I watch my parents – particularly my mom – and my aunt fight an unending, life-long battle with weight and the health problems that are coming with it, and I simply didn't want to continue down the same road! This battle was going to end with me! I was going to start a new path for me… AND my kids!
What in particular did you like about the program you chose?
Beachbody programs — The trainers are SO MOTIVATING! Just when I felt that I was pushed to my limit, it was as if they knew that I needed motivation, and sure enough, they delivered some of the best one-liners to get me through. It was like they were talking right to me! The music is so great, too, and it makes you want to exercise. When I was done, I felt like I had a great workout. There was a great variety, and I felt that the progression just made SO much sense! I also did a round of 21 Day Fix. I really liked the containers. They made SO much sense to me. The workouts were good, too. I liked that they were 30 minutes, and that they really helped to shape the trouble-spots for women!
Describe the results you achieved with your Beachbody program. Which achievements are you proud of?
40.5 and 45 are my magic numbers. In 22 months, I lost a total of 40.5 inches and 45 pounds. THAT is what I am most proud of. In truth, I had to add those numbers a few times. I still can't believe it. I am most excited about my waist numbers. I went from 41 inches to 31 inches! But, I am also thrilled about going from a size 16 to a size 8. But, do you REALLY want to know what achievement I am most proud of? I wore a BIKINI to the pool this week. A BIKINI. And I got complements. THAT felt great!
How has your life changed since completing your Beachbody program?
I FEEL healthy. This is a change that I've made for life! I have so much more energy. My kids eat healthier. I look forward to being more active, and eating balanced plates throughout the day. I never knew how easy it was, and how much fun. Now we exercise as a family, and the processed foods are gone from our home. We enjoy cooking together, and coming up with new healthy ideas.
You can change your life, too. Take the Beachbody Challenge to get everything you need to Decide, Commit, and Succeed! Select any Beachbody program, and once you complete it, share your results for your chance to win cash and prizes.