How the Beachbody Performance Line Fits Into Your Meal Prep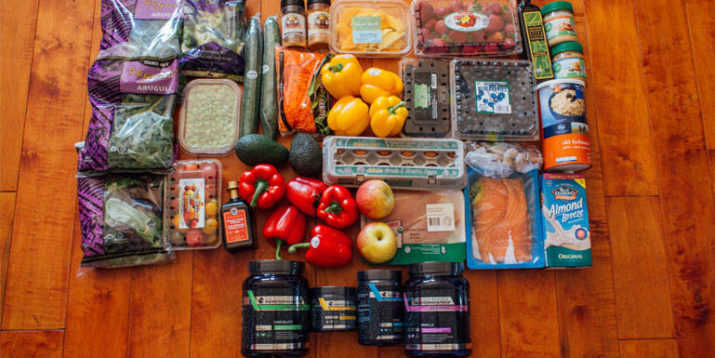 Almost every weekend, Amanda Meixner preps her healthy meals and shares her photos on her Instagram account.
Her simple recipes and colorful photos of mouthwatering food remind us that healthy meal prep doesn't have to be hard to be good.
Recently, Amanda incorporated the Beachbody Performance Line into her intense training schedule and showed us how it fit into her clean-eating lifestyle.
"I was so excited to get to try the Beachbody Performance Line!" she told us. "It worked perfectly with my 21 Day Fix eating plan. I love that the calories were so targeted, I didn't have to worry about adding them to my container count. I'm a lover of extreme workouts, and the supplements were a great compliment to the combination of MAX:30, P90X, Body Beast, and 21 Day Fix EXTREME workouts I do."
Amanda took the Beachbody Performance Energize drink before workouts and said "I literally feel the effects right away! This is great when I work out first thing in the morning and am not totally in the mood to get moving. After one scoop of Engerize, I feel amped!"
During her workouts, she drank Beachbody Performance Hydrate, followed by Beachbody Performance Recover within 30 minutes after cooling down.
She noticed that Hydrate helped her push even harder, and was really excited about Recover.
"It tastes amazing!" she told us, "I'm a chocolate lover, and it definitely feels like I'm drinking dessert. I also like knowing that I'm getting the right blend of proteins to help speed up my muscle recovery."
See how Amanda combined the Beachbody Performance Line with her regular meal prep (including her grocery list!).
Read more about the Beachbody Performance Line here, and find out how it can transform your workouts.
Amanda's groceries for the week:
Here's are the meals Amanda prepared this week, along with the 21 Day Fix container measurements for each:
Meal 1 (Breakfast): ½ cup overnight old-fashioned oats with ½ cup unsweetened almond milk and mixed berries, 2 tsp. almond butter or 1 Tbsp. cocoa powder (2 yellow, 1 purple, 2 tsp.)
Meal 2 (Snack): Salad of cucumber and red bell pepper, 8 egg whites scrambled (not shown), half banana (not shown) (1 green, 1 red, 1 purple)
Meal 3 (Lunch M/W/F): Mason jar salad with hard-boiled eggs, cherry tomatoes, red onion, corn, mixed greens, and mustard vinaigrette, and an apple (1 red, 1 green, 1 orange, 1 purple, 1 yellow)
Meal 3 (Lunch T/Th): Mason jar salad with shrimp, arugula, tomatoes, cucumber, red bell peppers, mango, edamame, and balsamic dressing (1 red, 1 green, 1 orange, 1 purple, 1 yellow)
Pre-workout: 1 scoop Beachbody Performance Energize with water
During workout: 1 scoop Beachbody Performance Hydrate with water
Post-workout: 1 scoop Beachbody Performance Chocolate Recover blended with ice and water
Meal 5 (Dinner M/W/F): Baked chicken with a side of mixed veggies with 2 tsp. olive oil and a 1/4 avocado (not shown) (1 red, 2 green, 1 blue, 2 tsp.)
Meal 5 (Dinner T/Th): Baked salmon with bell pepper, cucumber salad in 2 tsp. olive oil and 1/4 avocado (not shown) (1 red, 2 green, 1 blue, 2 tsp.)
Grocery List
1 carton strawberries
1 carton blueberries
1 carton blackberries
3 large bananas
3 apples
1 mango
2 cartons cherry tomatoes
1 red onion
4 red bell peppers
4 yellow bell peppers
1 bag mixed greens
1 bag arugula
3 large cucumbers
1 carton shelled edamame
1 bag broccoli and cauliflower mix
avocados
¾ lb. chicken
½ lb. salmon
½ lb. shrimp
½ dozen eggs
4 cartons egg whites
2 cartons unsweetened almond milk
Old-fashioned rolled oats
almond butter
unsweetened cocoa powder
olive oil
balsamic vinegar
Dijon mustard
Beachbody Performance Energize
Beachbody Performance Hydrate
Beachbody Performance Recover