ChaLEAN Extreme Results: Betty Lost 20 Pounds and Won $500
Results vary depending on starting point and effort. Betty Hill is an Independent Team Beachbody Coach.
Betty participated in The Beachbody Challenge and won the $500 Daily Prize for December 17th!
Tell us about your life before you started the program. How did you feel about yourself and your body?
Before doing ChaLEAN Extreme, I always felt too tired to do anything. I have three boys under the age of seven, and keeping up with them seemed like an impossible task. My husband always made me feel loved, but I wouldn't believe the compliments because I didn't feel worthy.
What inspired you to change your life and begin your transformation journey?
I had completed ChaLEAN Extreme once before becoming pregnant with my third child. Chalene is so motivating, I knew if I would just push play, that she would do the rest!
What is the greatest challenge you faced before beginning the program? How did the program and Beachbody® help you overcome that challenge?
Keeping up with my boys seemed impossible. Now, after a round of ChaLEAN Extreme, they have to keep up with me!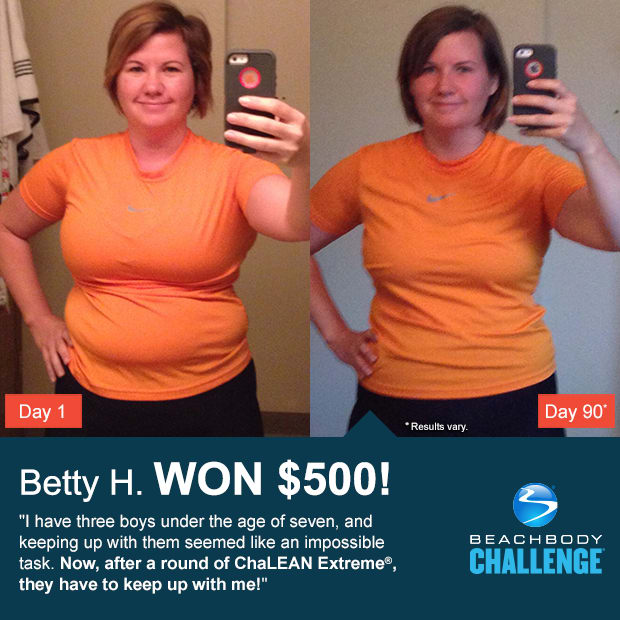 What in particular did you like about the program you chose?
I believe that muscle burns fat, and the more muscle the better. ChaLEAN Extreme did just that, built up my muscle.
Describe the results you achieved with your Beachbody program. Which achievements are you proud of?
I like liking myself again 🙂 . I feel confident being seen with my husband around his coworkers. I can lift some serious lbs! Physically speaking, I couldn't do one single burpee or push-up before Chalean Extreme. Now I can hammer them out!
How has your life changed since completing your Beachbody program?
I feel more motivated to help others on their journey to health!
You can change your life, too. Take the Beachbody Challenge, for the ultimate motivation to get fit! Select any Beachbody program and once you complete it, share your results for your chance to win cash and prizes.