Vietnamese-Inspired Banh Mi Turkey Lettuce Wraps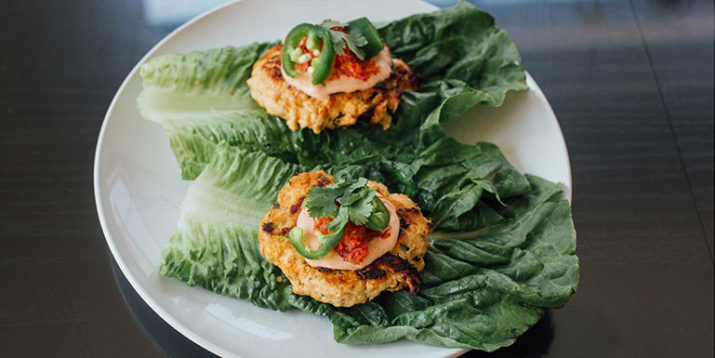 I admit it: I was a nightmare child at meal times — a picky eater and stubborn as a mule.
Remember that infamous "Mommie Dearest" standoff between Joan Crawford and her daughter over the rare steak? That was me.
Luckily, my palate has matured and several trips overseas have broadened my taste horizons.
But there have been times during my travels — jetlagged, hot/cold, exhausted, overwhelmed — when all I wanted was to eat something comforting, like a sandwich. Just a sandwich.
Enter the banh mi. This Vietnamese sandwich was a game-changer during a trip through Southeast Asia.
It's a familiar and universal food, the humble sandwich, elevated to gourmet levels with tons of flavor and texture.
The basic formula for a traditional banh mi is bread, a protein, chile, cilantro, mayo, and pickled carrot and daikon. But the list of possible combinations, adaptations, and swaps is endless, so you can mix and match to your heart's content.
To keep things light, this Lettuce-Wrapped Banh Mi Turkey Burger swaps in lettuce leaves for the bread, reduced-fat yogurt for mayo, and boosts the flavor even more with fresh basil, fish sauce, and garlic.
The starring protein role belongs to lean ground turkey, but you can also use whatever lean protein you prefer.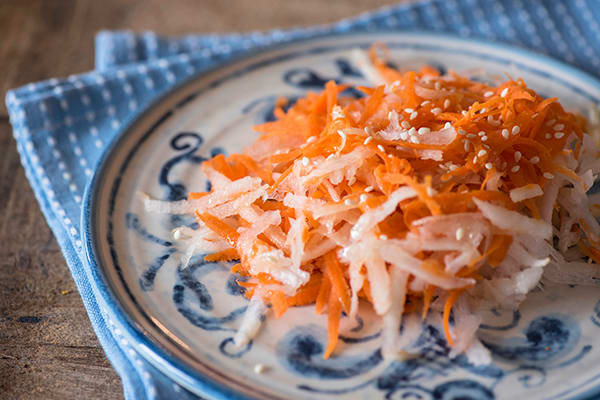 Pro tip: Marinate the radish and carrot mixture in fridge overnight for even more flavor. Bonus? One less thing you have to do when you assemble your bahn mi.
It's a simple, quick meal with no fuss or muss: Pop the turkey burger in a lettuce leaf, top it with yogurt sauce and the radish/carrot mix, wrap, and you're done. Trust me: The bright, tangy flavors in this anything-but-ordinary sammie will win over the pickiest of eaters.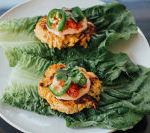 Lettuce-Wrapped Banh Mi Turkey Burgers
The basic formula for banh mi is bread, a protein, chile, cilantro, mayo, and pickled carrot and daikon. But the list of possible combinations is endless, so you can mix and match to your heart's content.
Prep Time 20 mins
Cook Time 10 mins
Total Time 30 mins
Servings 4 servings, 1 burger each
Calories 228 kcal
Ingredients
1 (4-inch) piece daikon radish, peeled, grated
1 medium carrot, peeled, grated
3 Tbsp. rice wine vinegar
2 Tbsp. palm sugar
¼ cup reduced-fat (2%) plain Greek yogurt
1 Tbsp. + 2 tsp. hot pepper sauce (like Sriracha), divided use
1 lb. raw 93% lean ground turkey
1½ tsp. cornstarch (preferably GMO-free)
2 tsp. fish sauce (like Nuroc Mam)
3 cloves garlic, finely chopped
3 Tbsp. fresh basil leaves, finely chopped
1 tsp. sesame oil
Sea salt (or Himalayan salt) and ground black pepper (to taste; optional)
4 large Bibb (or butter) lettuce leaves
1 jalapeno pepper, seeds and veins removed, sliced thin (optional)
¼ cup fresh cilantro leaves
Instructions
Combine radish, carrot, vinegar, and sugar in a medium bowl; mix well. Marinate at room temperature, covered, for 15 minutes. Drain well before using.

Combine yogurt and 1 Tbsp. pepper sauce in a small bowl; mix well. Set aside.

Preheat grill or broiler to high.

Combine turkey, remaining 2 tsp. pepper sauce, cornstarch, fish sauce, garlic, basil, and oil in a medium bowl. Season with salt and pepper if desired; mix well with clean hands. Form turkey mixture evenly into four patties.

Grill or broil patties for about 5 minutes on each side, or until no longer pink in the middle.

Place each patty on a lettuce leaf. Top evenly with yogurt sauce, radish mixture, jalapeno (if desired), and cilantro.
Nutrition Facts
Lettuce-Wrapped Banh Mi Turkey Burgers
Amount Per Serving (1 serving)
Calories 228 Calories from Fat 99
% Daily Value*
Fat 11g17%
Saturated Fat 3g19%
Cholesterol 85mg28%
Sodium 408mg18%
Carbohydrates 9g3%
Fiber 2g8%
Sugar 5g6%
Protein 24g48%
* Percent Daily Values are based on a 2000 calorie diet.
P90X/P90X2 Portions
1½ Protein
1½ Vegetable
P90X3 Portions
1 Carb
1½ Protein
Body Beast Portions
½ Starch
2 Vegetable
3 Protein
Container Equivalents
1 Green
1 Red
½ Yellow
2B Mindset Plate It!
Add more veggies and an FFC for lunch.
If you have questions about the portions, please click here to post a nutrition question in our forums so our experts can help. Please include a link to the recipe.
Photos by Amanda Meixner and Dani Paris.