How to Make a Nourishing Kitchari Bowl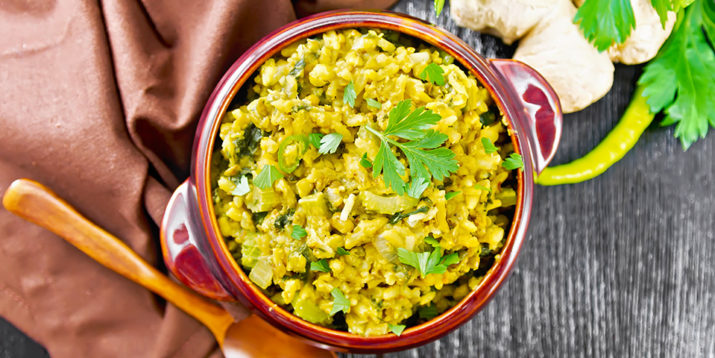 If you're not familiar with kitchari bowls (pronounced kitch-a-ree), you're in for a hearty and healthy treat.
Made from super nourishing ingredients, these bowls are considered a healing dish in Ayurvedic cooking.
"Ayurvedic practitioners believe that kitchari is the beginning of an Ayurvedic diet that boosts vitality and strength and also promotes healing and wellness," explains Anju Mobin, certified nutritionist and managing editor of Best for Nutrition.
If you feel like you could use a little extra nourishment, give this cozy comfort food a try with our kitchari recipe below.
How to Make a Kitchari Bowl
Creating a kitchari bowl is all about combining ingredients that are light, wholesome, and easy to digest.
Kitchari bowls are typically made with a mung dal, rice, veggies, and spices.
Beyond that, kitchari recipes vary widely — but the dish may include zucchini, carrots, spinach, kale, celery, or broccoli, along with warm spices like cumin and ginger.
If you want to try making kitchari, you can follow our go-to recipe below or experiment with creating your own perfect mix of veggies and spices.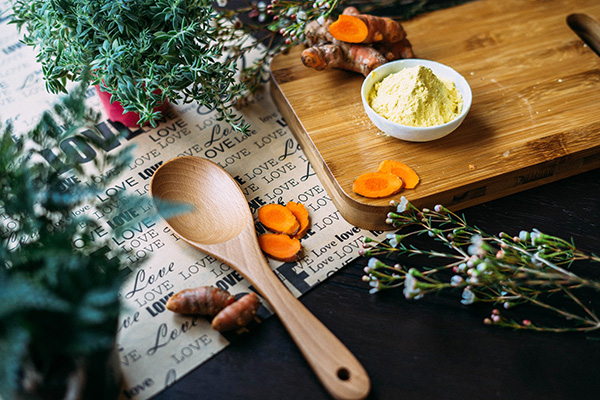 Healthy Kitchari Ingredients
Kitchari is a staple in Ayurvedic nutritional healing, where "kitchari cleanses" are a common practice.
One of the foundations of Ayurveda is the concept that three types of energy — called doshas — make up the body.
Ideally, you should have a balance of all three.
When the balance is out of whack, you may start to feel less than stellar.
The flavors and spices in kitchari — like sesame oil, cumin seeds, ginger, and pepper — are believed to help you balance your dosha, Mobin says.
Certain spices, like turmeric, may also have anti-inflammatory properties. And best of all, they're delicious!
Kitchari bowls provide protein and fiber thanks to the mung dal and rice, and the veggies you choose will add even more nutrients.
Our recipe below provides 17 grams of protein and 9 grams of fiber — not to mention plenty of soul-warming goodness.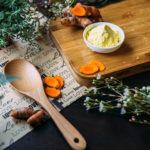 Kitchari Recipe
A traditional ayurvedic recipe, kitchari is both delicious and gentle on digestion, combining basmati and dal with a range of spices and vegetables.
Prep Time 10 mins
Cook Time 28 mins
Total Time 38 mins
Servings 5 servings, approx. 2 cups each
Calories 326 kcal
Ingredients
1 cup dry split mung dal
½ cup dry long-grain brown rice
1 Tbsp. ghee (organic grass-fed, if possible)
1 tsp. whole cumin seeds
1 tsp. whole mustard seeds
1 tsp. whole fennel seeds
1 tsp. whole coriander seeds
1 tsp. ground turmeric
1 1-inch piece of fresh ginger, peeled, finely chopped
32 fl.-oz. low-sodium organic vegetable broth (approx. 4 cups)
4 large carrots, chopped
3 large zucchini, chopped
2 cups broccoli florets
1 cup water
1 tsp. sea salt (or Himalayan salt)
½ cup fresh cilantro, chopped
Instructions
Rinse mung dal and rice in a mesh strainer under running water until water runs clear; set aside.

Heat ghee in a large soup pot over medium-high heat.

Add cumin seeds, mustard seeds, fennel seeds, and coriander seeds; cover. Cook, stirring occasionally, for 1 to 2 minutes, or until seeds pop.

Add turmeric and ginger; cook, stirring frequently, for 1 minute, or until fragrant.

Add mung dal, rice, broth, carrots, zucchini, broccoli, water, and salt; stir to combine. Bring to a boil; reduce heat to medium-low.

Partially cover; gently boil for 20 to 25 minutes, or until almost all liquid is absorbed and rice and vegetables are tender.

Evenly divide among 5 serving bowls; top with cilantro.
Recipe Notes
Tips
For added ease and efficiency, try making an Instant Pot kitchari. Simply add all of the ingredients below (except cilantro) to the Instant Pot, stir, and cook.
You can substitute red lentils or yellow split peas for mung dal. Cooking times may vary.
Whole spice seeds are preferable in this recipe, as they impart richer flavor, but ground versions can be used in a pinch.
For a more authentic kitchari, add asafoetida (also known as hing) when you add the ground spices. Asafoetida has a distinctly savory flavor and is used in Ayurvedic cooking to support healthy digestion.
The Nutrition Facts box below provides estimated nutritional information for this recipe.
Nutrition Facts
Kitchari Recipe
Amount Per Serving (1 serving)
Calories 326 Calories from Fat 45
% Daily Value*
Fat 5g8%
Saturated Fat 2g13%
Cholesterol 7mg2%
Sodium 627mg27%
Carbohydrates 55g18%
Fiber 9g38%
Sugar 7g8%
Protein 17g34%
* Percent Daily Values are based on a 2000 calorie diet.
Container Equivalents
1½ Green
2 Yellow
1 tsp.
Vegan Container Equivalents
1½ Green
1 Red
½ Yellow B
1 tsp.
2B Mindset Plate It!
To make a vegan lunch, replace ghee with a vegan alternative. To make a lunch on the regular plan, reduce the serving size to one cup and serve with a protein and veggie side.