19 Things You Don't Know About Jennifer Jacobs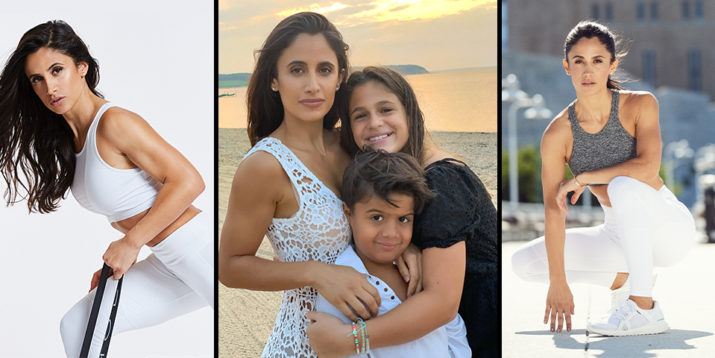 Super Trainer Jennifer Jacobs is certified through the National Academy of Sports Medicine (NASM) as a personal trainer, nutrition coach, and fitness nutrition specialist, and she's also a certified indoor cycling instructor through Schwinn and the Athletics and Fitness Association of America (AFAA).
So, in other words, Jennifer Jacobs knows a thing or two (or many, many things) about health and fitness.
Now it's time to get to know Jennifer's other side — her idea of a perfect meal, what motivates her to work out, her greatest achievement, and more!
What You Don't Know About Me…by Jennifer Jacobs
1. My favorite food: TACOS!
2. My least favorite food: There really isn't any food I don't like. That being said. I am strangely not a huge fan of capers.
3. My idea of a perfect meal: One that is shared with family, friends, or loved ones.  Especially if it's a meal we can all prepare and/or cook together while enjoying each other's company.  As they say, cooking is love made visible!
4. What motivates me when I'm not in the mood to work out or eat healthy: It depends, if I really "need" to get a workout in that day, I usually put on music that helps motivate me.
But if I'm not in the mood to work out, it is usually for a reason. Typically, my body is telling me to rest and I always listen to what my body needs. When it comes to eating, it's the same thing, I don't believe in diets or restricting myself.  I believe everything should be in moderation.
5. My guilty pleasure: Turning up the music, putting on a pair of leg warmers, and dancing like nobody is watching.
6. One thing I'm really good at: Roller skating
7. One thing I'm really bad at: Singing — unless it's country music!
8. How I clear my head after a crappy day: Depending on my mood, I'll do a HIIT workout, maybe some boxing, go on a long bike ride.
9. The song (or type of music) that always puts me in a good mood: I absolutely love 80s music!
10. The talent I would most like to have: Playing a musical instrument. I always wished I knew how to play the guitar.
11. Who I admire and why: Muhammad Ali. He was a trailblazer, always did the unexpected, unapologetic and always stayed true to himself.
12. The qualities I most admire in someone: Integrity, courage, passion, and kindness
13. The things I most value in my friends: Their ability to listen and just be there for me, to laugh with me, and be the ones that I can trust with anything
14. Three qualities that have gotten me to where I am today: Confidence, perseverance, the willingness to always learn from those around me
15. The change I'd like to see in my industry: More emphasis and education to others about what it means to be completely "healthy." Being healthy is a complete state of physical, mental, and social well-being.
While fitness routines are a way to maintain your physical well-being, they also yield significant benefits to one's overall mental and social well-being, too.
More and more people are understanding that today (especially since the pandemic), but I think the more emphasis and education our industry can provide to others about how fitness can help your overall well-being, the more people we can help lead happier and healthier lives.
Because isn't that what it's all about?
16. The best advice I've ever gotten: If you want something to happen you need to make it happen. Believe in yourself, have courage and you can do anything.  One of my favorite quotes is by Van Gogh and is a great reminder — "What would life be if we had no courage to attempt anything?"
17. The best advice I could give someone: Dream big and when you achieve that dream, dream even bigger.
18. My greatest achievement: Having my two wonderful children, as well as each person whose life I have touched where I was able to help them believe in themselves, push past their limits, and achieve a goal they never thought would be possible.
19. My idea of a perfect day: A day with my kids outside doing something active followed by a great meal we prepare together — preferably my homemade crispy tacos!