Is Goat Meat the Hot New Protein?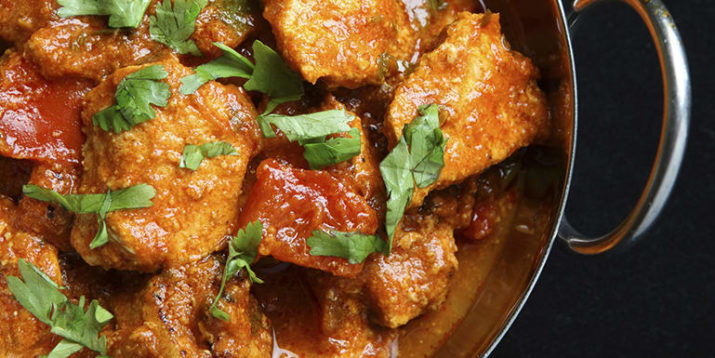 What's not to like about goats? I can't resist goat cheese, especially when it's slathered over a piece of crusty French bread, and my favorite moisturizer is made with goat milk. But when it comes to the idea of goat meat for dinner, that's when my enthusiasm wanes. And I'm not alone:
Though goat meat is a protein staple in the Middle East, South America, Africa, and the Caribbean, it hasn't gained the same status in the U.S. … at least not yet.
What's All the Fuss About Goat Meat?
As health-conscious eaters start to learn more about this lean red meat, goat meat sales are on the rise, up 33 percent over the last decade, according to Pennsylvania State University educator Melanie Barkley, whose area of expertise includes sheep and goat production.
Lower in calories than a boneless, skinless chicken breast, goat meat (measured raw) weighs in at 93 calories and 18 grams of protein for a three-ounce portion. With that kind of nutritional profile, adding goat to your protein arsenal is worth considering.
"Goat is a savory, lean red meat with a clean, herbaceous finish," explains Catherine Greeley, director of mail-order at farm-to-table butcher Heritage Foods USA. "Because of its light flavor, it's very versatile and pairs well with a variety of spices and flavors."
Heritage Foods USA began selling goats raised on family farms and dairies in New England in 2010 as part of its No Goat Left Behind initiative, created to humanely source male goats, who aren't as in demand as their female counterparts who produce milk for goat cheese.
Now in its sixth year, the initiative partners with chefs from restaurants like New York's Gramercy Tavern, Babbo Ristorante and Los Angeles' Mozza to feature specialty goat dishes on their menus during "Goatober," to encourage diners to try this under-utilized meat — and hopefully enjoy it so much that they start cooking it at home.
The Word on Goat Is Getting Out
While popular international dishes like curried goat stew or Jamaican jerk goat use the lean red meat as a key ingredient, goat is slowly making its way into the fine-dining world.
At chef Stephanie Izard's Girl & the Goat in Chicago, diners can nosh on such delicacies as goat liver mousse, goat carpaccio, goat empanadas and goat shank. The season four Top Chef winner says she's found that diners are more open to different flavor profiles and ideas. Other noted restaurants like Chez Panisse (Berkeley) and Scarpetta and Prune (NYC) have featured goat dishes in their daily specials — even Mario Batali is sharing goat-based recipes on the Food Network.
But you don't need to dine out to enjoy goat: "Goat can be substituted into many dishes, especially those calling for ground meat," says Greeley. "For example, we have a fantastic goat chili recipe. The [goat] cuts can be substituted into many lamb recipes since they have a similar size and shape to lamb cuts."
Where to Get Your Goat (Meat)
Your best bet for finding goat meat — also known as chivo, chevon, cabrito or capretto — is to check out international grocery stores, some Whole Foods markets (especially during the holidays), artisan butcher shops, and specialty distributors like Heritage Foods (NYC), Wild Purveyors Market (Pittsburgh), and Biagio Artisan Meats (SF). Goat is often available cubed for stews, but different cuts are available; Heritage Farms offers ground goat, ribs, chops, legs, shoulders and goat burger patties.
Before you buy, have a recipe in mind since cooking methods vary depending on the cut. For example, goat chops, tenderloin and legs are more versatile, perfect for barbecuing or pan roasting, according to Bruce Weinstein and Mark Scarbrough, authors of Goat: Meat, Milk and Cheese. But other cuts are best prepared with a long stewing process, or cooking "low and slow" so as not to dry out the low-fat meat. With mouthwatering recipes like meatballs with artichokes, and fennel and pan-roasted chops with blackberries and sage, these cookbook authors are doing their part to bring goat meat into the mainstream.
Delicious and healthy? That's enough to tempt even unadventurous eaters like me.