INSANITY Results: Jared Lost 83 Pounds and Won $500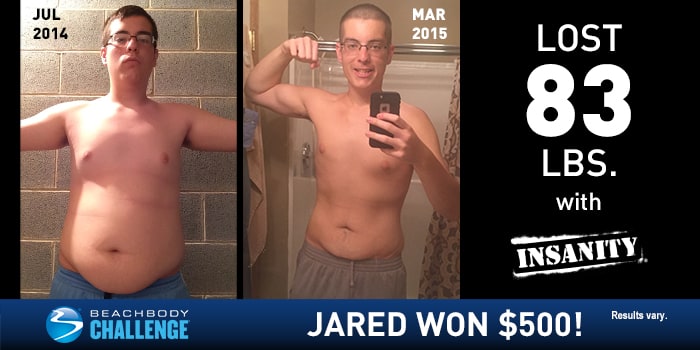 Jared Bender lost 83 lbs. with INSANITY. He entered his results into the Beachbody Challenge, and won the $500 Daily Prize for March 2nd!
Tell us about your life before you started the program. How did you feel about yourself and your body?
Before I started INSANITY, I was grossly overweight and extremely unhappy, especially because I felt uncomfortable playing sports and going out in public.
What inspired you to change your life and begin your transformation journey?
It was a lot of looking in the mirror and loathing how I looked, mean jokes, and rude comments that were the final straw. I wanted to be the best version of myself that I could.
What is the greatest challenge you faced before beginning the program? How did the program and Beachbody help you overcome that challenge?
The mental aspect was difficult to overcome at first. I was always in the mindset of, "You can't do it." But after repeatedly hearing Shaun T say, "You can do it," I realized that, in fact, I could lose the weight.
What in particular did you like about the program you chose?
I really liked the pace, positive vibe, and fantastic results that I got.
Describe the results you achieved with your Beachbody program. Which achievements are you proud of?
I have dropped from a 44-pant size to a 34! I lost 83 pounds and have shred a ton of fat. I'm most proud of the pride and confidence that I gained.
How has your life changed since completing your Beachbody program?
I am overall a happier individual. I can do everything I want now, because I am so much more fit.
How did participating in a Challenge Group help you reach your goals? How did your group support you and keep you accountable?
By participating in LIFT, my Challenge Group, I knew that I was part of a community of people who were in my position and were ready to make a change. I also made a lot of great friends, all who can be credited with assistance to my weight loss.
How did your Team Beachbody Coach support you on your journey?
Donny Monk is a great Coach. He was always there when I had a question, and he had a great answer. He is a great guy and a fantastic friend. Whenever I had doubts, he was quick with a pick-me-up and got me back on track.
You can change your life, too. Take the Beachbody Challenge for the tools you need to Decide, Commit, and Succeed! Complete any Beachbody program, and enter your results for a free gift and a chance to win cash and prizes.

Results vary depending on starting point, goals, and effort.