"I'm the Healthiest I've Ever Been!"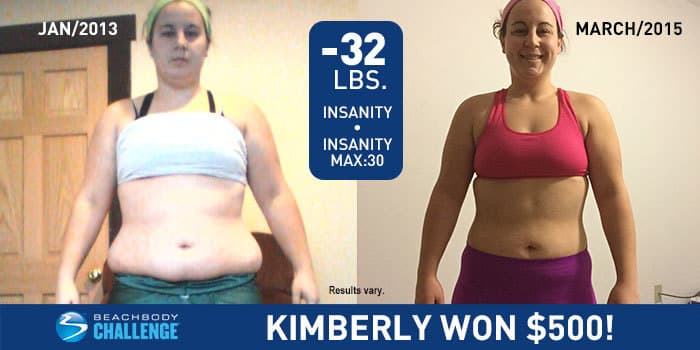 †Results vary depending on starting point and effort. Kimberly is an independent Beachbody Coach.
Meet Kimberly W. She lost 32 lbs with INSANITY and INSANITY MAX:30. She entered her results into The Beachbody Challenge, and won the $500 Daily Prize for June 25th!
Tell us about your life before you started the program. How did you feel about yourself and your body?
I have been an athlete my entire life. I stopped playing collegiate soccer because my weight gain was too much for my joints and I couldn't keep up anymore. After I stopped playing soccer, I began to feel worse and worse about my body. I didn't fit into any of my old clothes anymore and knew I needed to change.
What inspired you to change your life and begin your transformation journey?
I had just graduated college and was extremely depressed with how my weight was affecting my life. I began with INSANITY, started some weight lifting, and knew I had to do INSANITY MAX:30 as soon as it came out… and it's saved my life!
What is the greatest challenge you faced before beginning the program? How did the program and Beachbody® help you overcome that challenge?
The greatest challenge I faced was truly losing my identity as an athlete and Beachbody has made me take it back by storm!
What in particular did you like about the program you chose?
Shaun T's passion! You can tell he really loves what he does and it really made me want to get up and push play every day. MAX:30 was intense, and everything I had hoped for. It reminded me of my college soccer days and it felt amazing! And it only took 30 minutes a day!
Describe the results you achieved with your Beachbody program. Which achievements are you proud of?
I'm stronger, faster, and I feel like I'm the healthiest I've ever been! And now I have a new excuse to go clothes shopping 🙂
How has your life changed since completing your Beachbody program?
I have so much more confidence and INSANITY MAX:30 inspired me to become a Beachbody Coach and help others change their lives as I have my own!
How did participating in a Challenge Group help you reach your goals? How did your group support you and keep you accountable?
I held my own Challenge Group and I think it helped keep me more accountable than anything I've done in the past. Knowing others are struggling or achieving goals at the same time as me is really exciting and motivating.
How did your Team Beachbody® Coach support you on your journey?
I think my Coach was a great foundation for support and knowledge whenever I needed it.
How did a Beachbody Supplement or Nutritional Product or Program (such as Shakeology® or Beachbody Ultimate Reset®) support your transformation? What are the greatest benefits you gained? Did you see benefits to your energy, sleep, mood/mental clarity, digestion/regularity?
I've been using Shakeology and I think it really helped me kick my caffeine habit, gave me more energy, helped my digestion, and really put me in a better overall mindset.2
You can change your life, too. Take the Beachbody Challenge for the tools you need to Decide, Commit, and Succeed! Complete any Beachbody program, and enter your results for a free gift and a chance to win cash and prizes.

2These statements have not been evaluated by the Food and Drug Administration. This product is not intended to diagnose, treat, cure, or prevent any disease.