I Lost 27 Pounds in 90 Days and It Won Me $500!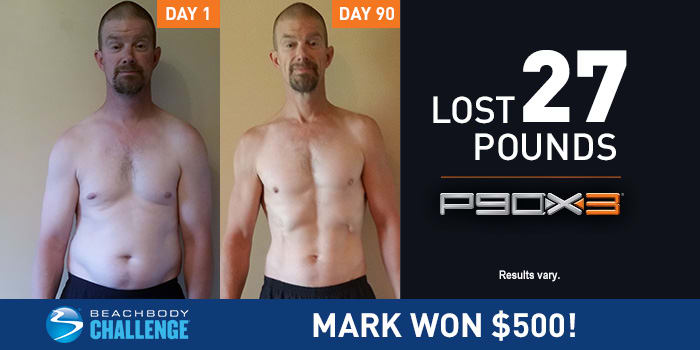 Mark Gilbert lost 27 lbs. in 90 days with P90X3. He entered his results into the Beachbody Challenge, and won the $500 Daily Prize for November 13th!
Tell us about your life before you started the program. How did you feel about yourself and your body?
Before the program, I felt that I was overweight, out of shape, and lethargic. I didn't dare take off my shirt in front of others.
What inspired you to change your life and begin your transformation journey?
One day I stepped on the scale at home, and was disgusted with what I saw. I was heavier than I had ever been in my life. I decided right then that I had to change.
What is the greatest challenge you faced before beginning the program? How did the program and Beachbody help you overcome that challenge?
Eating healthy. I am a truck driver, and my meal choices were not always the best while on the go. Beachbody and the program have taught me healthy eating and portion control.
What in particular did you like about the program you chose?
I liked that it was only 30 minutes a day. I enjoyed the weight lifting. Tony Horton was a great Instructor and fun to listen to.
Describe the results you achieved with your Beachbody program. Which achievements are you proud of?
I lost 27 pounds of body weight, 10 percent body fat, and an overall loss of 15 inches. I am proud of the fact that I can fit into clothes that I was going to throw away, because I couldn't fit into them anymore.
How has your life changed since completing your Beachbody program?
I eat a lot healthier now. I look forward to getting up and working out in the morning. Shopping for clothes is fun again. I have a lot more energy to complete my job for the day.
How did your Team Beachbody Coach support you on your journey?
My Coach is my loving wife, who motivated me to start this journey. She worked out with me every day, six days a week. She prepared all of our meals for the day, so that I could take them with me in my truck. She got me out of bed when I didn't want to. She is an amazing woman, and I am so grateful to her for all of her love and support.
How did a Beachbody supplement, nutritional product, or program (such as Shakeology or Beachbody Ultimate Reset) support your transformation? What are the greatest benefits you gained? Did you see benefits to your energy, sleep, mood/mental clarity, or digestion/regularity?
I used Shakeology as a daily meal replacement. At the end of the program, I used 3-Day Refresh to gain my final results.
You can change your life, too. Take the Beachbody Challenge for the tools you need to Decide, Commit, and Succeed! Complete any Beachbody program, and enter your results for a free gift and a chance to win cash and prizes.

*Results vary depending on starting point, goals, and effort.