"I Feel Like I'm Aging In Reverse"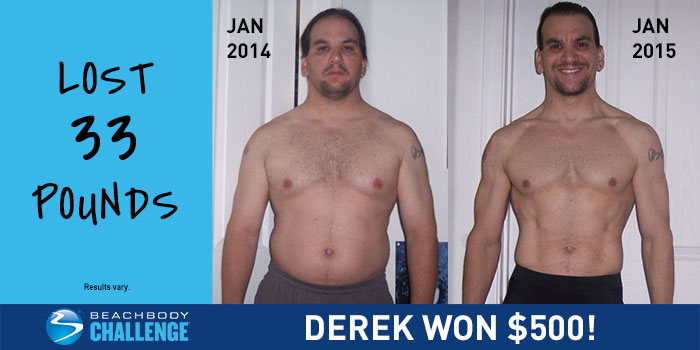 †Results vary depending on starting point and effort. Derek is an independent Beachbody Coach.
Meet Derek L. He lost 33 lbs with a variety of Beachbody programs. He entered his results into The Beachbody Challenge, and won the $500 Daily Prize for March 24th!
Tell us about your life before you started the program. How did you feel about yourself and your body?
Before beginning P90, I was already in decent shape, and feeling pretty good about myself since I had previously completed a few other programs recently like P90X3 and Focus T25, and INSANITY.

What inspired you to change your life and begin your transformation journey?
My transformation journey began when I no longer felt, or looked, like someone who was in good physical condition. My food choices were affecting me, and overall I was feeling sick. I had deprived my body of a proper diet and exercise, and my body was paying the price with my energy level, how I looked in the mirror, and how I weighed in on the scale.

Describe the results you achieved with your Beachbody program. Which achievements are you proud of?
I can now move faster and with more agility and precision than I can ever remember doing, even in my youth.

How has your life changed since completing your Beachbody program?
My confidence has increased. It feels like those around me have continued to age, while I feel like I'm aging in reverse. I would not say this is an easy program to follow from beginning to end, and I know many who have quit. To not quit and bring it all the way feels like the biggest pat on the back a man can ask for.

How did participating in a Challenge Group help you reach your goals? How did your group support you and keep you accountable?
Participating in a Challenge Group kept me on track and accountable. It eliminated the option of quitting or slowing down.
How did your Team Beachbody® Coach support you on your journey?
My upline Coach, Lisa, encouraged me to complete my journey and share my experience with others, so they too can achieve successful results from this very doable 90 day program.

How did a Beachbody Supplement or Nutritional Product or Program (such as Shakeology® or Beachbody Ultimate Reset®) support your transformation? What are the greatest benefits you gained? Did you see benefits to your energy, sleep, mood/mental clarity, digestion/regularity?
I've been taking Energy & Endurance before my workouts, and drinking one glass of Shakeology everyday. Shakeology gives me the nutrition my body needs to take on such vigorous tasks as INSANITY. I also drink Results and Recovery formula, after my more intense workouts, to feel immediately revitalized.2
You can change your life, too. Take the Beachbody Challenge for the tools you need to Decide, Commit, and Succeed! Complete any Beachbody program, and enter your results for a free gift and a chance to win cash and prizes.

2These statements have not been evaluated by the Food and Drug Administration. This product is not intended to diagnose, treat, cure, or prevent any disease.