How to Get Into the Fitness Zone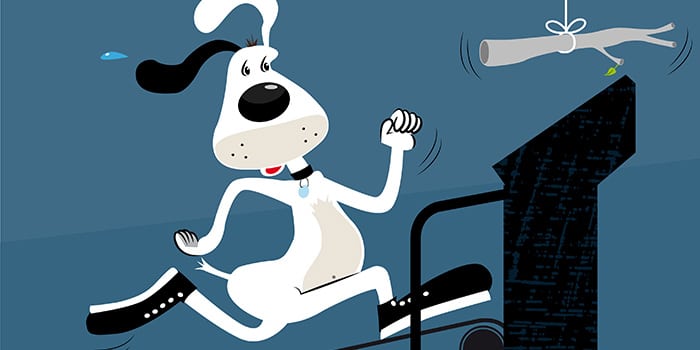 You may have heard people talk about a runner's high or being in the zone. Sport psychologists call it flow state, but it all means the same thing: it's the moment in time when you both feel and perform your absolute best. On average, people can easily access about 65% of their absolute strength. When you get into a flow state, you have the opportunity to push your strength to its absolute threshold. In this state, you'll jump higher, lift more, reach farther, and hold poses longer – all while loving every minute of it!
The state is the result of your brain releasing five brain chemicals known as neurotransmitters into the body. To easily explore the differences between them, let's enlist the help of some old friends: The Muppets.
Dopamine most closely resembles Elmo. Enthusiastic, engaged, and always wanting to experience new things, Elmo continues to seek adventure and creativity. Even when he doesn't have all the skills necessary to do what he wants, he focuses and gets physically energized to perform the best he can.
Norepinephrine can be compared to Animal. This wild drummer is full of intense energy and keeps himself locked on select targets (e.g. the drums) which keeps all other distractions at bay.
For endorphins, we can look to How to Get Into the Fitness Zone Bear, the group's resident comedian who wants nothing more than to relieve everyone's pain and produce pleasure with his jokes.
Anandamide is Gonzo, that daredevil who takes pride in everything that he does. Gonzo doesn't often let fear get in his way of experimenting with new acts. In fact, his positive state prepares his body for even the most painful and ill-advised performances.
Lastly, serotonin is the one and only Kermit the Frog, the Muppet everyone calls upon to help them cope with adversity. He's also good at giving everyone warm and fuzzy feelings long after the show is over, despite being cold-blooded.
When you're in a flow state, all five of these neurotransmitters act as powerful painkillers and allow you to physically and mentally reach new heights.
Here are three things you can do to help yourself achieve a flow state:
 1. Clear Process Goals. Flow is not about having clear outcome goals such as finishing a workout or losing 10 pounds. It's about using clear goals to help you stay in the present moment. Before you're about to perform an exercise, set a clear goal. It could be one more rep, five more seconds, lifting two more pounds, etc. Clear process goals center your mind, narrow your focus, free you from distractions, and create self-confidence.
2. Get Feedback. The more you know how you're doing and the faster you can course correct any issues, the greater your chances of finding flow. While performing each exercise, quickly assess your technique and effort. Ask yourself if there is anything you should correct or if you can give more effort. When you can quickly and immediately assess your performance, you can also quickly and immediately figure out if anything needs to be improved for the next set. With this tight feedback loop, you continue to stay in the present moment, feel in control and energized, and believe in your ability to push your limits.
3. Challenge Yourself. Understand that your attention will be most engaged when you choose an exercise that is just above your current ability level. Tasks that are too challenging elicit fear and self-doubt. Tasks that are too easy make room for distractions..