Homemade Croutons with Parmesan and Herbs
One bite into these parmesan and herb-flecked, homemade croutons and you'll realize that there is no comparison between the tooth-shattering, commercial variety and fresh croutons toasted in your own oven.
Homemade croutons are a great way to use up the last few pieces of a loaf of bread. And don't toss out bread that's gone stale, it's perfect for croutons. They are so easy to make, you might find yourself making them all the time. Don't be surprised if you start adding more salads to your weekly meal prep, just for an excuse to eat these croutons. They also taste great in soups!
For crunchy, uniform croutons, cut bread into evenly sized cubes. For more artisanal-looking croutons with a delicate crunch, tear the bread into bite-sized pieces. Give your croutons flavor with garlic powder and dried herbs (we used dried parsley, but you can use basil, oregano, or anything you like). Olive oil helps the herbs stick to the bread and gives the croutons great texture.
The finishing touch is a sprinkling of Parmesan. To make sure the cheese ends up on your croutons instead of melted to your baking sheet, place a little pinch of shredded Parmesan onto each piece of bread.
These homemade croutons taste wonderful fresh from the oven, but they also store well in an airtight container. If your croutons get chewy after a few days, you can revive them by toasting them in the oven for 2–3 minutes before serving.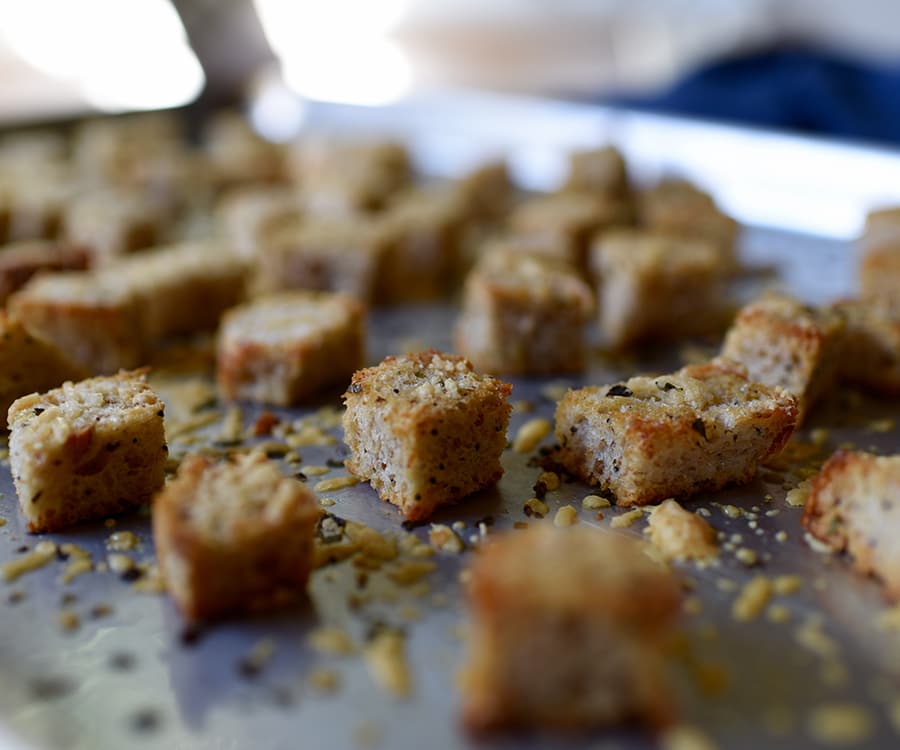 Homemade Croutons with Parmesan and Herbs
Total Time: 30 min.
Prep Time: 5 min.
Cooking Time: 25 min.
Yield: 4 servings, about ⅓ cup each
Ingredients:
Nonstick cooking spray
4 slices whole-grain bread, crust removed, cut into 1-inch cubes
1 tsp. dried parsley (or basil, or oregano)
½ tsp. garlic powder
Sea salt (or Himalayan salt) and ground black pepper (to taste; optional)
¼ cup shredded Parmesan cheese, divided use
Preparation:
1. Heat oven to 300° F.
2. Lightly coat baking sheet with spray; set aside.
3. Combine bread, parsley, and garlic powder in a medium bowl; mix well. Season with salt and pepper if desired.
4. Spread bread mixture in an even layer on baking sheet. Top with any seasoning mixture remaining in the bowl. Lightly coat bread with spray. Sprinkle with half of cheese.
5. Bake for 10 minutes, or until crisp and golden brown. Turn bread pieces over.
6. Sprinkle with remaining cheese. Bake for an additional 10 to 15 minutes, or until crisp and golden brown.
7. Store in an air-tight container.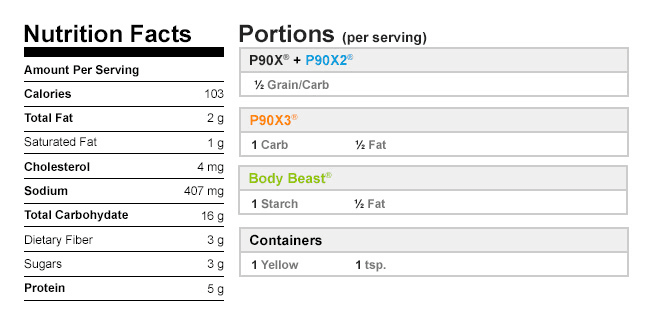 If you have questions about the portions, please click here to post a question in our forums so our experts can help. Please include a link to the recipe you're asking about.
Photos by Kirsten Morningstar