Healthy Red Velvet Cupcakes
You're not dreaming. You read the name of this recipe right: Healthy Red Velvet Cupcakes.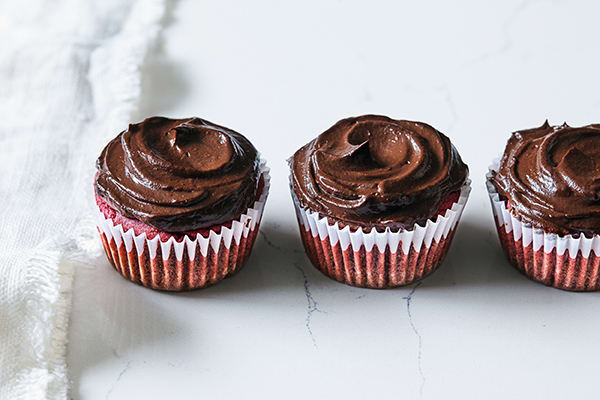 How to Make Healthy Red Velvet Cupcakes
For the ingredients and the step-by-step instructions on how to make these delicious healthy red velvet cupcakes, check out the Valentine's Day episode of FIXATE, available exclusively on Beachbody On Demand.
In this episode, Autumn Calabrese and her brother, chef Bobby Calabrese, show you how to quickly make the batter quickly in a blender or food processor.
With only 180 calories per cupcake (chocolate frosting included!), these healthy red velvet cupcakes have less than half the calories of typical red velvet cupcakes.
They're also made with all-natural ingredients and have some clever substitutions that make them more nutritious than most desserts.
Most red velvet cupcakes get their scarlet hue from artificial food coloring, and lots of it — but not these. Autumn and Bobby's gluten-free cupcakes get their color from beets!
And if you're not a fan of beets, don't worry: The flavor is undetectable. And these treats are gluten-free!
Autumn and Bobby made these red velvet cupcakes even more enticing by topping them with a rich, chocolaty layer of frosting.
How did they manage to do that and keep them healthy? With avocado!
When whipped in a blender, the healthy fats in avocados take on the texture of a finger-licking-good frosting.
Add cocoa powder, vanilla extract, and just the right amount of coconut sugar and the result is an enticing chocolate frosting that is actually pretty good for you!
Nutritional Information (per serving):
Calories: 180
Total Fat: 10 g
Saturated Fat: 4 g
Cholesterol: 20 mg
Sodium: 176 mg
Carbohydrates: 21 g
Fiber: 3 g
Sugars: 10 g
Protein: 3 g
Container Equivalents: 1 Yellow, ½ Blue, 1½ tsp.
Log on or sign up for Beachbody On Demand today to find how to make these healthy Red Velvet Cupcakes.
Photographs by Anguel Dimov and Brianne B of Natural Girl Modern World
Save