Greek Spinach Pie (Spanikopita)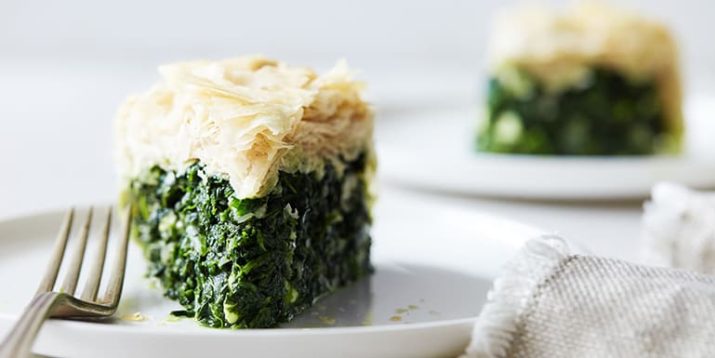 For as long as I can remember, I've loved Greek food — and one of my favorite dishes is Greek spinach pie, or spanakopita.
If you've never had it before, it's a delicacy made with spinach, feta cheese, and crispy pastry. It's heaven!
Even more heavenly? You can make a simple version at home with only nine ingredients — including store-bought phyllo dough.
Phyllo dough is a great lower fat alternative to the puff pastry that is commonly used to make this spinach pie.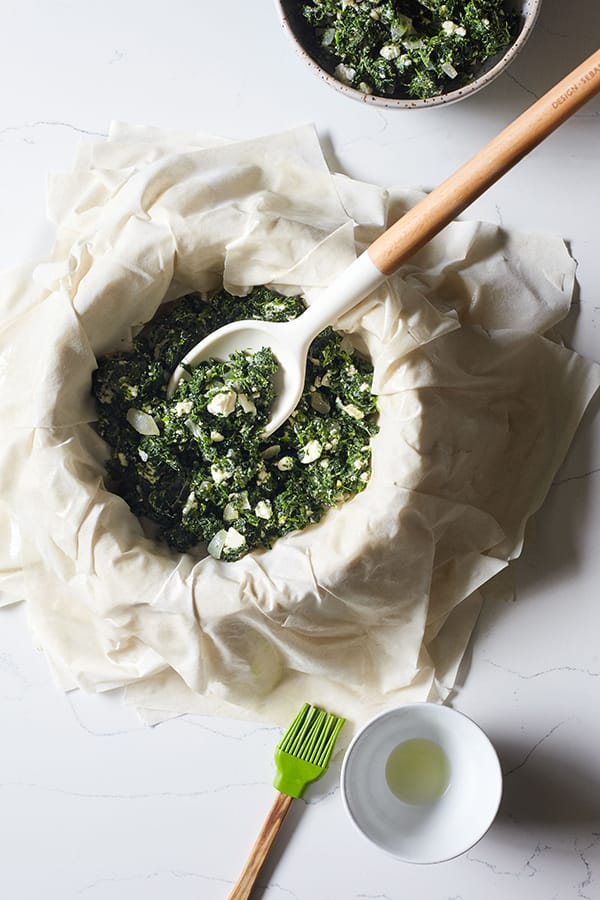 What I like about this recipe is that it's a lot less complicated than traditional Greek spinach pie. Some spanakopita recipes require shaping small individual triangles.
This recipe makes one big pie, which you can slice into individual portions right before serving.
There are a couple of tricks to using phyllo dough:
Let the frozen dough thaw before using it, so move the package to the fridge the night before (or leave it on your counter while you prepare the rest of your meal).
Phyllo tends to dry out quickly. While you work, spread a clean, slightly damp dish towel over the unused stack of dough to keep it moist and pliable. Handle the very thin sheets gently to prevent tears. This recipe stacks the sheets on top of each other, so even if you end up with a few rips in the dough, the next layer will cover it right up.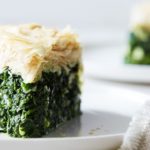 Greek Spinach Pie (Spanikopita)
Our Spanikopita, or Greek Spinach pie, is a rich pastry stuffed with spinach and cheese. featuring healthier phyllo dough, onion, and crumbled feta.
Prep Time 15 mins
Cook Time 47 mins
Total Time 1 hr 12 mins
Servings 8 servings, 1 slice each
Calories 201 kcal
Ingredients
Nonstick cooking spray
2 lbs. frozen chopped spinach, thawed
Cheesecloth
4 tsp. olive oil, divided use
1 medium onion, finely chopped
1 cup crumbled feta cheese
4 large eggs, lightly beaten
½ tsp. sea salt (or Himalayan salt)
¼ tsp. ground black pepper
½ tsp. ground nutmeg
8 sheets phyllo dough, (each approx. 12 x 17-inches), thawed, covered with slightly damp towel
Instructions
Preheat oven to 350° F.

Lightly coat a 9-inch springform pan with spray. Set aside.

Place spinach on cheesecloth, in small batches; squeeze dry. If you do not have cheesecloth, use a heavy duty paper towel.

Finely chop spinach; place in a large bowl. Set aside.

Heat 1 tsp. oil in large nonstick skillet over medium heat.

Add onion; cook, stirring frequently, for 4 to 6 minutes, or until onion is translucent.

Add onion, cheese, eggs, salt, pepper, and nutmeg to spinach; mix well. Set aside.

Place phyllo on work surface. Keeping the original stack covered, remove one sheet at a time and quickly brush with 2½ tsp. oil. Place each oiled sheet in prepared pan. Some phyllo should be hanging off the edge. Repeat with remaining phyllo, completely lining pan.

Add spinach mixture; smooth top. Fold phyllo over spinach and brush top of phyllo with remaining ½ tsp. oil.

Bake for 30 to 40 minutes, or until spinach mixture is firm and phyllo dough is golden brown. Cool for 10 minutes before removing sides of the pan.

Cut into eight slices; serve immediately.
Recipe Notes
The Nutrition Facts box below provides estimated nutritional information for this recipe.
Nutrition Facts
Greek Spinach Pie (Spanikopita)
Amount Per Serving (1 slice)
Calories 201 Calories from Fat 90
% Daily Value*
Fat 10g15%
Saturated Fat 4g25%
Cholesterol 110mg37%
Sodium 526mg23%
Carbohydrates 17g6%
Fiber 4g17%
Sugar 2g2%
Protein 11g22%
* Percent Daily Values are based on a 2000 calorie diet.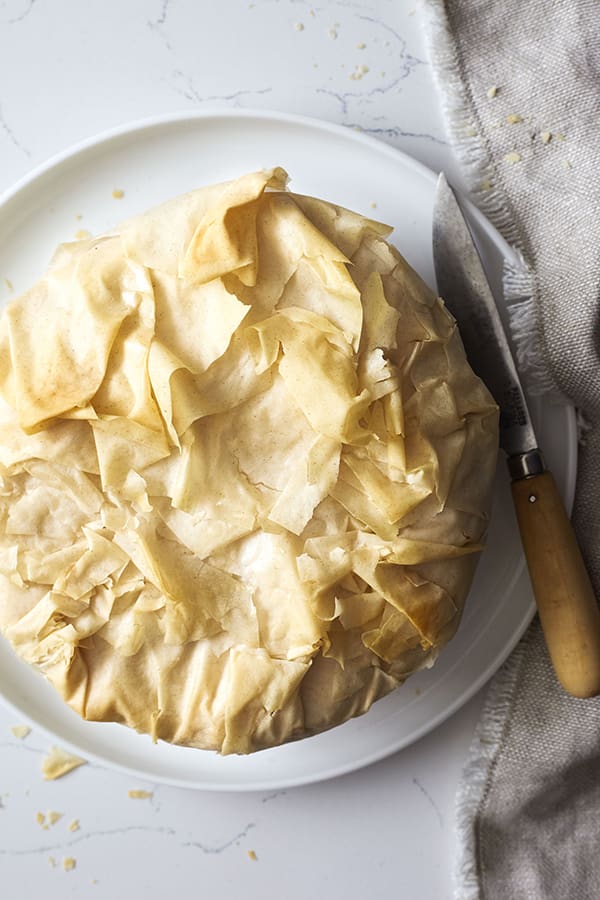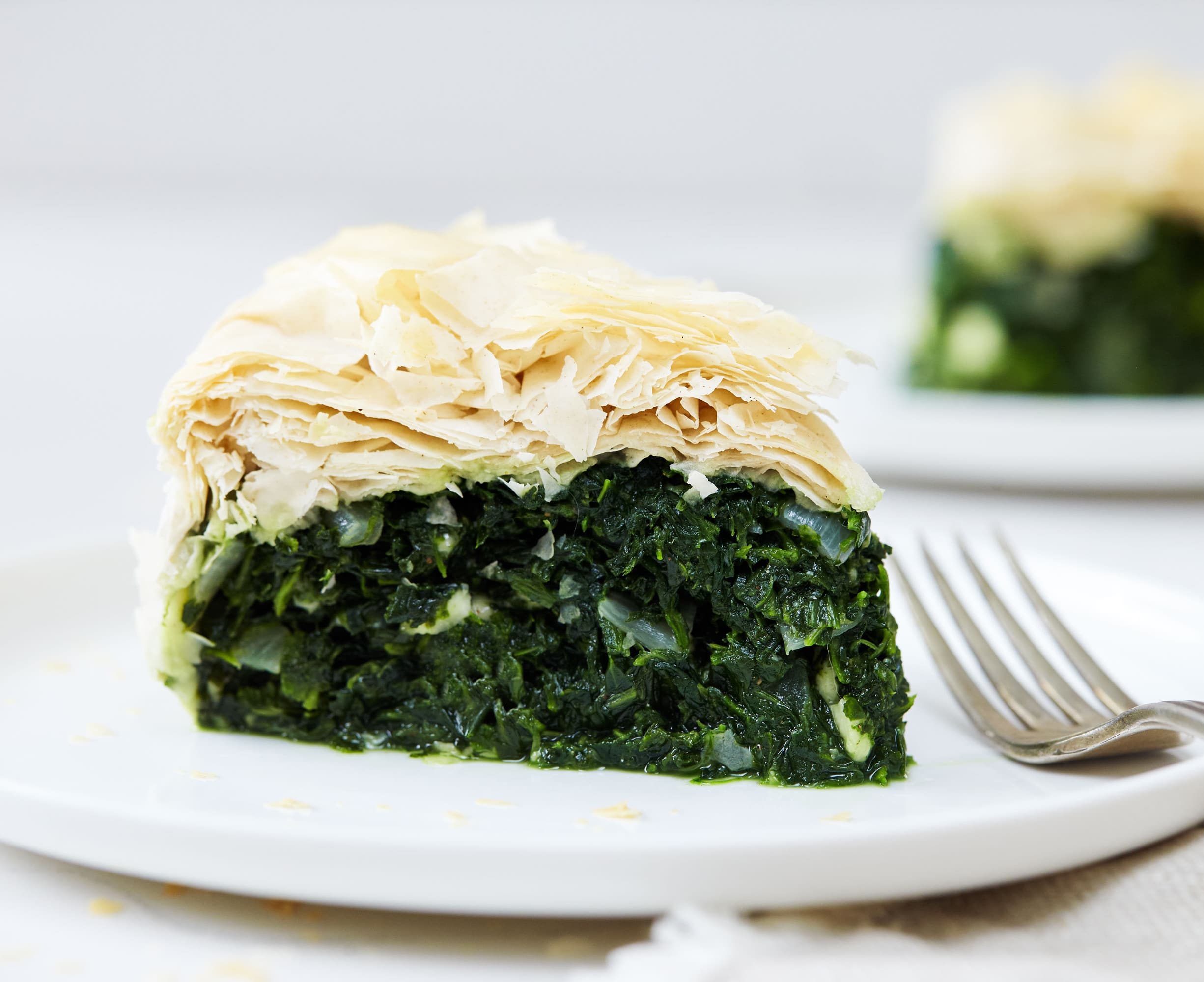 Container Equivalents
1 Green
1 Yellow
½ Blue
½ tsp.
2B Mindset Plate It!
A veggie and FFC as part of breakfast or lunch.
If you have questions about the portions, please click here to post a question in our forums so our experts can help. Please include a link to the recipe.
Photographs by Anguel Dimov and Brianne B of Natural Girl Modern World