Beachbody Results: Grandmother Drops 45 Pounds and Picks Up $1,500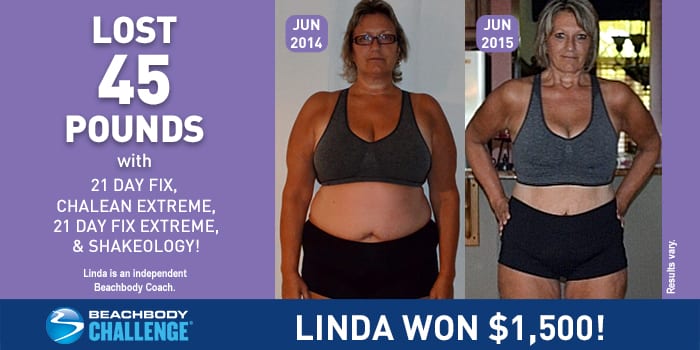 Results vary depending on starting point and effort. Linda is an independent Beachbody Coach.
Linda Emskamp, age 55, lost 45 lbs. with 21 Day Fix, ChaLEAN Extreme, and 21 Day Fix EXTREME. She entered her results into the Beachbody Challenge contest, and won $1,500!
Tell us about your life before you started the program. How did you feel about yourself and your body?
I had always been very healthy and led an active lifestyle until I hit my 40s. I worked night shifts as a nurse for many years, and my weight got out of control. I had a history of yo-yo dieting without any lasting success. I even went as far as the HCG diet. Anyway, I now have a sedentary job sitting at a desk eight hours a day; I'm still a nurse, but now it's little to no activity at work. I am married and have three children and one grandchild. I was borderline hypertensive. I was having to monitor my blood pressure. My father had his first heart attack in his 50s, and I was starting to worry I would follow in his footsteps. He died in his 60s. I knew I was fat, wearing a size 18 or larger, but I did not realize how fat I was until I saw my "before" pictures.
What inspired you to change your life and begin your transformation journey?
I wanted to feel good about myself again. I did not want my husband or children to be embarrassed of me. I wanted to have energy to run around with my grandson. I wanted to be healthy! Oh, and I love to dress up and look nice. A friend I work with told me about a group of girls going to start 21 Day Fix, and introduced me to her Coach, Kelly Horta. On June 23, 2014, we started 21 Day Fix! I have been a fixer since! I have also incorporated ChaLEAN Extreme, 21 Day Fix EXTREME, and Shakeology.
What is the greatest challenge you faced before beginning the program? How did the program and Beachbody help you overcome that challenge?
OK, the first exercise…Surrenders?! I could not go down on my knees, let alone get back up. I think I did one the first day. I now can master Surrenders! My eating habits were bad! I thought I knew portion sizes — after all, I was a master dieter, right? Wrong! I was not eating enough protein, vegetables, or fruits, and way too much of the "yellow" containers (carbs). Well, the containers and food prep were the key. Every Sunday, I would make my food for the work week, measure it out in the containers, and pack it in the fridge. Having prepared meals with the right serving size was key to my success.
What in particular did you like about the program you chose?
21 Day Fix is easy to follow. I like eating normal food every day, and the program made portion control a no-brainer. I also like the fact that the exercises had modifiers, and I did not feel defeated. The variety of foods and exercises keep you going! 21 Day Fix is not a "program" to me; it is now my way of life. 21 Day Fix is forgiving! I had many challenges during the past year, but was always able to jump back in and still reach my goals! Everyday life — weddings, holidays, vacations, barbecues, illness, work, and going out to eat — can all cause you to feel like you ruined your diet, but 21 Day Fix is a lifestyle. You can always continue your life after any life event, and not feel like you blew it!
Describe the results you achieved with your Beachbody program. Which achievements are you proud of?
I am down to a size 12, sometimes a 10. I feel great! My blood pressure has improved too! Everywhere I go, people ask me, "What did you do?" I tell them "21 Day Fix!" I lost 45 pounds and 48 inches! I am a beast (lol)!
How has your life changed since completing your Beachbody program?
I have mental clarity! I do not feel like a slug at work anymore. I have more energy then my 21-year-old! Ha! I can do burpees! I can run, jump, swim, and climb out of the pool! I feel and look beautiful again! I am someone my family can be proud of!
How did participating in a Challenge Group help you reach your goals? How did your group support you and keep you accountable?
Our groups were awesome! We provided support, encouragement, ideas, recipes, sweaty pictures, good days, bad days, etc. We became friends, all trying to achieve the same result: health and wellness! I never had so much fun working out and posting sweaty selfies. Oh, I am a selfie pro too now! We were there, every day, helping each other through!
How did your Team Beachbody Coach support you on your journey?
Kelly was an awesome Coach, providing encouragement, acknowledgement, and support! She participated with us! We all have lives, struggles, and distractions, but we all had Kelly! Every day, she would post an assignment, participate in the assignment, answer questions, offer encouragement, give recipes, share success stories, and just be a mentor and friend.
How did a Beachbody supplement, nutritional product, or program (such as Shakeology or Beachbody Ultimate Reset) support your transformation? What are the greatest benefits you gained? Did you see benefits to your energy, sleep, mood/mental clarity, or digestion/regularity?
I love Shakeology! I prefer Chocolate. I am not much for making breakfast. I have to be at work early, and I like to sleep in. So Shakeology is my savior. My new favorite is the Vegan Chocolate! It tastes delicious, and is nutritious! I definitely believe it gives me the clarity and energy I now have!1
You can change your life, too. Take the Beachbody Challenge for the tools you need to Decide, Commit, and Succeed! Complete any Beachbody program, and enter your results for a free gift and a chance to win cash and prizes.

1These statements have not been evaluated by the Food and Drug Administration. This product is not intended to diagnose, treat, cure, or prevent any disease.