Golden Vanilla Chai Shake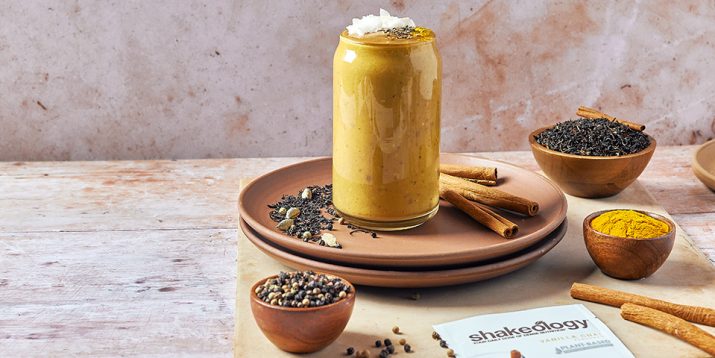 *Note: This recipe is intended for our Canadian customers.
---
This Golden Vanilla Chai shake recipe is for people who love a little spicy with their sweet.
The ingredients in this shake hit all the right flavour notes:
Vanilla Chai Shakeology and almond milk provide a slightly sweet, creamy base, while turmeric and ground black pepper add earthy spiciness.
Vanilla Chai Shakeology features the delectable flavour of vanilla with a hint of cinnamon and cloves.
It's our newest limited-edition seasonal flavour, so get it while it lasts!
Total Time: 5 min.
Prep Time: 5 min.
Cooking Time: None
Servings: 1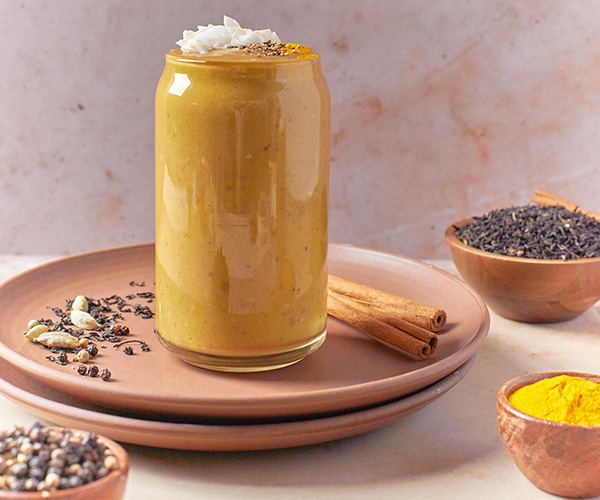 Ingredients
240 ml / 1 cup unsweetened almond milk
170 g / 1 cup ice
1 scoop Vanilla Chai Plant-Based Vegan Shakeology
¼ tsp. ground turmeric
1 dash ground black pepper
1 Tbsp. shredded unsweetened coconut
Instructions
Place almond milk, ice, Shakeology, turmeric, and pepper in a blender; cover. Blend until smooth; pour into a glass. Garnish with coconut; serve immediately.
The Nutrition Facts below provide estimated nutritional information for this recipe.
Fantastic Fibre (F), Gluten-Free (GF), No Dairy (ND), Protein Power (P), Quick 'n' Easy (QE), Vegan (V), Vegetarian (VG)
Nutritional Information (per serving):
Calories: 235
Total Fat: 9 g
Saturated Fat: 4 g
Cholesterol: 0 mg
Sodium: 478 mg
Carbohydrates: 20 g
Fibre: 7 g
Sugars: 7 g
Added Sugars: 5 g
Protein: 18 g
Container Equivalents (Regular &Vegan)
1 Red
½ Orange
1 tsp.
2B Mindset Plate It!
This recipe makes a great protein side.