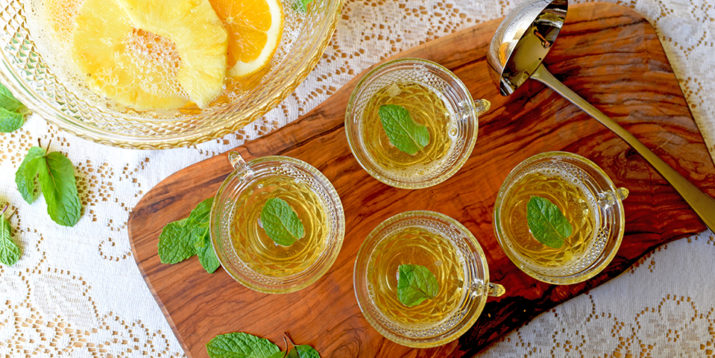 Nothing says "it's a party!" like a bottle of fizzy, bubbly champagne. But if you want to kick things up a notch at your next soiree, try this Fruity Champagne Punch.
Obviously, champagne is amazing on its own, but there's no end to the number of refreshing and brightly flavored cocktails you can make with it.
This fruity punch is a lighter alternative to typical drinks like egg nog and other creamy drinks.
Cointreau is a beautiful orange liqueur that provides a burst of summery zing, and when you combine it with orange and pineapple slices, it'll make you (almost) forget it's winter.
And don't feel limited to pineapples and oranges: You can use whatever fruits strike your tastebuds' fancy or citrus fruits that are in season.
Pro tip: The best way to cut a pineapple is to evenly cut off the top and bottom of the pineapple, using a sharp (or serrated) knife. Stand the pineapple up and cut the skin off in long strips starting at the top down to the bottom.
Make sure you cut out any "eyes" (brown prickly pines) that remain in the flesh. Cut pineapple lengthwise into quarters. Stand each on end and cut out the core (hard, woody section). Cut one quarter into thin slices. Save the rest for later!
Variation: You can use an apple brandy and substitute apple slices for pineapple.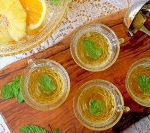 Fruity Champagne Punch
Prep Time 10 mins
Cook Time 0 mins
Total Time 10 mins
Servings 10 servings, approx. 6 fl. oz. each
Calories 91 kcal
Ingredients
Ice
1 (750 ml) bottle brut champagne, chilled
1½ fl. oz. brandy
1½ fl. oz. Cointreau
1 (1 liter) bottle soda water
¼ medium pineapple, skin and core removed, cut into slices
1 medium orange, cut in half, cut into thin slices
¼ cup fresh mint leaves (for garnish)
Instructions
Place ice in a large punch bowl.

Add champagne, brandy, Cointreau, and soda water; mix well.

Add pineapple and orange; mix gently to blend.

Serve punch in champagne flutes (or punch glasses); garnish with mint leaves.
Nutrition Facts
Fruity Champagne Punch
Amount Per Serving (1 serving)
Calories 91
% Daily Value*
Sodium 22mg1%
Carbohydrates 6g2%
Fiber 1g4%
Sugar 9g10%
* Percent Daily Values are based on a 2000 calorie diet.
Container Equivalents
1 Yellow