From Regular to Ripped in 60 Days!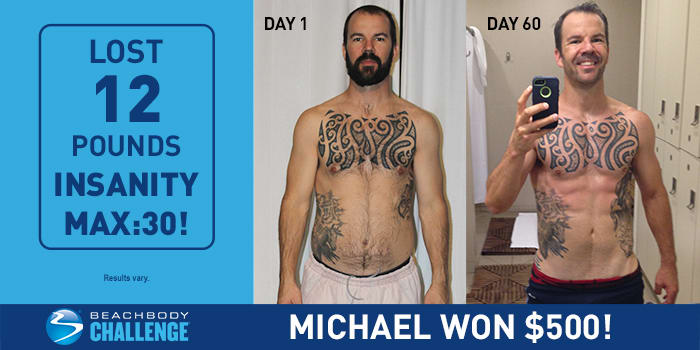 Results vary depending on starting point and effort. Michael was an independent Beachbody Coach.
Michael W. lost 12 lbs. in 60 days with INSANITY MAX:30. He entered his results into The Beachbody Challenge, and won the $500 Daily Prize for September 6th!
Tell us about your life before you started the program. How did you feel about yourself and your body?
My life before the program had been quite hectic. I am married and we have three children, two of which are relatively young (three and one-and-a-half) so I was definitely always juggling something and trying to keep up. I hadn't done much exercise at all, definitely not consistently since my son was born a year and a half prior. I was feeling myself get past an invisible point of no return, and really had no idea how out of shape I had gotten until I took my "before" pictures. I knew that I was losing my muscle and my pants and suits were starting to fit tighter, but I think I was in a bit of denial. I noticed that I was losing energy playing with my kids, feeling sluggish, and my eating habits were turning into something awful. With my kids getting bigger and heavier, I noticed I couldn't pick them up as easily, or that I was hurting myself or getting sore after holding or playing with them for a long time. I knew I was slipping but I was also scared to do anything about it.
What inspired you to change your life and begin your transformation journey?
I don't know that any one thing in particular inspired me to change my life and begin the transformation journey, but rather a series of things. I wanted to make sure I had energy for my kids, and was making healthy choices and setting a good example for them by taking care of myself. I wanted to make sure I was staying strong and in shape so I could coach and play soccer. I wanted to increase my energy levels and not feel so sluggish and slow all of the time. I didn't want to have to buy new suits or clothes because I was getting too fat to fit into them anymore. All of these things were playing in my mind and made me want to start. Then I received the invite to be a part of the Challenge Group put on by a Beachbody Coach, Kari Lyons, and that was a sign. Once I signed up and took the "before" picture, that was my inspiration from then on. I took one look at that and was embarrassed, and used that as my fuel to push through to the finish.
What is the greatest challenge you faced before beginning the program?
When looking at the greatest challenges I faced beginning the program, there were two major ones. The first was time. I work full-time, am married, and have three kids. So I am constantly trying to find "me" time. Trying to figure out when I was going to fit the workout program into my already packed schedule was going to be a huge challenge. The only way I was going to be able to do it was either by getting up earlier than everyone else, or staying up later than them in order to do it at home. My other option was trying to find a way to do it during my lunch break at work, which I ended up figuring out how to do as well. The other challenge was getting past the mental barrier I had put up. I was scared to start because I feared the pain and the soreness. I feared that I had let myself get so far out of shape that I wasn't going to be able to get it back, that I had passed the point of no return. Finding a way to just push past that fear and just do my best was not easy.
What in particular did you like about the program you chose?
I loved the fact that the workouts were only 30 minutes long. I knew I wanted to exercise and could start to see and feel that I needed to, but I simply couldn't easily find or justify spending an hour or more at the gym exercising. I also knew that getting up mentally to do much more than 30 minutes would have been too daunting, and probably scared me from even starting. I also loved the premise or idea behind the program of just doing your best. Everyone has different strengths and will start at different points, but it is about finding your own personal limits and pushing past them. The mental strength that it helped instill along with the physical was great. The other reason was that I didn't need any equipment or weights, just me, and enough space to do a burpee. When I started, I knew it was going to be tough, but I was able to tell myself, "look you only have to do the best you can, and it is only for 30 minutes." I had no idea just how well spent that time would be.
Describe the results you achieved with your Beachbody program. Which achievements are you proud of?
The results of doing this program are so far-reaching. This was so much more than a physical transformation and the results affected just about every part of my life. From the very beginning, I found myself with an incredible boost to my energy levels. I would be sore and my muscles would be tired, but the lift to my spirits, the increase in my focus, and my overall energy level were amazing. My confidence and self-esteem improved as I felt like I was accomplishing something and doing something good for me. I was also happier, in a better mood, and was able to play with my kids for longer periods of time without getting tired. The physical results were unbelievable. I had to tighten my belt two or three notches as I shaved at least three to four inches from my waist. I was starting to get a visible six pack, and it really popped out in certain lighting, and this is after not being able to see my feet when I started. I leaned up and could see muscle definition all over my body. I could finish!
How has your life changed since completing your Beachbody program?
It has only been a day since I finished, and I feel like I am on cloud nine. I am so happy and just so proud of myself for doing the program in its entirety, start to finish. I was able to post a "before" picture that I was so embarrassed about when I first took it, because next to it I could show the physical results. I received so much positive feedback from my Facebook post, with people telling me I have inspired them and asking how I did it. Some people saw my "before" and "after" picture and thought it was an advertisement, which blew me away. I feel excited, accomplished, and ready to take on the next challenge. I feel like this was just the type of kick-start I needed to catapult me into a new way of living, thinking, eating, and being. I love it!
How did participating in a Challenge Group help you reach your goals? How did your group support you and keep you accountable?
It helped me to reach my goals because anytime I had a question, I was able to reach out, ask, and get feedback from the Challenge Group. I was able to share my experiences, ask questions, and read about everyone else also. It made me feel a part of something and that if I didn't keep up or hold up my end of the deal by doing the work, I'd be letting them down or that they'd know I quit. Every day I tried to post my MAX OUT time and write a little bit about that day's work. The comments and feedback were fuel and motivation to keep going. I also appreciated the motivational tips and recipes that my Coach would put out there for us to read and use. It just really made me feel like I was on a team and I couldn't let them down.
How did your Team Beachbody Coach support you on your journey?
Kari was amazing in helping me to feel comfortable starting. She answered all of my questions upfront about the program, the cost, what was required, and what was expected. She helped ease my fears and made me believe that I could start out and finish, regardless of how out of shape I felt I was. She talked to me about the program, what to expect, and helped me find answers to the challenges that I was putting in front of myself before I even started. She was always quick to respond to questions and gave really positive feedback on my comments, which made me want to keep going and keep posting my daily workouts. If Kari hadn't asked me to be a part of the group, and then made me feel comfortable that I was qualified to do it, then I don't know that I would have ever started. I would have probably continued to fall victim to that voice in my head that kept telling me it was too late, I was out of shape, and it was not in the cards for me anymore. She helped me change that thinking.
You can change your life, too. Take the Beachbody Challenge for the tools you need to Decide, Commit, and Succeed! Complete any Beachbody program, and enter your results for a free gift and a chance to win cash and prizes.