From Channel Surfing to Actually Surfing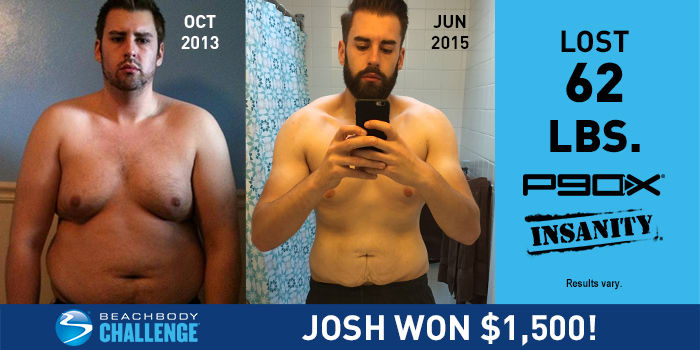 Results vary depending on starting point and effort. Josh was an independent Beachbody Coach.
Josh W., age 27 from San Francisco, CA, lost 62 lbs. with P90X and INSANITY. He entered his results into The Beachbody Challenge and won $1,500!

Tell us about your life before you started the program. How did you feel about yourself and your body?
I felt overweight, depressed, and introverted. Every goal I had put before me, I didn't go near. I would go to work, hide in my office cubicle, set my laptop on my stomach, and would eat my day away. I would come home, turn on the TV, eat giant amounts of food, go to be alone (lonely and fat), then would wake up and do it all over again. I knew I needed to change. I knew this person I saw in the mirror was not who I was. And all these goals I wanted to pursue, my weight was holding me back.
What inspired you to change your life and begin your transformation journey?
My inspiration came from what my life could look like. The dream was to wake up, look myself in the mirror, and say "You did it." And now, I feel like I can. I've hiked Yosemite, I surf now — I surf?! I still can't believe it! — sailing, biking, etc. I can go to the mall and wear a medium size T-shirt instead of an XXL. All these things I wanted to do is what inspired me, and now, I'm glad I can do them.
What is the greatest challenge you faced before beginning the program? How did the program and Beachbody help you overcome that challenge?
I would watch some of the P90X and INSANITY videos before doing them, and think "there is absolutely no way I could accomplish this goal." Now, I'm pressing harder than some of the trainers in the video, and can't wait to jump into the workout. I would barely be able to last during the warm-up portion of INSANITY or the first quarter to P90X, and not even go near Ab Ripper. Now, it's just what I do, and sometimes if I'm feeling it, I do another workout just because I want to.
What in particular did you like about the program you chose?
I wanted to lose weight but also gain muscle. P90X was the way to go. I sucked at cardio, so I decided to do the hardest cardio program I knew of, which was INSANITY. That's when the weight started to literally pour off. I loved Shaun T's attitude during INSANITY. I've always been a "go big or go home" type of guy, and this was definitely the right choice for me after I finished P90X. Now, I do a hybrid of the two programs.
Describe the results you achieved with your Beachbody program. Which achievements are you proud of?
All in all, I am very proud of myself. I met a goal. I am currently sitting at a 70-pound weight-loss. Sunday nights consist of meal prepping for the entire week, and weekends consist of relaxing and going for hikes or runs through San Francisco. I wake up now and see muscle definition. Even though I have loose skin, I'm working toward a five to 10 body fat percentage, and I'm getting close. And there is no way I could have done it without Beachbody.
How has your life changed since completing your Beachbody program?
Here's the best example I can give you: when I take off my shirt in public and I know there isn't anything I feel ashamed about, I know I have accomplished something. Short and simple, but this is how I know I have completed my goal!
How did participating in a Challenge Group help you reach your goals? How did your group support you and keep you accountable?
I actually have made friends that have now lasted years. The camaraderie was amazing, and I can't wait to do another Group again.
How did a Beachbody supplement, nutritional product, or program (such as Shakeology or Beachbody Ultimate Reset) support your transformation? What are the greatest benefits you gained? Did you see benefits to your energy, sleep, mood/mental clarity, or digestion/regularity?
Shakeology is seriously a staple in my life. It's great knowing that what you're putting into your body is the best shake out there. My sleep patterns and food intake have made me happier and healthier. My energy levels are crazy/awesome all the time.2 I still drink Shakeology every single day and will continue to for years to come. I'm also super excited to try the new Beachbody Performance supplements. Beachbody really impresses me with how premium their supplements are; they aren't just attaching their name to a lame supplement. You can see and feel the difference in their supplements.2
You can change your life, too. Take the Beachbody Challenge for the tools you need to Decide, Commit, and Succeed! Complete any Beachbody program, and enter your results for a free gift and a chance to win cash and prizes.

2These statements have not been evaluated by the Food and Drug Administration. This product is not intended to diagnose, treat, cure, or prevent any disease.