FIXATE Spaghetti Squash Fritters
By definition, a fritter is a fried mouthful of deliciousness — they can be sweet or savory and made with pretty much any kind of food.
Luckily, it's easy to "health-ify" any fritter recipe. Instead of frying them in a pan of oil, you can bake them in the oven and still enjoy the crunchy crispiness — without all the fat.
Autumn Calabrese and her brother Bobby Calabrese created a healthy, delicious fritter recipe for their FIXATE cooking show  — Spaghetti Squash Fritters.
In just 25 minutes, you can be noshing on these gorgeous fritters filled with squash, onion, garlic, chives, Parmesan cheese, and lemon zest.
Pro tip: You can get more delicious recipes like this in the FIXATE Vol. 2 Cookbook, which comes with Portion Fix. Learn more here.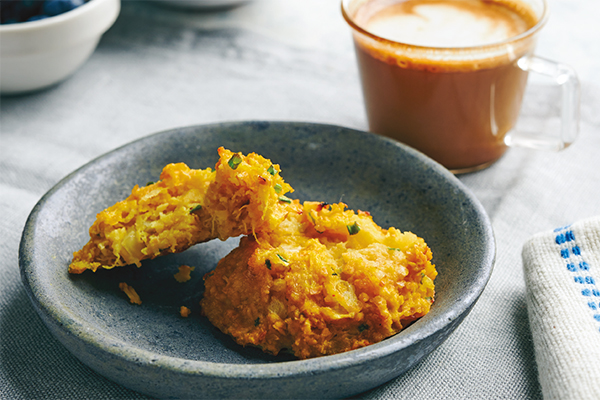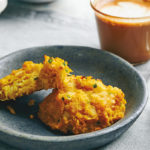 Spaghetti Squash Fritters
Prep Time 15 mins
Cook Time 10 mins
Total Time 25 mins
Servings 6 servings, approx. 2 fritters each
Calories 127 kcal
Ingredients
2 cups cooked spaghetti squash, well-drained
½ cup onion, finely chopped (approx. ¾ medium)
2 cloves garlic, finely chopped
2 Tbsp. chives, finely chopped
2 large eggs, lightly beaten
1½ tsp. finely grated lemon peel (lemon zest)
½ cup panko bread crumbs, gluten-free
2 Tbsp. cornstarch (preferably GMO-free)
½ tsp. sea salt (or Himalayan salt)
½ cup Parmesan cheese, grated
olive oil cooking spray
Instructions
Line baking sheet with parchment paper. Lightly coat with olive oil cooking spray. Set aside

Combine spaghetti squash, onion, garlic, chives, eggs, lemon peel, bread crumbs, cornstarch, salt, and cheese in a large bowl; mix until thoroughly combined.

Form spaghetti squash mixture into 12 ¼-cup patties. Place patties on prepared pan. Lightly coat tops with spray. Bake for 15 minutes, turning patties over after 7 minutes.
Recipe Notes
If using freshly baked spaghetti squash, wait for it to be cool enough to handle, place inside a clean kitchen towel, and wring out excess moisture.
Spaghetti squash fritters are great dipped in a little reduced-fat
(2%) Greek yogurt.
Use your meal-prepped spaghetti squash for this recipe.
Nutrition Facts
Spaghetti Squash Fritters
Amount Per Serving (1 serving)
Calories 127 Calories from Fat 36
% Daily Value*
Fat 4g6%
Saturated Fat 2g13%
Cholesterol 68mg23%
Sodium 504mg22%
Carbohydrates 16g5%
Fiber 1g4%
Sugar 3g3%
Protein 7g14%
* Percent Daily Values are based on a 2000 calorie diet.
Container Equivalents
½ Green
½ Yellow
½ Blue
If you have questions about the portions, please click here to post a question in our forums so our experts can help. Please include a link to the recipe.