FIXATE Peanut Butter Sweet Potato Cookies
Mmmmm — Peanut Butter Sweet Potato Cookies.
Wait, what? Yes, we'll say it again: Peanut Butter SWEET POTATO Cookies.
Nothing gets our hearts racing (and mouths watering) like a peanut butter cookie recipe. But peanut butter with sweet potato?
The answer is a resounding "YAASSSS!"
Mashed sweet potatoes provide a light sweetness and keep these cookies moist and delectable.
Try them out — you'll be a believer after the first bite!
Pro tip: You can get more delicious recipes like this in the FIXATE Vol. 2 Cookbook, which comes with Portion Fix. Learn more here.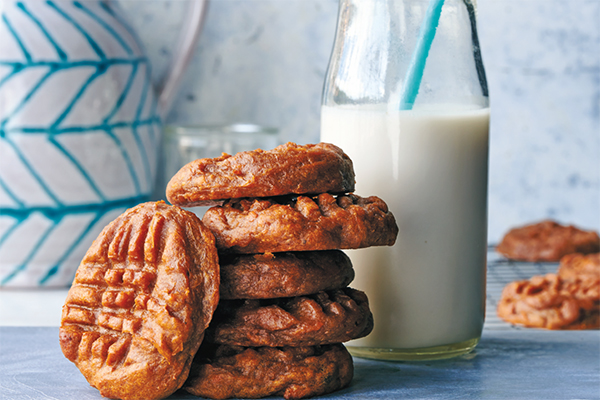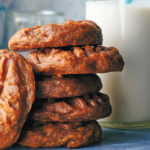 FIXATE Peanut Butter Sweet Potato Cookies
There's really nothing better than Peanut Butter Cookies. Except for Peanut Butter Sweet Potato Cookies from the FIXATE Vol. 2 Cookbook.
Prep Time 15 mins
Cook Time 16 mins
Total Time 31 mins
Servings 12 servings (2 cookies each)
Calories 104 kcal
Ingredients
1½ cups mashed cooked sweet potato (approx. 3 small)
½ cup gluten-free all-purpose flour (preferably Bob's Red Mill® All-Purpose Baking Flour, red label)
¼ cup + 2 Tbsp. coconut sugar
¼ cup all-natural peanut butter
1½ tsp. pumpkin pie spice
1 tsp. pure vanilla extract
½ tsp. xanthan gum
½ tsp. baking powder, gluten-free
1 dash sea salt (or Himalayan salt)
Instructions
Line two large baking sheets with parchment paper and lightly coat with spray. Set aside.

Place sweet potato, flour, sugar, peanut butter, pumpkin pie spice, extract, xanthan gum, baking powder, and salt in food processor; process until a smooth batter forms, scraping down sides as needed.

Dollop twelve balls, approximately 2 Tbsp. each, onto each prepared pan. Lightly flatten with back of a fork that has been dipped in water (or coated with spray).

Bake for 14 to 16 minutes, rotating pan after 7 minutes, or until lightly browned. Allow cookies to cool on pan before serving.
Recipe Notes
Xanthan Gum is a thickening and stabilizing agent often used in gluten-free baking to provide structure to baked goods that typically comes from gluten. Xanthan gum is also used in sauces and dressings to help thicken and emulsify ingredients. It can be found in the grocery store with the gluten-free baking ingredients or online.
To prepare sweet potatoes, pierce whole sweet potatoes multiple times with a fork and bake at 350° F. for 45 minutes, or until soft to the center.
Store leftover cookies in an airtight container for up to 5 days.
Nutrition Facts
FIXATE Peanut Butter Sweet Potato Cookies
Amount Per Serving (1 serving)
Calories 104 Calories from Fat 27
% Daily Value*
Fat 3g5%
Saturated Fat 1g6%
Sodium 78mg3%
Carbohydrates 18g6%
Fiber 2g8%
Sugar 9g10%
Protein 2g4%
* Percent Daily Values are based on a 2000 calorie diet.
Container Equivalents
1 Yellow
1 tsp.
Vegan Container Equivalents:
1 Yellow, B
1 tsp.
If you have questions about the portions, please click here to post a question in our forums so our experts can help. Please include a link to the recipe.