Find Out What Got Marissa in Shape for Basic Training and Won Her $500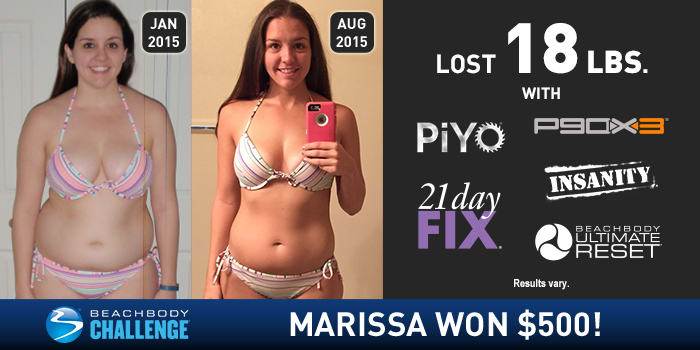 Marissa Blackwell lost 18 lbs. in eight months with P90X3, PiYo, 21 Day Fix, INSANITY, Ultimate Reset, and the Beachbody Performance supplements. She entered her results into the Beachbody Challenge, and won the $500 Daily Prize for January 27th!
Marissa is an independent Beachbody Coach.

Tell us about your life before you started the program. How did you feel about yourself and your body?
I have struggled with my weight since elementary school. I hated the way I looked and was extremely self-conscious. I was an emotional eater. I ate if I was bored, tired, sad, happy, mad, etc. It seemed like food could fix anything. I would feel depressed about the way that I looked, and then I would go eat more. I tried every diet I heard about. Each one would leave me hungry or force me to cut out my favorite foods. They never worked. On top of that, I was tired a lot. I could easily sleep in until noon every day if my schedule allowed it. I hated exercise. Gyms made me feel even more self-conscious, so I tried to avoid them.
What inspired you to change your life and begin your transformation journey?
My breaking point was when I went to my doctor and was tested for a cardiovascular disease. Thankfully, I tested negative, but the fact that my doctor felt that heart disease could even be a possibility (when I was in my early 20s) was enough to open my eyes to what I was doing to my body with food. A few months later, I decided to enlist in the military. I knew that in order to be successful during my basic training, I needed to get into shape. I was also tired about feeling bad about myself all of the time. I wanted to have energy and the desire to go out and do things.
What is the greatest challenge you faced before beginning the program? How did the program and Beachbody help you overcome that challenge?
My biggest challenge was thinking negatively. I kept telling myself that I couldn't do it, that I was too out of shape, and that it wouldn't work. It made starting very hard. I would consider working out but then tell myself: "What's the point? You're just going to quit anyways." But I stuck with it, and I started noticing changes. I started feeling better, mentally and physically, and then I realized that I really enjoyed working out every day. Every day that I pushed play made it a little easier to push play the next day. Once I started seeing and feeling changes, it fueled my fire even more.
What in particular did you like about the program you chose?
I loved that P90X3 was only 30 minutes a day. With everything else going on in life, it was hard for me to make time for a lengthy workout, so I was so excited when I heard that P90X3 was short, but intense. I was never bored, because each day of the week, I had something different to work on. Tony Horton was great. He seemed tough, but approachable (and funny too). I liked that the other people working out on each DVD were at various fitness levels, so I could always find someone who was doing the exercise in a way that I could do it too. When I started the Ultimate Reset, I found that I loved having a set menu each day. It took the stress out of planning what to eat each day. I knew that if I followed the plan, I would get results. I loved discovering new foods and recipes that I had never tried before. I loved that the 21 Day Fix was challenging, but fun. I liked the blend of cardio, weights, and stretching. I loved that PiYo was a blend of strength and stretching.
Describe the results you achieved with your Beachbody program. Which achievements are you proud of?
I changed mentally and physically. Physically, I lost several pounds and inches, as well as toned my body. I have gotten so much stronger than I was before. My stress levels went down a ton. I started looking forward to working out every day, and even started craving healthy foods. I gained confidence in myself and developed a better relationship with food. I sleep better, have more energy, and I feel lighter. PiYo was amazing for relieving joint pain. I suffered a hip injury during basic training about nine months prior to beginning PiYo (leaving me with two stress fractures in one of my hips). PiYo has helped me to have less pain that occurs less frequently and doesn't last as long as it used to. I can now do things that I couldn't before without my hip pain slowing me down. INSANITY was the most challenging for me physically, but each day I was amazed at how much my body could really do. It showed me that my mind was a limitation, and that I was capable of more than I thought.
How has your life changed since completing your Beachbody program?
I was able to successfully complete my basic training. I learned and developed healthier eating habits. I have also gained a better understanding about what I eat and put into my body. I don't struggle with emotional eating like I used to. I'm happier, more confident, and have better relationships with my family, friends, and husband. I feel so much better about myself, and it shows! I don't feel sick anymore, and feel better about the way I look. I can do the things that I like doing, such as running, without being held back by hip pain. I was even inspired to help others on their fitness journeys by becoming a Beachbody Coach!
How did participating in a Challenge Group help you reach your goals? How did your group support you and keep you accountable?
The P90X3 Challenge Group gave me the accountability that I needed in order to succeed. It was so much easier knowing that I was not alone, and that there was always someone to lend an ear when I needed it. They helped push me and motivated me to give it my all. They helped keep me accountable with check-ins. If I didn't check in, my group made sure they pulled me back in!
How did your Team Beachbody Coach support you on your journey?
Kimberly was always there when I needed her. If I was having a rough day and didn't think that I could do it, she encouraged me to stick with it. Seeing how Beachbody has changed her life, it really inspired me to change my own. She has taught me so much about health and fitness that I will continue to carry with me. Without her help, I don't know if I would have been able to stick with it. She always encouraged me to keep pushing play and to only worry about doing my best. I didn't have a lot of close supporters, so it meant the world to me that Kimberly cared and supported me every step along the way!
How did a Beachbody supplement, nutritional product, or program (such as Shakeology or Beachbody Ultimate Reset) support your transformation? What are the greatest benefits you gained? Did you see benefits to your energy, sleep, mood/mental clarity, or digestion/regularity?
Shakeology has truly changed my life! Since I started drinking it, I no longer have bad heartburn, which used to wake me up nightly. I also have more energy, crave healthier foods, and it's helped curb my sweet tooth.+ With the Ultimate Reset, I have a better understanding about what I put into my body. I have healthier habits. I have found a lot of new, healthy foods that I never knew about before. Who knew I could crave things like kale and beets?! With the Beachbody Performance Line, I was able to get even better results from my workouts. I had less muscle soreness and felt more hydrated through my workouts. They helped me build muscle too!
You can change your life, too. Take the Beachbody Challenge for the tools you need to Decide, Commit, and Succeed! Complete any Beachbody program, and enter your results for a free gift and a chance to win cash and prizes.

*Results vary depending on starting point, goals, and effort.
+These statements have not been evaluated by the Food and Drug Administration. Beachbody products are not intended to diagnose, treat, cure, or prevent any disease.