FOCUS T25 Results: This Mom Lost 15 Pounds and Won $500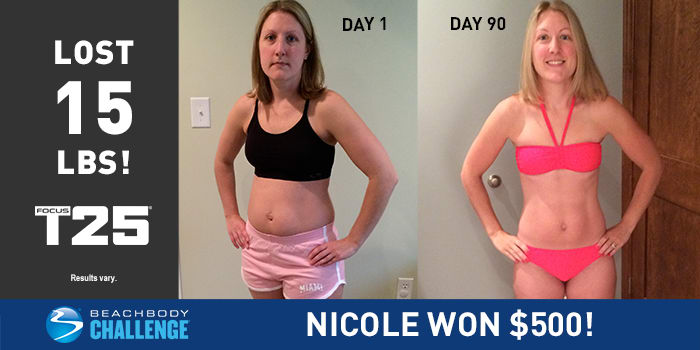 †Results vary depending on starting point and effort. Nicole is an independent Beachbody Coach.
Nicole Bowen lost 15 lbs. in 90 days with FOCUS T25. She entered her results into The Beachbody Challenge, and won the $500 Daily Prize for October 9th!
Tell us about your life before you started the program. How did you feel about yourself and your body?
I had always led an active lifestyle for the most part until I became pregnant with my daughter. As a new mom, I was tired, had very little time for myself, and hurt my wrist shortly after she was born. Even though I had lost all of the baby weight except the last 10 lbs. pretty easily, I had no motivation to start and stick with a workout. Plus, the food and drinks I had eliminated or limited while pregnant and nursing — sweets, coffee, and comfort foods — were now a daily necessity. I constantly felt unhealthy, sluggish, and unhappy about how I looked. My pre-baby clothes still didn't fit. I also wasn't sleeping well, and I had no energy to keep up with my increasingly active toddler.
What inspired you to change your life and begin your transformation journey?
I knew I needed to make a change right after my daughter's first birthday, when my sweet cravings were out of control and my weight began creeping back up. I was tired of feeling unhealthy and overweight. I wanted to be the best mom and wife I could be, and to set a good example for my family.
What is the greatest challenge you faced before beginning the program? How did the program and Beachbody help you overcome that challenge?
Finding the time, motivation, and energy to begin a program were my biggest challenges before I started doing FOCUS T25 and drinking Shakeology. As soon as I started though, I noticed lots of physical and mental changes. I was happier and had more energy than I'd had in years. I made working out and eating well a priority. I was motivated by the results I was seeing and from my Challenge Group. I continued to lose weight, my cravings disappeared, and I knew right away that I wanted to become a Coach to help others be the best they could be too! Today, I feel like I'm healthier and in better shape than I've ever been! I feel like Beachbody was the piece of my life that I never knew was missing until I started this journey!2
What in particular did you like about the program you chose?
I like that FOCUS T25 has completely changed the shape of my body. It has added definition and slimmed down areas of my body that I've never been able to do before. I also like that the workouts are only 25 minutes each.
Describe the results you achieved with your Beachbody program. Which achievements are you proud of?
FOCUS T25 has changed the shape of my body. My thighs have always been a trouble area for me. I never thought I would be able to slim them down and change their shape, but this program did that for me. I've also never had the definition in my abs that I do now. I love what FOCUS T25 does for you in such a short amount of time.
How has your life changed since completing your Beachbody program?
My life has completely changed since starting FOCUS T25 and Shakeology! I never thought I would be able to get this healthy and fit again after having a baby, and I have more energy than ever before! I'm happier, more positive, and conscious about what my family eats. I never thought I'd own my own business or be able to help others achieve their fitness goals, but being able to connect with other like-minded people is amazing! I love being able to get in shape while paying it forward. It's one of the most rewarding things I've ever done!
How did participating in a Challenge Group help you reach your goals? How did your group support you and keep you accountable?
Being part of a Challenge Group made working out fun and kept me going. Knowing that I had to be accountable daily forced me to eat cleaner and push harder in my workouts. It helped knowing that everyone in my Group was going through a similar experience.
How did your Team Beachbody Coach support you on your journey?
Working with Katy and Jon Kurtz has been amazing! I could not ask for better Coaches! They have provided constant support and guidance throughout my entire journey.
How did a Beachbody supplement, nutritional product, or program (such as Shakeology or Beachbody Ultimate Reset) support your transformation? What are the greatest benefits you gained? Did you see benefits to your energy, sleep, mood/mental clarity, or digestion/regularity?
I used Shakeology throughout my entire program, and saw immediate benefits from day one. I started using E&E toward the end of my program to give me the extra energy my body needed to push through the tough workouts. I did the 3-Day Refresh at the end of my program to cleanse my body and take my transformation further. The greatest benefits I've gained are confidence, happiness, and healthiness. I also have more energy, sleep better, am a more positive person, have more patience, and am more focused on what I want out of life.2
How did a Beachbody supplement, nutritional product, or program affect any existing health conditions you have?
It stopped my massive sweet cravings.2
You can change your life, too. Take the Beachbody Challenge for the tools you need to Decide, Commit, and Succeed! Complete any Beachbody program, and enter your results for a free gift and a chance to win cash and prizes.

2These statements have not been evaluated by the Food and Drug Administration. This product is not intended to diagnose, treat, cure, or prevent any disease.