Body Beast Results: Billie Shed 3.5 Inches Off Her Waist in Just 90 Days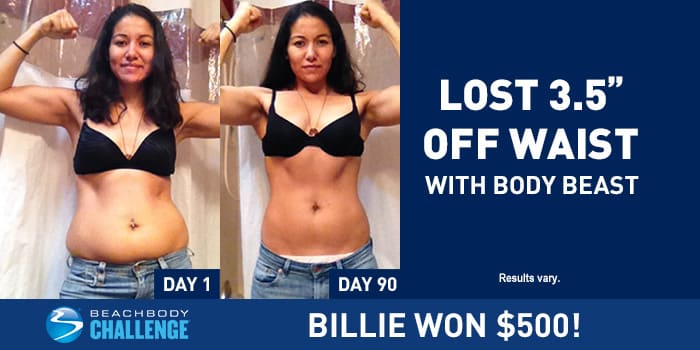 †Results vary depending on starting point and effort. Billie is an independent Beachbody Coach.
Billie Maldonado lost 3.5 inches off her waist in 90 days with Body Beast. She entered her results into the Beachbody Challenge, and won the $500 Daily Prize for November 20th!
Tell us about your life before you started the program. How did you feel about yourself and your body?
Before I started the program, I felt very lost. I was at a time in my life where I didn't know what to do with myself, and I felt like I didn't have any control. I was struggling both financially and emotionally. This ultimately started showing in my appearance. I didn't always choose the healthiest food options, which made me start to gain weight. This made me feel less confident. It ultimately started a downward cycle of me not feeling good and making poor choices, because I didn't feel good. This, of course, made me look and feel worse, and so on and so forth. I felt like everything going wrong in my life was too big to tackle, and I didn't even know where to start. It was like a deer in headlights syndrome. I knew I was not in a good position. But for some reason, I couldn't do much to move in any direction, because every choice just seemed too intimidating.
What inspired you to change your life and begin your transformation journey?
I was actually introduced to another product (not Shakeology) by a friend who really wanted me to try it. I was very skeptical, and so I decided to research online. After several days of researching many different products and comparing each of them, I decided to try Shakeology instead (my friend was not so happy). I was just really impressed by the quality of ingredients in Shakeology. After I received my first shipment, I also got more information on some of the other products Beachbody offered. I decided this was going to be a perfect opportunity for me. It was going to be a challenge that I could tackle, and take back some of my control. It had great incentives, because at the end, I would hopefully look and feel better. Not to mention the incentive to possibly win cash, which I am also in desperate need of. So I jumped in with both feet!
What is the greatest challenge you faced before beginning the program? How did the program and Beachbody help you overcome that challenge?
My greatest challenge was a feeling of helplessness. Everything in life seemed to be crushing me, and I felt out of my league. I usually don't have a problem with motivation, but the last couple of years have really been a challenge for me. The fact that Beachbody made it as easy as possible to stay on track made all the difference. I had a goal with a deadline and a step-by-step way to get there. Shakeology made my breakfast choice easy and fast. It made it easier for me to make healthier choices during the day after that too. The workout DVDs helped greatly, because I could work out from home and get it done quickly too. It was easier to follow, along with the pace that they set, than going to a gym alone, and trying to motivate myself to start that third set now instead of waiting until I completely caught my breath! I really appreciate not having to think of what I'm going to do next. I just pop in the DVD and follow along, knowing I will be done in 30-45 minutes!
What in particular did you like about the program you chose?
I chose Body Beast, and what I liked most was that it was simple and easy to follow. I liked that they paced everything out for me, and all I had to do was follow along. I also liked that there wasn't too much cardio involved, so it was not something that I dreaded doing. I was able to get stronger, and I could see a difference in my physique at the end of the program. I also like how flexible they made the meal program as well.
Describe the results you achieved with your Beachbody program. Which achievements are you proud of?
I am very proud of the results I achieved with the Body Beast program. Even though I didn't dread doing the workouts, they were still very tough. I noticed I got more definition in my upper body and in my abs, which changed substantially!
How has your life changed since completing your Beachbody program?
After tackling the Body Beast challenge, I was able to gain back some of my power and control. It gave me a sense of accomplishment and a sense of pride. It helped re-instill the notion that I can tackle big problems one small step at a time. I also am very proud of the physical changes my body has undergone, and feel more confident in life. It gave me that bit of strength I needed physically, but more importantly, mentally!
How did a Beachbody supplement, nutritional product, or program (such as Shakeology or Beachbody Ultimate Reset) support your transformation? What are the greatest benefits you gained? Did you see benefits to your energy, sleep, mood/mental clarity, or digestion/regularity?
Shakeology is awesome! I love that it is quick and easy. Most importantly, I love that it has so many quality ingredients in it with no fillers. This is very important to me. It made starting my day easy, because I could have a healthy breakfast without any effort. It tasted good, and it lessened my cravings for unhealthy food throughout the day. I feel like it was the perfect supplement to keep me focused and feeling great.2
You can change your life, too. Take the Beachbody Challenge for the tools you need to Decide, Commit, and Succeed! Complete any Beachbody program, and enter your results for a free gift and a chance to win cash and prizes.

2These statements have not been evaluated by the Food and Drug Administration. This product is not intended to diagnose, treat, cure, or prevent any disease.