"I Am Finally Out of My Maternity Clothes After Being in Them for Two Years"
Meet Amanda, age 35 from Robinson, IL.
She entered The Beachbody Challenge in October 2014 and won $1,000!
Tell us about your life before you started the program. How did you feel about yourself and your body?
I gave birth to 3 kids in a little less than 4 years, two of them were born 11 months apart and unfortunately one passed away just last year. Therefore I was in a constant state of emotional chaos. I felt tired, lazy, sad, content, sluggish and completely out of shape.
What inspired you to change your life and begin your transformation journey?
After having my son in May of 2013, we found out shortly thereafter that he suffered from an extremely rare disease that was ultimately terminal. Upon receiving this devastating news – we surprisingly learned that we were expecting again. Our lives were completely turned upside down at this point. Unfortunately our son passed away in October of 2013. I gave birth to another son in April of 2014. The fact of knowing that from the start, my son's body would never be able to function at the level of a traditional healthy individual. It wasn't fair. In that moment I realized how much our bodies are a gift – and they need to be treated as such, not taken for granted. I decided that I was going to get healthy again and that there is NO excuse not to.
What is the greatest challenge you faced before beginning the program? How did the program and Beachbody® help you overcome that challenge?
I had two cesarean sections in two months, three C-sections total. After 8 weeks post delivery of my third child, my physician finally approved me to begin exercising. My abdomen was obviously weak, tender and had no muscle. Physically I felt that I had lost all muscle mass in my arms, core, thighs, legs and basically all over. Mentally I was always tired and had little to no energy. But, I had motivation. Motivation to do things that my son couldn't and the urge to help others along my journey. I feel like a NEW PERSON after completing 12 weeks of TurboFire and drinking Shakeology! I have energy to keep up with my kids! I am also out of maternity clothes for the first time in two years! I am so thankful to have an amazing home workout program where I can schedule my workouts around our busy lives! Bonus that I don't have to drive anywhere for an inspirational and motivational personal fitness trainer! Chalene Johnson ROCKS! Thank You Beachbody!!!!!
What in particular did you like about the program you chose?
I loved the variety of workouts with TurboFire. I could choose a lengthy workout or I could choose a 20 minute high intensity interval training. I love having options with my workouts and TurboFire provides all that!
Describe the results you achieved with your Beachbody program. Which achievements are you proud of?
I am FINALLY out of my maternity clothes after being in them for TWO YEARS! I've built muscle, my endurance has significantly increased and I have so much energy!
How has your life changed since completing your Beachbody program?
I feel like a totally new person after completing TurboFire! I also drink Shakeology daily, and I have noticed SO many benefits! My energy has skyrocketed! Have I mentioned that I have increased energy?! 😉 In addition, Shakeology has regulated my digestive system, improved my mood, keeps me full as a meal replacement, and it tastes amazing!!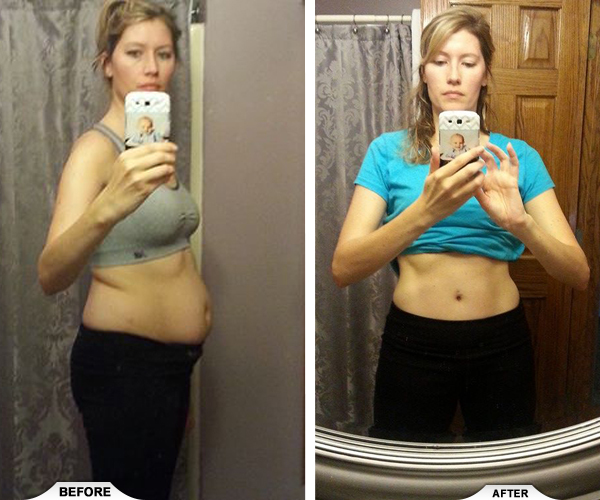 How did participating in a Challenge Group help you reach your goals? How did your group support you and keep you accountable?
I actually signed as a coach with the purchase of my TurboFire Challenge Pack and started my own Challenge Group! My challenge group certainly kept me motivated, accountable for my workouts, I received support from my fellow challengers – especially in the beginning when it's very hard and you feel like giving in. I kept going and lost the weight because of my challenge groups!
How did a Beachbody Supplement or Nutritional Product or Program (such as Shakeology® or Beachbody Ultimate Reset®) support your transformation? What are the greatest benefits you gained? Did you see benefits to your energy, sleep, mood/mental clarity, digestion/regularity?
Shakeology is an amazing meal replacement shake! I honestly don't believe that I could have achieved these results WITHOUT Shakeology! My energy has skyrocketed with Shakeology! It has helped regulate my digestive system, improved my mood, I have noticed a difference with healthier hair, nails, and clear skin. It tastes delicious and keeps me full! Such a smart investment in my health!
You can change your life too. Take the Beachbody Challenge for the tools you need to Decide, Commit, and Succeed. Complete any Beachbody program, and enter your results for a free shirt and a chance to win cash & prizes.