Get Fast Results With Joey Thurman
Six-pack abs. They're easy to love, but not so easy to get.
Although carving washboard abs may not be a realistic goal for everyone, building a core that's stronger, tighter, and more defined is a worthy objective and can also help alleviate back pain, give you better posture, and improve your overall fitness.
But where do you find the time to crunch, twist, and plank your way to those aspirational abs while still training the rest of your body?
Enter Fast Results with Joey Thurman.
A celebrity trainer, fitness expert, and Instagram fitness sensation, Joey has designed his new, high-energy program to help you get tight, toned abs AND a total body workout in 20 minutes or less.
Anyone with a Beachbody On Demand membership can get fast results with Joey's short and effective routines.
Try his program if you're short on time and want to see visible results in as little as three short weeks!
Who Is Joey Thurman?
Joey is the easy-to-like, charming face of at-home fitness for his 100,000+ Instagram followers, along with the millions more who've seen him on the Today Show, Good Morning America, and LIVE with Kelly and Ryan.
A 15-year fitness industry veteran, Joey made his name as the go-to trainer for celebrities and other clients who were looking for visible results in the shortest possible time frame.
His results-driven reputation has carried over to social media where his fans refer to him as a "shred specialist."
They rely on his fast, total-body routines and easy-to-understand fitness advice to help them achieve results  — without having to add hours of gym time to their busy schedules.
Not to mention have a few laughs while you're at work and breaking a sweat!
Joey is looking forward to sharing his fast, yet targeted workouts on Beachbody On Demand.
"No matter what your age or fitness level, I truly know what it takes to achieve your goal," he says. "I'll show you the best moves to get a great workout when you're short on time and we're going to have a blast."
What Can You Expect From Joey Thurman?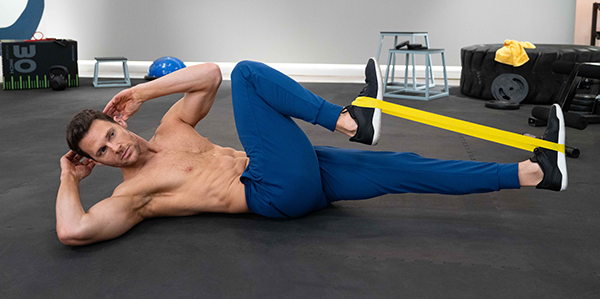 There are 3 calendars you can follow to get fast results.
5-Day Ab Challenge is a five-day core-blasting workout series that takes 10 minutes a day and targets your abs and core from every angle. Do them on their own or tack them onto your regular workouts to torch extra calories and sculpt a killer six-pack.
Band Bootcamp is a three-week plan using mini-bands. Give Joey 20 minutes a day and he'll show you his favorite total-body moves to help you burn fat and build lean muscle from head to toe.
The Ab + Band Bootcamp is a three-week hybrid of his ab-focused workouts and his total-body mini-band workouts. All you need is 20 minutes or less to get it done!
The only piece of equipment you need is a mini-band for the Ab + Band Bootcamp.
There's no equipment needed for the Ab Challenge. Joey's high-energy style will keep you motivated and the results will keep you pushing play every day!