Marsha Lost 20 Pounds with CORE DE FORCE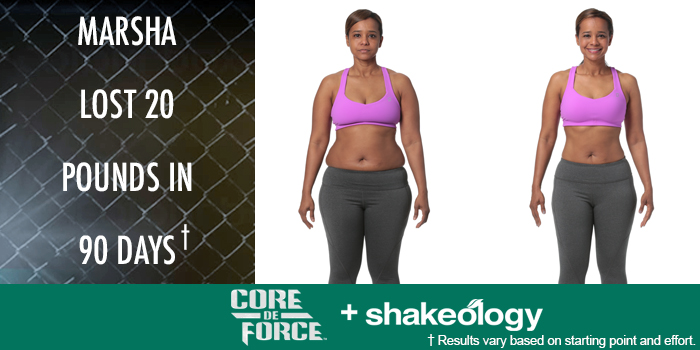 Before starting CORE DE FORCE, Marsha was stuck in a bad place with her health and fitness. After completing the program, she lost 20 pounds and is now an expert on portion control! Here is what she had to say about her journey:
"I needed a change in my life. I was unhappy with my body and overall health. I felt defeated and disappointed in myself. I was looking for motivation and change. My primary goals were to reduce body fat, lose inches, and gain a six pack.
CORE DE FORCE was so effective because the workouts were fun. My mind and body were engaged. Body Weight was my favorite workout because it focused on my upper-body strength. I really enjoy boxing, and the combination moves were challenging. It made me focus on form as well. Also, learning how to portion control my food was important. I was eating to fuel my body!
Jericho is strong, energetic, and athletic. She is supportive, positive, and will demand you give your all. Joel is full of energy, engaging, and helped me push through my comfort zone.
I can't believe my results! I lost almost 30 inches all over my body! My friends and family say I look like the old me. They are so proud of me. They mentioned they would love to try the program themselves. They are impressed by my small waist and overall weight loss. They are excited for me! I feel strong and healthy. I feel empowered to push through any challenge in my life. I feel confident! I have not been this small in years, and I am proud of my accomplishments."
---
You can change your life, too. Take the Beachbody Challenge for the tools you need to Decide, Commit, and Succeed! Complete any Beachbody program, and enter your results for a free gift and a chance to win cash and prizes. What program are you committing to next?