Cookies & Creamy Power Shake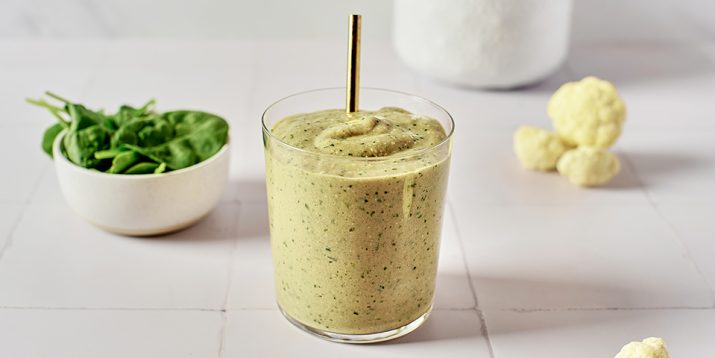 Pssst … if you want to really amp up the nutrition in your daily Shakeology, we've got a super simple hack for you: add frozen cauliflower.
You're probably thinking, "Frozen what? In my shake? No, thanks."
But hear us out: The endlessly versatile cauliflower has a mild taste, so you won't even taste it and frozen cauliflower adds an extra dimension of creamy coldness.
This Cookies & Creamy Power Shake is filled to the brim with veggie goodness — in addition to cauliflower, it includes a half cup of spinach!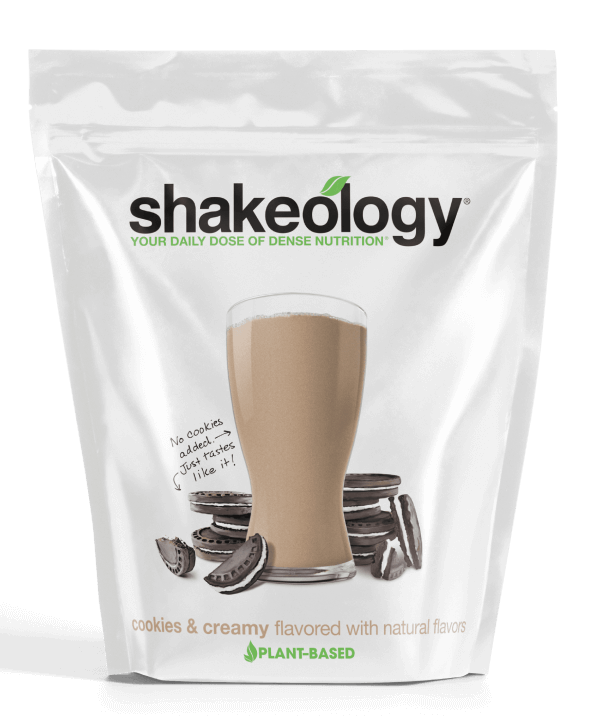 Cookies & Creamy Shakeology
Creamy and velvety with decadent chocolate cookie flavor that tastes like your favorite superfood dessert.
Love the idea of adding frozen veggies to your shake? Try our Zucchini Bread Shake next.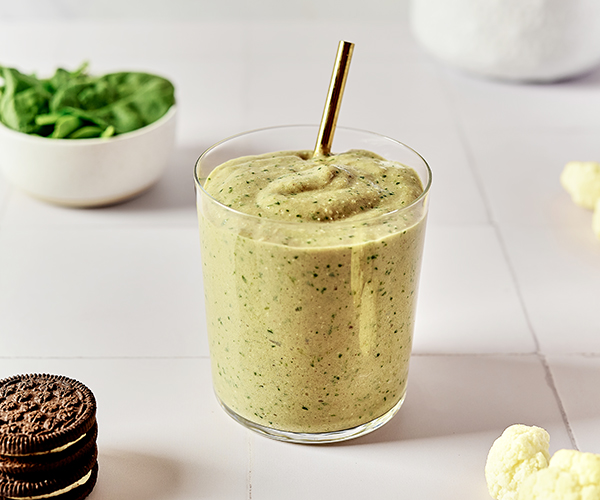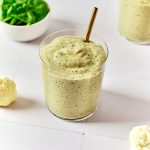 Cookies & Creamy Power Shake
Prep Time 5 mins
Cook Time 0 mins
Total Time 5 mins
Servings 1 shake
Calories 393 kcal
Ingredients
1 cup / 240 ml unsweetened almond milk
1 cup / 170 g ice
1 scoop Cookies & Creamy Shakeology
½ cup / 65 g frozen cauliflower florets (or cauliflower rice) 
½ cup / 15 g baby spinach
½ large banana
2 Tbsp. hemp seeds (or sunflower seeds)
Instructions
Place almond milk, ice, Shakeology, cauliflower, spinach, banana, and hemp seeds in blender; cover. Blend until smooth; serve immediately. 
Recipe Notes
Fantastic Fiber (F), Gluten-Free (GF), No Dairy (ND), Protein Power (P), Quick 'n' Easy (QE), Vegan (V), Vegetarian (VG) 
The Nutrition Facts box below provides estimated nutritional information for this recipe.*
* Total Sugar 17 g, Added Sugar 5 g
Nutrition Facts
Cookies & Creamy Power Shake
Amount Per Serving (1 shake)
Calories 393 Calories from Fat 144
% Daily Value*
Fat 16g25%
Saturated Fat 2g13%
Sodium 515mg22%
Carbohydrates 38g13%
Fiber 11g46%
Sugar 17g19%
Protein 27g54%
* Percent Daily Values are based on a 2000 calorie diet.
Container Equivalents (Regular & Vegan)
1 Green
1 Purple
1 Red
1 Orange
1 tsp
2B Mindset Plate It!
This recipe makes a great breakfast or lunch.