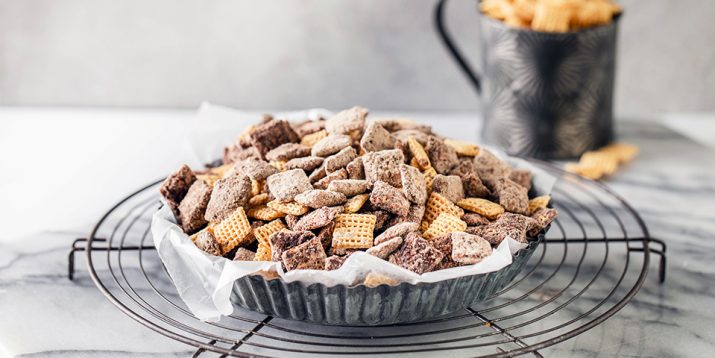 This fun, easy treat is the answer when you feel a snack attack coming on.
This recipe has all the flavors you love: hints of vanilla and cocoa from Cookies & Creamy Shakeology, peanut butter, and, of course, chocolate.
It's so easy and quick to make a yummy batch of Cookies & Creamy Crunch – all you need are five ingredients!
Simply mix together peanut butter powder, melted chocolate, cereal, Shakeology, and voilà: An irresistible snack in five minutes flat.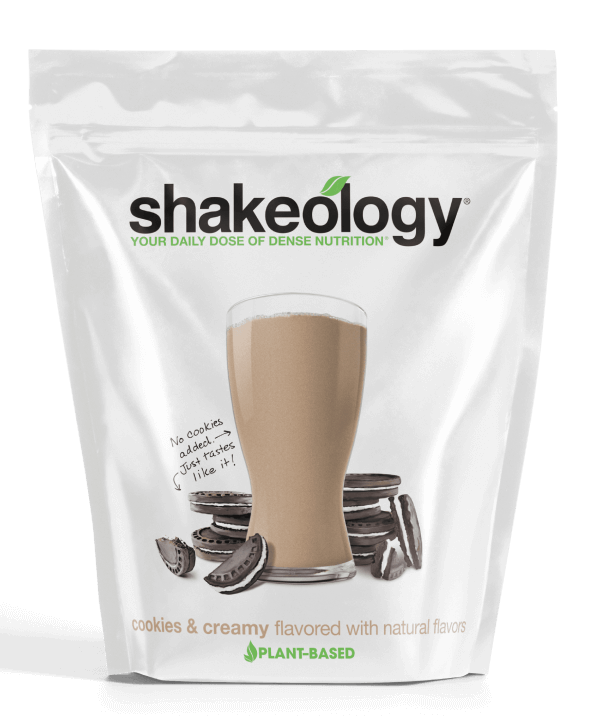 Cookies & Creamy Shakeology
Creamy and velvety with decadent chocolate cookie flavor that tastes like your favorite superfood dessert.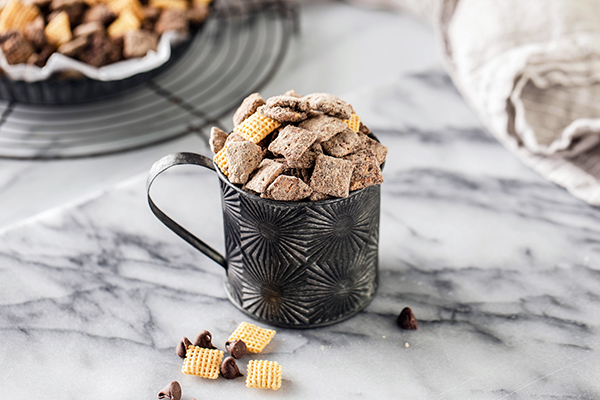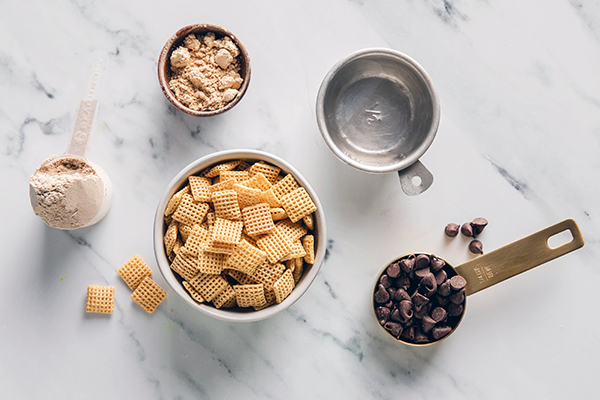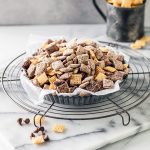 Cookies & Creamy Crunch
This delicious snack made with Cookies & Creamy Shakeology is irresistible!
Prep Time 3 mins
Cook Time 2 mins
Total Time 5 mins
Servings 6 servings, approx. ½ cup each
Calories 181 kcal
Ingredients
¼ cup / 25 g peanut butter powder
2 Tbsp. + 1 tsp. water
3 Tbsp. dark chocolate chips
3 cups / 190 g low-sugar wheat squares cereal (like Chex)
1 scoop Cookies & Creamy Shakeology
Instructions
Mix peanut butter powder and water in a medium bowl.

Add chocolate. Microwave on high for 30 seconds; stir. Repeat as needed until chocolate is melted.

Add cereal; stir until evenly coated.

Add Shakeology; stir until evenly coated. Serve immediately, or refrigerate in an airtight container for up to 3 days, or freeze for up to 1 month.
Recipe Notes
No Dairy (ND), Protein Power (P), Quick 'n' Easy (QE), Vegan (V), Vegetarian (VG)
The Nutrition Facts box below provides estimated nutritional information for this recipe.*
*Total Sugars 6 g, Added Sugars 2 g
Nutrition Facts
Cookies & Creamy Crunch
Amount Per Serving (1 serving (½ cup))
Calories 181 Calories from Fat 27
% Daily Value*
Fat 3g5%
Saturated Fat 1g6%
Sodium 236mg10%
Carbohydrates 33g11%
Fiber 5g21%
Sugar 6g7%
Protein 10g20%
* Percent Daily Values are based on a 2000 calorie diet.
Container Equivalents (Regular)
1½ Yellow
½ tsp
Container Equivalents (Vegan)
1½ Yellow
½ tsp
2B Mindset Plate It!
Makes a great FFC.