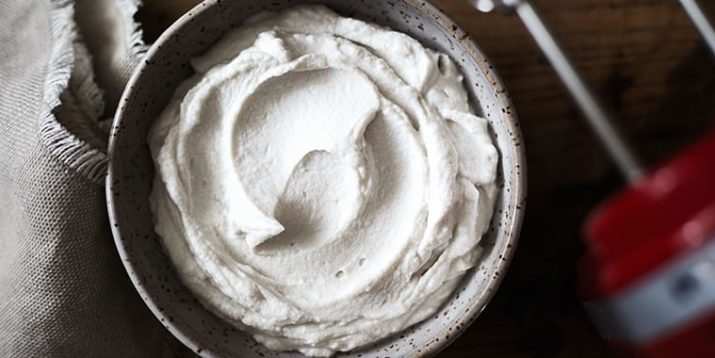 I'm usually skeptical when it comes to dairy-free substitutes that "taste just like the real thing."
Well, friends, I'll be the first to admit that coconut whipped cream has changed my world.
I've been experimenting with coconut whipped cream for a couple of years now (seriously). Over time, I've learned a few tricks to get the best results.
It begins with using pure, unsweetened coconut cream, which is thick and rich like actual cream.
(Pro tip: Cold coconut cream works best for this recipe, so refrigerate the can overnight before opening.)
If you can't find coconut cream, you can buy full-fat (not light) coconut milk instead, which contains both the thick white coconut cream and water.
If you're going this route, you'll need more than one can to get the full cup needed for this recipe.
Refrigerate unopened cans overnight, then scoop out just the thick cream that separates and rises to the top (save the coconut water for other recipes or add it to smoothies).
Some brands add extra ingredients to prevent the cream and water from separating, so look for a product without additives.
The rest of this recipe comes together like regular whipped cream. It works best if your bowl and beaters are cold to start.
Add sweetener, a splash of vanilla, and a pinch of salt. Whip until still peaks form and use it just like you'd use regular whipped cream.
Extra coconut whipped cream can be stored in the fridge. It'll solidify over time, so simply give it another quick whip to get it light and fluffy again.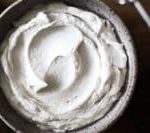 Coconut Whipped Cream
Swap in this delicious, creamy coconut whipped cream instead of regular whipped cream on your next dessert.
Prep Time 15 mins
Cook Time 0 mins
Total Time 15 mins
Servings 8 servings, about 2 Tbsp. each
Calories 107 kcal
Ingredients
1 cup unsweetened coconut cream, refrigerated overnight
Chilled mixing bowl and beaters
1 Tbsp raw honey (or maple syrup)
1 pinch sea salt (or Himalayan salt)
½ tsp. pure vanilla extract
Instructions
Carefully place only hard coconut cream in chilled mixing bowl. Discard liquid (or save for future use).

Add honey, salt, and extract; beat with a mixer (or whisk) until stiff peaks form.
Nutrition Facts
Coconut Whipped Cream
Amount Per Serving (1 serving)
Calories 107 Calories from Fat 90
% Daily Value*
Fat 10g15%
Saturated Fat 9g56%
Sodium 37mg2%
Carbohydrates 4g1%
Fiber 1g4%
Sugar 2g2%
Protein 1g2%
* Percent Daily Values are based on a 2000 calorie diet.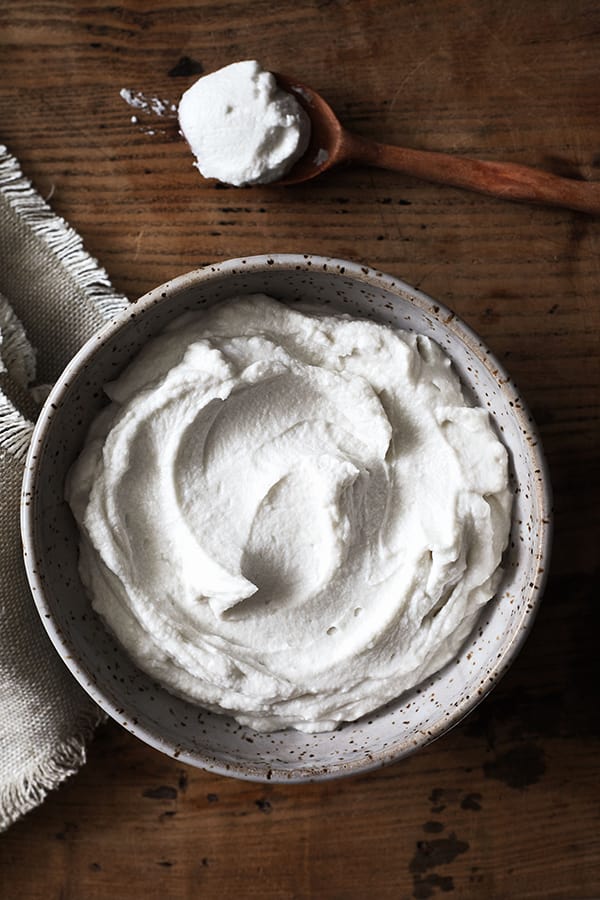 Container Equivalents
1 Blue
2B Mindset Plate It!
Enjoy as an occasional treat. Be sure to track it.
Photographs by Anguel Dimov and Brianne B of Natural Girl Modern World