Chocolate Salted Caramel Shakeology
There are certain flavors in the food universe that are destined to be together, like chocolate, caramel, and salt.
Wait, salt?? (Yes, salt!)
If you've ever done any baking, salt is almost always an ingredient. Why?
Because salt actually amplifies the flavors in a recipe. When it comes to sweet flavors like chocolate or caramel, salt doesn't cut the sweetness, it makes those flavors even more robust.
But with this Chocolate Salted Caramel Shakeology recipe, you don't need salt — you just need a half scoop of Chocolate Plant-Based Vegan Shakeology and a half scoop of our limited-edition flavor, Salted Caramel Plant-Based Vegan Shakeology!
With this smoothie, you can savor the yummy combination of chocolate and salted caramel without the added sugars.
Even better? You can have this EVERY SINGLE DAY. (We repeat: every.single.day.)
Drink this shake as part of a balanced meal, as an afternoon snack, or whenever your sweet tooth needs some satisfying!
Pro tip: Get hundreds of delicious Shakeology recipes like this one on the Beachbody Blog.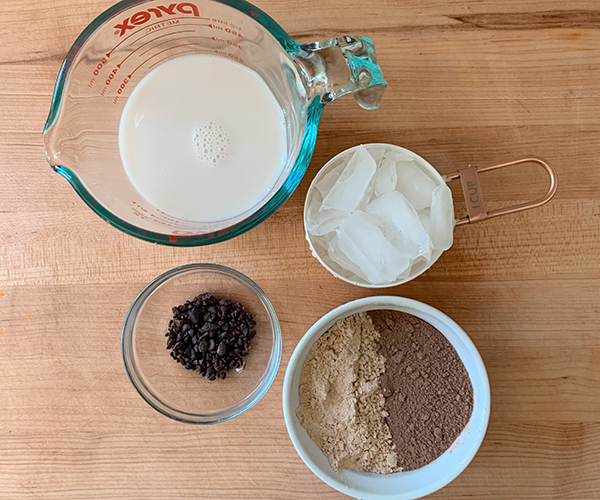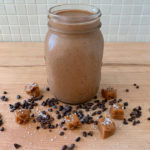 Chocolate Salted Caramel Shakeology
Prep Time 5 mins
Cook Time 0 mins
Total Time 5 mins
Ingredients
1 cup unsweetened almond milk
1 cup ice
½ scoop Chocolate Plant-Based Vegan Shakeology
½ scoop Salted Caramel Plant-Based Vegan Shakeology
2 tsp. cacao nibs
Instructions
Place almond milk, ice, Chocolate Shakeology, Salted Caramel Shakeology, and cacao nibs in blender; cover. Blend until smooth.
Recipe Notes
High in Fiber, No Dairy, High in Protein, Quick 'n'Easy, Vegan, Vegetarian
The Nutrition Facts below provide estimated nutritional information for this recipe.
Nutritional Information (per serving):
Calories: 239
Total Fat: 9 g
Saturated Fat: 3g
Cholesterol: 3 mg
Sodium: 421 mg
Carbohydrates: 20 g
Fiber: 8 g
Sugars: 7 g
Protein: 18 g
Container Equivalents (*regular and vegan)
1 Red
2 tsp.
2B Mindset Plate It!
A great protein as part of any meal.
If you have questions about the portions, please click here to post a question in our forums so our experts can help. Please include a link to the recipe.