21 Day Fix Results: Check Out How Jessica Lost 50 Pounds and Won $500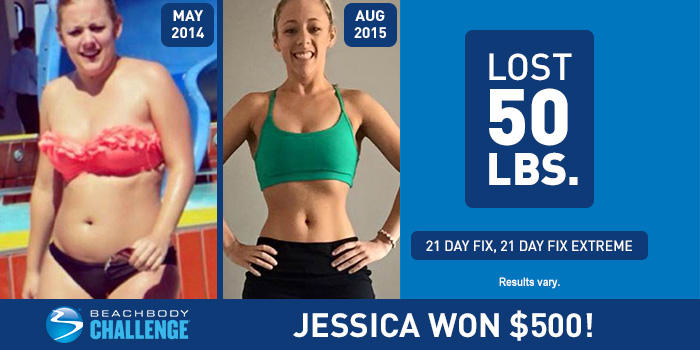 †Results vary depending on starting point and effort. Jessica is an independent Beachbody Coach.
Jessica Burr lost 50 lbs. with 21 Day Fix, 21 Day Fix EXTREME, and the Beachbody Performance supplements. She entered her results into the Beachbody Challenge, and won the $500 Daily Prize for November 12th!
Tell us about your life before you started the program. How did you feel about yourself and your body?
Before Beachbody, I was struggling with my health physically and emotionally. I had always been active in high school but once I got to college, I quit the active lifestyle, and gained over 40 lbs. I turned to food for comfort. It was the only thing that made me feel good, until I binged and felt even worse afterward. But for some reason, I continued down that path. I hid behind a smile for the longest time! Inside, I was battling bigger demons than I showed to those around me. I was depressed — no I was not diagnosed by a doctor, but that was because I hid it and didn't talk about it! I didn't want to do anything that involved being around other people. I was so embarrassed about my appearance, and hid behind baggy clothes so that no one would see just how much weight I had gained. It got to the point where I was just staying at home pretending I had homework or work just so that my friends and family didn't notice what was really going on.
What inspired you to change your life and begin your transformation journey?
After being depressed for two years, I started seeing how it was affecting not only my life, but those around me. I was taking my depression out on my family, friends, and boyfriend. I knew something needed to change. I knew that I owed it to myself to get healthier. I knew that if I didn't make that change, that it would only get worse! I decided that I no longer wanted to live a life I hated. I wanted to live a life that I love in a body I loved.
What is the greatest challenge you faced before beginning the program? How did the program and Beachbody help you overcome that challenge?
The greatest challenge I had before beginning 21 Day Fix and 21 Day Fix EXTREME was mainly my nutrition. I was eating fast and processed foods, and had formed unhealthy eating habits! I started with the 21 Day Fix program first then Fix EXTREME, which helped me learn proper portion control and clean eating. I have turned it into a lifestyle change. Before Beachbody, I had tried every diet program out there, but nothing taught me what these programs have regarding nutrition. I had always struggled with clean eating, because I wasn't knowledgeable about what it was. I thought as long as it was low in carbs, low fat, or said "healthy" on the label, that meant it was good for me. This program has taught me that you need to fuel your body with nutritious, wholesome ingredients. The nutrition guide helped me understand exactly what I should be fueling my body with; how many calories per day I should consume; what clean eating is; and how to lose weight and actually maintain it in a healthy way.
What in particular did you like about the program you chose?
I enjoyed the 21 Day Fix EXTREME for so many reasons. One reason I really like the program is that the workouts are only 30 minutes a day. I am pretty busy and struggled with having the time to work out, but anyone can get in a 30-minute workout! Before Beachbody, I was trying to work out for at least one hour, but wasn't seeing the results that I wanted. This program makes it easy, fast, and do-able with a busy lifestyle. The meal plan and portion-control containers are the best thing about the program in my opinion. They make life so much simpler than trying to count calories or worrying if I am getting in the proper amount of protein, vegetables, healthy fats, etc., every day! All I have to do is grab my containers, fill them up, and go! The layout of the plan is fool-proof and very well explained. After doing a few rounds of the original program, I felt I needed something to challenge myself and take my fitness to a new level. These workouts challenged me in a whole new way.
Describe the results you achieved with your Beachbody program. Which achievements are you proud of?
I have lost a total of 50 pounds with 21 Day Fix and 21 Day Fix EXTREME. My biggest achievement is not only losing the weight, but maintaining that weight loss. When I first started my health and fitness journey, before I found Beachbody, my weight yo-yo'ed constantly! I would lose five pounds, and then binge eat to "celebrate" and gain back eight, or I would lose 10 and keep it off for a few weeks, only to just fall off track a week later and gain it back. I was sick and tired of the yo-yo dieting, and wanted something that would be a lifestyle change. I wanted something that would help me not only lose weight, but maintain it. These programs have done just that! I am finally loving myself, which is the biggest achievement from this journey. I am no longer depressed. I am a completely different person, and it is all thanks to 21 Day Fix, 21 Day Fix EXTREME, Shakeology, and Beachbody!
How has your life changed since completing your Beachbody program?
My life has changed since completing these Beachbody programs. I am more confident than I have ever been in my entire life. I am no longer embarrassed by my appearance. I no longer want to hide behind my clothes, or feel defeated. I feel beautiful and truly love myself again. Thanks to Beachbody, I now know that I can do anything I set my mind to. When I set a goal, I know that it is possible. This isn't a fad diet; it's a lifestyle change. It's not a quick fix for a temporary problem. It's a permanent fix for a temporary problem. I was overweight and unhappy, but that wasn't me. That was a bump in my road. I am now healthy for life, and I refuse to go back! These programs have helped me become the healthiest and best me that I can be. I am very grateful to have found Beachbody programs and Shakeology!
How did participating in a Challenge Group help you reach your goals? How did your group support you and keep you accountable?
My Challenge Groups and the support from the Beachbody community have changed my life! I had struggled to stay motivated and hold myself accountable, and that is exactly what these groups have done for me! These groups have not only become a support system, my fellow challengers and Coaches have become become family! These women in our groups refuse to let us give up on our goals. They continue to encourage me, and are the reason I have been able to get to where I am today! We have daily check-ins. If someone has fallen off, we encourage them to get back on track! We have made lifelong friendships in these groups. I know I personally would not have reached my goals without the support of each and every one of the women in the group.
How did your Team Beachbody Coach support you on your journey?
My Coach put me into a big Challenge Group when I first started, and was there in the beginning, but she hasn't really been too involved in my journey. But my Coach's upline, Tera Psomas, has changed my life! She has been by my side from day one to encourage, motivate, and guide me the best way she can! Tera has checked in on me weekly to make sure that I am staying on track. She has helped me set goals and reach them! She refused to let me quit when things got hard and I was getting discouraged. She refused to let me give up on myself, and believed in me before I learned to believe in myself.
How did a Beachbody supplement, nutritional product, or program (such as Shakeology or Beachbody Ultimate Reset) support your transformation? What are the greatest benefits you gained? Did you see benefits to your energy, sleep, mood/mental clarity, or digestion/regularity?
Shakeology has really changed my life and my nutrition. Not only do I think it has been a huge part in my weight-loss journey, it has improved my sleep habits, energy level, regularity, and has helped kick my cravings! I drink Shakeology on a daily basis, and couldn't imagine my life without it! Even when I take a "break" from my meal plan, or when I indulge a little too much, I know I can count on Shakeology to help regulate my system and get it back on track! I haven't gained more than five pounds — even after a week and a half of overindulging — and I truly believe it.2 It is improving my life in more ways than I had ever imagined.
You can change your life, too. Take the Beachbody Challenge for the tools you need to Decide, Commit, and Succeed! Complete any Beachbody program, and enter your results for a free gift and a chance to win cash and prizes.

2These statements have not been evaluated by the Food and Drug Administration. This product is not intended to diagnose, treat, cure, or prevent any disease.