Café Latte Coconut Popsicles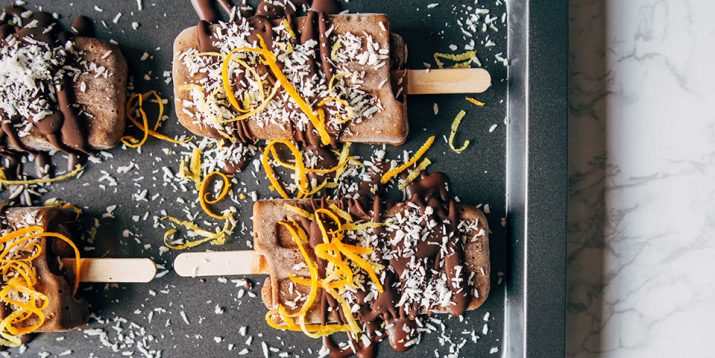 These Café Latte-flavored coconut popsicles are drizzled in a decadent-tasting chocolate topping that hardens in the freezer but melts in your mouth.
A sprinkling of shaved coconut and orange zest adds wow factor and makes them taste like a gourmet ice cream treat.
Not bad for a vegan Shakeology snack that has nine grams of protein per serving!
Don't have Shakeology yet? Get all of the Shakeology flavors here!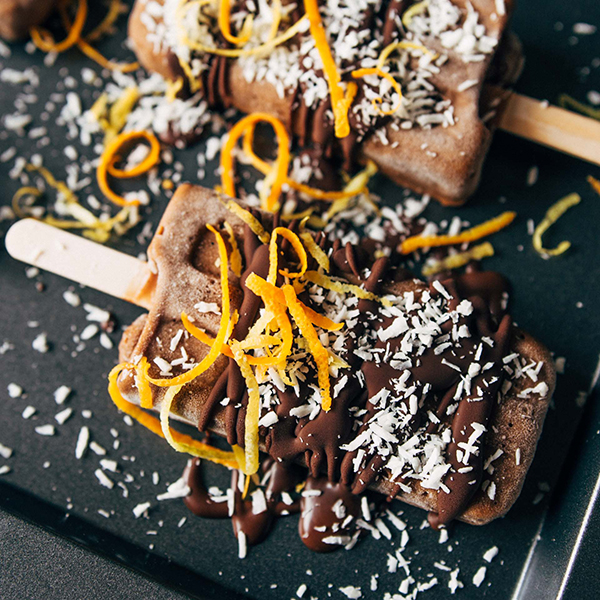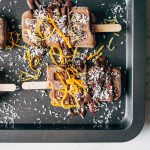 Café Latte Coconut Popsicles
These chocolate coconut popsicles are a healthier treat for summer!
Prep Time 10 mins
Cook Time 2 mins
Total Time 3 hrs 12 mins
Servings 4 servings
Calories 260 kcal
Ingredients
1 cup unsweetened almond milk
2 scoops Café Latte Plant-Based Vegan Shakeology
½ large banana
Popsicle sticks
Parchment paper
⅓ cup semi-sweet or dark chocolate chips no dairy added (approx. 2½ oz.)
2 tsp. extra-virgin organic coconut oil
¼ cup unsweetened shredded coconut
2 Tbsp. finely grated orange or lemon peel optional
Instructions
Place milk, Shakeology, and banana in blender; cover. Blend until smooth.

Pour evenly into four ice pop molds; insert a popsicle stick into each pop. Freeze for 3 hours, or until hard.

Line baking sheet with parchment paper. Set aside.

Place chocolate chips and oil in microwave-safe container. Microwave on 50% power for 30 seconds; stir. Microwave for an additional 30 to 45 seconds, or until just melted. Do not overcook. Place in small re-sealable plastic bag. Squeeze out most of the air; seal top. Set aside.

Place frozen pops on prepared baking sheet.

Cut off a tiny corner of plastic bag containing chocolate. Evenly pipe chocolate over pops.

Sprinkle evenly with coconut and orange peel (if desired).

Freeze for 15 minutes and eat immediately, or freeze in an airtight container up to five days until ready to eat.
Nutrition Facts
Café Latte Coconut Popsicles
Amount Per Serving (1 popsicle)
Calories 260 Calories from Fat 117
% Daily Value*
Fat 13g20%
Saturated Fat 9g56%
Sodium 192mg8%
Carbohydrates 27g9%
Fiber 4g17%
Sugar 17g19%
Protein 9g18%
* Percent Daily Values are based on a 2000 calorie diet.
Container Equivalents
½ Red
1 Yellow
½ Orange
½ tsp.
2B Mindset Plate It!
Enjoy as an occasional treat. Be sure to track it.
If you have questions about the portions, please click here to post a nutrition question in our forums so our experts can help. Please include a link to the recipe.