FIXATE Brown Rice Porridge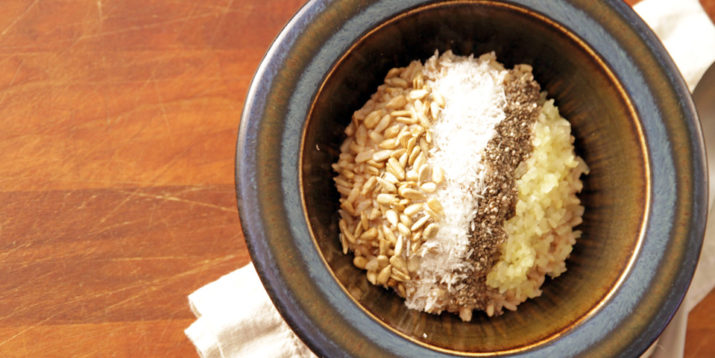 In this episode of FIXATE, Autumn and Bobby present a refreshing way to think about breakfast.
They use cooked brown rice to make a hearty hot cereal in about the same amount of time as it takes to pour a bowl of your regular breakfast cereal – and it doesn't contain any of the processed sugar and preservatives of store-bought cereal brands.
If you are following Ultimate Portion Fix, or are on the meal prep bandwagon,  there is a good chance you already have some cooked brown rice in your fridge.
Your next breakfast is almost ready, and you haven't even seen this Brown Rice Porridge recipe yet!
Watch FIXATE to get the recipe and see how Autumn and Bobby give it extra flavor and crunch.
The secret ingredient to this delicious porridge is something you wouldn't expect to see in your breakfast: pickled ginger!
You read that right, ginger is often underutilized and underappreciated in American cuisine. Here, it provides the perfect tangy accent to toppings like raw sunflower seeds and coconut flakes.
Make a batch of this brown rice porridge for your next meal prep. You may even want to double the recipe, because it freezes well, and reheats easily in the microwave.
Freeze individual portions in small containers, or spoon into muffin cups.
To get the recipe and find out the Container Equivalents and nutritional information, watch the FIXATE episode on BODi!